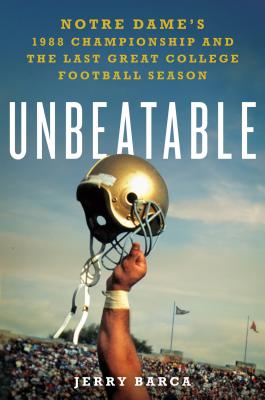 Unbeatable: Notre Dame's 1988 Championship and the Last Great College Football Season (Hardcover)
Notre Dame's 1988 Championship and the Last Great College Football Season
St. Martin's Press, 9781250024831, 310pp.
Publication Date: August 13, 2013
Description
Perhaps the best undefeated team in the history of college football the dramatic true story of the 1988 Notre Dame Fighting Irish and their incredible unbeaten season
"Unbeatable" is the first book to tell the complete story of the incredible 1988 season that brought the fledgling Fighting Irish back to the top of college sports in what many consider to be the greatest unbeaten season of college football ever played. With a completely unlikely but forever memorable cast of characters including the slight, lisping coach Lou Holtz; the star quarterback, Tony Rice; five foot nothing Asian kicker, Reggie Ho; NFL-bound Ricky Watters; and a crazed and ferocious defensive line, among others Notre Dame whipped millions of fans into a frenzy. This roller coaster season of football includes the infamous Catholics vs. Convicts game (Notre Dame vs. Jimmy Johnson's #1 ranked Miami Hurricanes). The two teams were undefeated when they met at Notre Dame Stadium, with the Irish winning in the final seconds by a final score of 31-30.
With original reporting and interviews with everyone from the players to the coaches, detailed research, and access to the Notre Dame archives, Jerry Barca tells a gripping story of an unbelievable season and the players who would become legends. More than a Notre Dame book, "Unbeatable" is a compelling narrative of one of the most incredible sports stories of the last century the unlikely tale of an underdog team coming together and making history.
About the Author
JERRY BARCA graduated from Notre Dame in 1999. While on campus he worked in the athletic department. He's currently a journalist whose writing has appeared on SI.com and in the Star-Ledger, Asbury Park Press, Home News Tribune, Syracuse Post-Standard, Herald News, the Courier-Post, and numerous Notre Dame game programs. He can be heard talking sports on Sirius/XM's Ron and Fez Show. He lives in New Jersey.
Praise For Unbeatable: Notre Dame's 1988 Championship and the Last Great College Football Season…
"I spent time with Jerry Barca, talking in-depth about that terrific 1988 season and my time as a coach at Notre Dame. He captures all the hard work and excitement of that thrilling championship season in Unbeatable. This book also does a terrific job detailing the characters and the occasions that made our run to a national championship possible."
—Coach Lou Holtz
"In 1988, Notre Dame had one of the greatest seasons in college football history and Unbeatable captures all of it. Jerry Barca has crafted a story that takes you from a downtrodden Fighting Irish program to its rebirth and crowning achievement. You can't help but come away inspired by the masterful coaching and motivational style of Lou Holtz and entertained by the insider details of how a disparate group of characters came together to win a championship."
—Verne Lundquist, CBS Sports
"An enduring team deserves a timeless story, and that's what's delivered in UNBEATABLE. Jerry Barca takes you inside the locker room, the dorm room, and the mind of Lou Holtz for a rich portrayal of one of college football's most memorable champions."
—Peter Thamel, Sports Illustrated
"For all of us on the team that season, 1988 was a special year. Jerry Barca does a terrific job recreating the excitement and emotions that were a part of that experience. The run to the national championship—and all the work we put into it—is truly brought to life in this book."
—Tony Rice, Notre Dame quarterback
"This book will appeal to any Notre Dame fan, not just the die-hards because it provides so much detail into how such a tradition-rich program was rebuilt."
—Bruce Feldman, bestselling author, CBS Sports
[Barca] captures the unusual drive and holistic approach of Holtz; the intense recruitment of players; and the on-the-field performances of such players as star quarterback Tony Rice, running back Ricky Watters, and "Three Amigos" linebackers Wes Pritchett, Michael Stonebreaker and Frank Stams."
—Kirkus
"The year was 1988. George H.W. Bush won the presidential election. PanAm flight 103 was blown up over Lockerbie, Scotland. And Notre Dame was the king of college football. That Notre Dame family is brought to life beautifully in Unbeatable." 
—New York Post
"College football fans will enjoy the breadth and pace of this fully told tale." 
—Library Journal
"Lush, loving detail . . . An old-fashioned underdog story." 
—Montclair Times
Advertisement