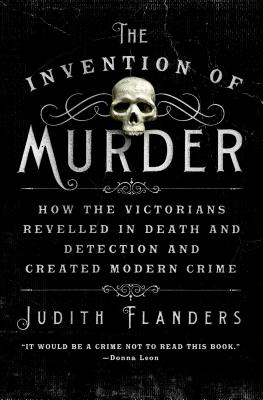 The Invention of Murder
How the Victorians Revelled in Death and Detection and Created Modern Crime
Hardcover

* Individual store prices may vary.
Other Editions of This Title:
Digital Audiobook (6/3/2019)
Paperback (7/15/2014)
MP3 CD (6/4/2019)
Compact Disc (6/4/2019)
Paperback (9/1/2011)
Description
"Superb... Flanders's convincing and smart synthesis of the evolution of an official police force, fictional detectives, and real-life cause célèbres will appeal to devotees of true crime and detective fiction alike." -Publishers Weekly, starred review
In this fascinating exploration of murder in nineteenth century England, Judith Flanders examines some of the most gripping cases that captivated the Victorians and gave rise to the first detective fiction
Murder in the nineteenth century was rare. But murder as sensation and entertainment became ubiquitous, with cold-blooded killings transformed into novels, broadsides, ballads, opera, and melodrama-even into puppet shows and performing dog-acts. Detective fiction and the new police force developed in parallel, each imitating the other-the founders of Scotland Yard gave rise to Dickens's Inspector Bucket, the first fictional police detective, who in turn influenced Sherlock Holmes and, ultimately, even P.D. James and Patricia Cornwell.
In this meticulously researched and engrossing book, Judith Flanders retells the gruesome stories of many different types of murder in Great Britain, both famous and obscure: from Greenacre, who transported his dismembered fiancée around town by omnibus, to Burke and Hare's bodysnatching business in Edinburgh; from the crimes (and myths) of Sweeney Todd and Jack the Ripper, to the tragedy of the murdered Marr family in London's East End. Through these stories of murder-from the brutal to the pathetic-Flanders builds a rich and multi-faceted portrait of Victorian society in Great Britain. With an irresistible cast of swindlers, forgers, and poisoners, the mad, the bad and the utterly dangerous, The Invention of Murder is both a mesmerizing tale of crime and punishment, and history at its most readable.
Praise For The Invention of Murder: How the Victorians Revelled in Death and Detection and Created Modern Crime…
"Judith Flanders's wonderful, sometimes appalling The Invention of Murder: How the Victorians Reveled in Death and Detection and Created Modern Crime, is a guidebook to notably grisly true-life tales… [Flanders] shines in her readings of literary novels containing criminal and detective elements, such as Oliver Twist, Mary Barton and Tess of the D'Urbervilles, but can be sharp and very funny about the vagaries of melodramatic and sensational plotting. Holmes once chided Watson, 'You see but you don't observe.' Ms. Flanders does both. This is an enticing book for any reader who, like the genteel lady in Emily Eden's The Semi-Detached House (1859), admits: 'There is such a grand murder in the paper . . . a whole family poisoned . . . it is very shocking, but I like to hear about it.'" —Wall Street Journal
"Flanders' meticulous research, personable style and keen insights are bliss for anyone interested in the Victorians and their quirks." —Seattle Times
"Superb… Flanders's convincing and smart synthesis of the evolution of an official police force, fictional detectives, and real-life cause célèbres will appeal to devotees of true crime and detective fiction alike." —Publishers Weekly, starred review
"Brilliantly researched and rendered, this is an indispensible read for anyone—scholars and the general public alike—who harbors an interest in the evolution of the notion and representation of murder….Flanders presents a fascinating narrative in well-crafted and at times suitably ironic praise." —Library Journal, starred review
"Engrossing…Flanders excels at following the trends in detection and how this was reflected in writing." —Sunday Times (London)
"Riveting and meticulous…Flanders balances judicious facts with lively story-telling…the research behind this book is phenomenal…THE INVENTION OF MUDER is what great non-fiction should be; as erudite as it is entertaining, as gripping as fiction despite being "stranger than fiction.'" —Scotland on Sunday
"Compelling…remarkable…in this intelligent and comprehensive compendium of murder, she has left no gravestone unturned." —Sunday Telegraph (UK)
"Want to be appalled by a book? Then try this one…In more than 400 blood-soaked pages Judith Flanders lovingly traces the progression of notorious Victorian murders and the public's taste for them…with her expert knowledge and guidance we can shudder at the violence or the cold-calculation of murderers…excellent, well-written and hugely well-informed." —Daily Mail (UK)
"This is so much more than a compendium of famous crimes…Flanders's knowledge of the period is both wide and extraordinarily deep. She writes incisively, and often with dark wit. Best of all, she had a wonderful ability to make connections and to show us familiar sights from unexpected angles…in this unrelievedly excellent book." —Independent (UK)
"Judith Flanders displays a profound understanding of the Victorian age, encyclopedic knowledge of crime and criminals, and the popular reactions towards both. Further, she presents it with a sly, wry humor that is a perfect complement to the subject. Dare I say it would be a crime not to read this book?" —Donna Leon
"An entertaining excursion into the Victorians' taste for murder…The cast is full of swindlers and forgers and other doubtful characters." —The Telegraph
"Flanders has written a book rather like one of the great, rambling Victorian novels that she discusses, though most readers will find her work a lot easier, and a lot more fun… the sheer sumptuousness of Flanders's book leaves the reader wanting still more." —BBC History Magazine
"Flanders's book is more than a catalog of crimes…it builds into an alternative history of the Victorian age, its narrow, purposeful focus providing a means of seeing, from an oblique perspective, terrain which might previously have seemed familiar." —Times Literary Supplement
"Judith Flanders has produced a compelling study of how crime, and crime prevention, emerged as a popular obsession in 19th century Britain, and came to dominate its literature…mesmerizing." —Globe and Mail
"Part social history, part literary history, and part penny-blood itself. In the fine tradition of its subject it both has its cake and eats it. Yum. Strychnine." —Spectator
"Flanders brings to her writing a vivid storyteller's and nicely understated gallows humor…More important though, and far more impressive, is her tenacity in stripping away the gaudy layers of folktale and legend around the period's most notorious murders and revealing how often these inventions obscured lives of heartbreaking ordinariness." —Daily Telegraph
"Plenty of gruesome detail, but also a dry humor…a valuable and well-researched account of Victorian society in Britain and its growing fascination with the ultimate crime…All human death is here." —The Irish Times
"A book jam-packed with fascinating details, not only about the Victorian attitude to murder, but much else besides." —Mail on Sunday
"A penetrating study of the way in which murder can take hold of the creative imagination." —Independent on Sunday
Thomas Dunne Books, 9781250024879, 576pp.
Publication Date: July 23, 2013
About the Author
JUDITH FLANDERS is an international bestselling author and one of the foremost social historians of the Victorian era. Her book Inside the Victorian Home was shortlisted for the British Book Awards History Book of the Year. Judith is a frequent contributor to the Daily Telegraph, Guardian, Spectator, and the Times Literary Supplement. She lives in London.
or
Not Currently Available for Direct Purchase