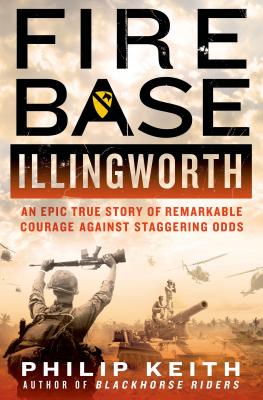 Fire Base Illingworth (Hardcover)
An Epic True Story of Remarkable Courage Against Staggering Odds: An Epic True Story of Remarkable Courage Against Staggering O
St. Martin's Press, 9781250024954, 291pp.
Publication Date: October 29, 2013
* Individual store prices may vary.
Description
Fire Base Illingworth is an epic, never-before-told true story of a North Vietnamese Army attack and how the men of this nearly overrun Fire Base survived.
In the early morning hours of April 1, 1970, more than four hundred North Vietnamese soldiers charged out into the open and tried to over-run FSB Illingworth. The battle went on, mostly in the dark, for hours. Exposed ammunition canisters were hit and blew up, causing a thunderous explosion inside the FSB that left dust so thick it jammed the hand-held weapons of the GIs. Much of the combat was hand-to-hand. In all, twenty-four Americans lost their lives and another fifty-four were wounded. Nearly one hundred enemy bodies were recovered. It was one of the most vicious small unit firefights in the history of U.S. forces in Vietnam.
As in his acclaimed book Blackhorse Riders, a finalist for the prestigious Colby Award, Philip Keith uncovers a harrowing true story of bravery and sacrifice by the men who fought valiantly to hold FSB Illingworth-a tale never-before-told and one that will not be soon forgotten.
About the Author
PHILIP KEITH became a naval aviator after graduating from Harvard. During three tours in Vietnam, he was awarded, among other decorations, the Presidential Unit Citation, the Air Medal for Gallantry, the Purple Heart, and the Navy Commendation Medal. Keith is also the author of Blackhorse Riders, which was awarded the USA Book Award for Military History. He lives in Southampton, Long Island.
Praise For Fire Base Illingworth: An Epic True Story of Remarkable Courage Against Staggering Odds: An Epic True Story of Remarkable Courage Against Staggering O…
Praise for Fire Base Illingworth: 
"A harrowing tale that centers on an exhausted, ragtag group of U.S. Army troops as they fought for their lives against a 400-man North Vietnamese Army regiment in a vicious engagement in 1970. The heart of the book is a virtually minute-by-minute description of the fighting."
—Publishers Weekly "Impressive verisimilitude and . . . moment-by-moment accuracy. A respectful account of a battle that was 'a perfect microcosm of what the Vietnam War was becoming in the early days of Vietnamization.'"—Kirkus 
"A fascinating and detailed study of strategic intentions, operational planning, and tactical execution from a critical time period of the Vietnam War. Phil Keith has added, in dramatic detail, the personal sacrifices of brave warriors in this hellacious fight at LZ Illingworth in the late years of the Vietnam War—experiences that have not been adequately documented to date. They remain as relevant for the war fighters of today as those who endured the drama of close combat over 40 years ago. In the spirit of We Were Soldiers Once and Young, this book fittingly honors their actions for the ages—both collectively and individually."
—Alexander S. Cochran, Professor of History, University of New Mexico; Vietnam veteran and former historical adviser to the Army Chief of Staff  
"In relating the events at Fire Base Illingworth, Phil Keith has captured the essence of combat from first hand accounts of those soldiers who experienced it. The reader can sense the fear, the confusion, the bravery which hung over these men on that awful day in 1970, and which continue to haunt many of them to this day. Fire Base Illingworth can rightly take its place alongside such Vietnam War classics as Fields of Fire and We Were Soldiers Once and Young."
—Captain Thomas G. Kelley, USN (Ret.), Vietnam Veteran, Medal of Honor recipient
"A wonderful tribute to Jack Illingworth—and for all men and women who died or spilled blood in the Vietnam War. Phil Keith has done an outstanding job of researching and then recounting the heroic efforts of the ingenuity and adapting to conditions that were unforeseen or unpredictable in the "Vietnamization of the war." No matter what the grand strategy is of any conflict, it always comes down to the individual and the way individuals function and are lead. A vivid picture of how leadership is able to shape and determine victory from the inside out—this is a spectacular work that is made from the rich fabric of human brilliance (on both sides) stitched together in the way only a master storyteller can do. A must-read for anyone wanting to better understand Vietnam and how things really were on the ground—and how we ultimately left without victory."
—Lt. Col. Anthony Shaffer (Ret.), New York Times bestselling author of Operation Dark Heart
"An incredible story—one in which high command deliberately sets as bait deep inside enemy territory near the Cambodian border an undermanned and inadequately fortified fire base composed of a lash-up of disparate units that had never before worked together. The result was a twentieth century Alamo waiting to happen. Philip Keith's meticulous research and powerful narrative skills are at their peak in this extraordinary story of horror and heroism in the jungles of Vietnam—a story I could not put down until I had finished it."
—Dwight Jon Zimmerman, New York Times bestselling co-author of Uncommon Valor: The Medal of Honor and the Warriors Who Earned It in Afghanistan and Iraq
 Praise for Blackhorse Riders:
 "A riveting account of tragedy and death in Vietnam—and of wrongs ultimately righted." —Washington Times "Keith's compelling storytelling breathes life into the personalities involved, so that minute by minute, following both rescuers and rescued, you keep turning pages to find out who lives and who dies." —Karl Marlantes, New York Times bestselling author of Matterhorn and What It Is Like to Go to War "One of the finest and best told combat stories to come out of Vietnam." —Nelson DeMille
or
Not Currently Available for Direct Purchase