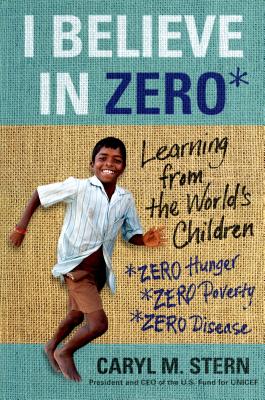 I Believe in ZERO (Hardcover)
Learning from the World's Children
St. Martin's Press, 9781250026248, 272pp.
Publication Date: October 1, 2013
Other Editions of This Title:
Paperback (10/7/2014)
* Individual store prices may vary.
Description
First-hand, human stories of hope, resilience, determination, and family: a call to see the world's children as our own, by the President and CEO of the U.S. Fund for UNICEF
In I Believe in ZERO, President and CEO of the U.S. Fund for UNICEF, an organization known for its decades of charity work and philanthropy with the United Nations, Caryl M. Stern draws on her travels around the world, offering memorable stories that present powerful and sometimes counter-intuitive lessons about life. I Believe in ZERO reflects her-and UNICEF's-mission to reduce the number of preventable deaths of children under the age of five from 19,000 each day to zero.
Each of the stories in I Believe in ZERO focuses on a particular locale-Bangladesh, Mozambique, earthquake-ravaged Haiti, the Brazilian Amazon-and weaves together fascinating material on the country and its history, an account of the humanitarian crises at issue, and depictions of the people she meets on the ground. Stern tells of mothers coming together to affect change, of local communities with valuable perspectives of their own, and of children who continue to sustain their dreams and hopes even in the most dire of situations. Throughout, Stern traces her emerging global consciousness-and describes how these stories can positively impact our own children.
In this incredibly moving book, Stern hopes to open hearts and minds and leave readers with the belief that no child anywhere should lack basic human support-and that every child and mother can be an inspiration.
About the Author
CARYL M. STERN has spent more than thirty years in the non-profit sector as a child advocate and civil rights activist. Since May 2007, she's served as President and CEO of the U.S. Fund for UNICEF, leading the day-to-day work of the organization's National Office and five Regional Offices. Prior to this and other roles at the U.S. Fund, Stern served as the Chief Operating Officer and Senior Associate National Director for the Anti-Defamation League (ADL). She lives with her family in New York.
Praise For I Believe in ZERO: Learning from the World's Children…
"A powerfully written, heartbreaking account of making sure that all children have the opportunity to "dream big dreams and have a fighting chance to realize those dreams." —Kirkus Review
"Stern's ability to bridge diverse cultures, language barriers, and economic circumstances through simple commonalities--she relates to women in Africa as a mother and gains insight into the experience of displaced persons from her Jewish heritage--is the greatest of many lessons she offers to those wanting to help children in crisis." —Publisher's Weekly
"Caryl Stern offers a poignant and personal account from the front lines of her work to protect the most vulnerable children in the world today. Through her eyes, we are powerfully re-awakened to the common hopes and aspirations that all parents share for their children – and to the injustice that denies hope to far too many of the world's most marginalized families. She does so with empathy, humility, and a sense of profound optimism that leaves the reader believing – like her – in the equity platform of UNICEF and the audacious goal of ZERO hunger, poverty and disease." —Timothy P. Shriver, PhD; Chairman and CEO, Special Olympics Inc.
"Caryl Stern is an inspiration for anyone contemplating a life of service. Throughout her travels, whether to war zones, the sites of humanitarian or natural disasters, or to distant places where UNICEF has been working away for the long haul, she has always taken the time to talk to children, families and communities, to understand their lives and the issues the face, and their hopes and dreams. I Believe in ZERO: Learning From The World's Children should be mandatory reading for anyone interested in making sure that every child has the chance to grow, thrive and reach their potential – and indeed, in changing the world!" —Lucy Liu, UNICEF Ambassador
"As global citizens, it's our responsibility to band together and create change for our world's children. As a mother of four, I'm always amazed at the work Caryl Stern and UNICEF do on a daily basis to make sure kids have the basic necessities like clean water, food to eat and medicine for preventable illnesses. This book is not only heartwarming but inspirational. My hope is that you will read it and join in UNICEF's 'I believe in ZERO' campaign. Our children need us." —Heidi Klum
"UNICEF has helped save more children's lives than any other organization on the planet. Caryl Stern and all of the wonderful people at UNICEF are amongst the bravest warriors we have in this battle to save the world's most vulnerable children. They don't care about how dangerous or unstable a country might be that they need to enter, or what the gender, political affiliation, or religion is of a child. All Caryl and UNICEF care about is accessing children who need their help. I believe in ZERO and anyone who spends a few minutes with Caryl Stern will believe in ZERO too." —Vern Yip, UNICEF Ambassador
"Traveling with UNICEF changed my life, and like Caryl Stern, the lessons I've learned from the world's children have filled me with awe and wonder. In her new book, Caryl brings those lessons home for us all, with a mother's eye, and a humanitarian's heart." —Alyssa Milano, UNICEF Ambassador
"Caryl Stern is one of the world's great mothers. While travelling with Caryl on a UNICEF field visit, I saw firsthand the incredible love she has for ALL of the world's children. Her stories force us to realize that every child, not just our own, deserves the right to live a healthy, happy life." —Tyson Chandler
"Caryl understands how important children are. Through this book she shows her passion for protecting the world's most vulnerable children, helping us understand the need for all of us to work toward the day when Zero children die from preventable causes." —Pau Gasol, UNICEF Ambassador
or
Not Currently Available for Direct Purchase