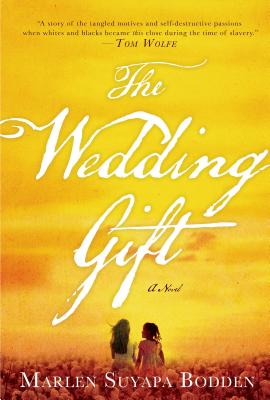 The Wedding Gift (Hardcover)
St. Martin's Press, 9781250026385, 305pp.
Publication Date: September 24, 2013
* Individual store prices may vary.
or
Not Currently Available for Direct Purchase
Description
In 1852, when prestigious Alabama plantation owner Cornelius Allen gives his daughter Clarissa's hand in marriage, she takes with her a gift: Sarah her slave and her half-sister. Raised by an educated mother, Clarissa is not the proper Southern belle she appears to be, with ambitions of loving whom she chooses. Sarah equally hides behind the facade of being a docile house slave as she plots to escape. Both women bring these tumultuous secrets and desires with them to their new home, igniting events that spiral into a tale beyond what you ever imagined possible. Told through the alternating viewpoints of Sarah and Theodora Allen, Cornelius' wife, Marlen Suyapa Bodden's "The Wedding Gift" is an intimate portrait of slavery and the 19th Century South that will leave readers breathless.
About the Author
MARLEN SUYAPA BODDEN is a lawyer at The Legal Aid Society, the nation's oldest and largest law firm for the poor, in New York City. She drew on her knowledge of modern and historical slavery, human trafficking, and human rights abuses to write The Wedding Gift, her first novel.
Praise For The Wedding Gift…
"In this stunning debut, Marlen Suyapa Bodden effortlessly transports the reader to 1852 Alabama, where slavery and racism may rule the day, but everything isn't as black and white as it may seem...Bodden weaves a page-turning tangled web of misogyny, greed, scandal and violence in this powerful story about races colliding against the backdrop of America's darkest era."  --PW Starred Review
"Once you read The Wedding Gift, you'll learn why the based-on-true-events story of biracial slave Sarah Campbell, her White sister Clarissa Allen and her slavemaster daddy Cornelius Allen is sure to become 2013's sleeper hit...the beauty of  this novel is the way it expands the typical slave narrative by adding gripping innuendo, mystery, surprise, shrewd insight and murder centered on people - White, Black, male and female - who will fight to the death to escape their circumstances." — Ebony Magazine
"If I were you, I wouldn't make any plans for the rest of the day.  You have in your hands a story of the tangled motives and self-destructive passions when whites and blacks became this close during the time of slavery—all told at a pell mell pace."—Tom Wolfe, New York Times bestselling and Award-winning author of Back to Blood
"Bodden wraps some of the most complex issues facing the world today, slavery, racism, misogyny, and violence in an unflinching tall tale about an American family that is black and white. This compelling and fierce historical novel, where the slave master gives his white daughter his black daughter as a wedding gift, is set in the big house of a wealthy plantation before the Civil War and is based on a court case from the 1840s in Talladega, Alabama."—Henry Louis Gates, Jr.
"Fascinating, intriguing—a great story!" —Kathleen Grissom, New York Times bestselling author of The Kitchen House
"The WEDDING GIFT is powerful and absorbing.  Ms. Bodden's story-telling skills are on fine display in this intricately-plotted novel as she unflinchingly transports the reader to the most tragic, brutal time in the country's past.  The characters are exceptionally well-rendered; the sense of who they are lingers beyond the last page.  The author astutely captures the complexities of the relationships--especially between the enslaved black women and the oppressed white women.  Also masterfully captured here is the boundless quest to live fully free." —Diane McKinney-Whetstone, author of Tumbling
"The strength of the novel is its slave narrative tone and its ability to demonstrate the pain of being owned by  another human being. Many have heard of slavery; few know this story. It's too important to overlook." 
—Daniel Black, author of Twelve Gates to the City
"If your book club enjoyed The Help or Calling Me Home, these books might make wonderful selections." —She Reads Round Up includes The Wedding Gift
Advertisement