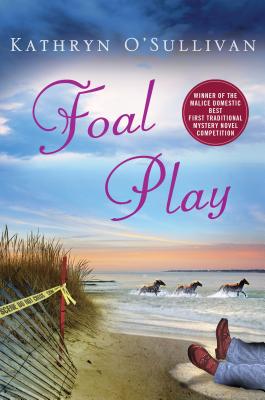 Foal Play (Hardcover)
A Mystery (Colleen McCabe Series #1)
Minotaur Books, 9781250026590, 272pp.
Publication Date: May 7, 2013
* Individual store prices may vary.
Description
Colleen McCabe is enjoying an uneventful summer in North Carolina's Outer Banks supervising her firefighters, making rounds with her Border collie, Sparky, and keeping an eye on the wild horses escaped from the local sanctuary. But when a dead body washes up on shore, she knows trouble has arrived in Corolla.
Colleen is ready to start work on the investigation, but much to her irritation, her best friend, Sheriff Bill Dorman, makes it clear he doesn't want her butting her nose in or poking around. The stubborn Colleen, however, is not so easily deterred. When a man with a gun is spotted lurking around the lighthouse and her former school teacher's house explodes, she adds arson and a second suspicious death to her informal investigation. Colleen soon finds herself juggling her job, amorous advances from the town's developer, and intrusions from the local press, all while keeping information from Bill. Her secret sleuthing quickly comes to an end, however, when a bigger threat enters the picture.
With a gutsy heroine, a lovable dog sidekick, quirky characters, and a charming locale, Kathryn O'Sullivan's Foal Play is a zany, fun-filled ride sure to please mystery readers.
About the Author
Kathryn O'Sullivan is a winner of the Malice Domestic Best First Traditional Mystery Novel Competition, an award-winning playwright and creator of the Western Web series Thurston, and a theatre professor at Northern Virginia Community College. She is the author of Murder on the Hoof and Foal Play. She lives in Virginia with her husband, an award-winning director and cinematographer, and their rascally rescue cat, Oscar.
Praise For Foal Play: A Mystery (Colleen McCabe Series #1)…
"The setting, unusual occupation of the protagonist, and the supporting cast of small-town characters all mesh nicely in this humor-laden, thoroughly absorbing cozy. Colleen is a strong, smart woman, similar in style to Arly Hanks in Joan Hess' series, and readers will look for more from her." —Booklist
"Smalltown hilarity buoys O'Sullivan's charming debut....Readers will enjoy the quirky supporting cast....The Outer Banks setting, home to wild mustangs, adds to the appeal." —Publishers Weekly
"Winner of the Malice Domestic Best First Traditional Mystery Novel Competition, this promising series debut cozy showcases a strong sense of place and a likable cast of characters. The author's gutsy amateur sleuth heroine shows great potential for future installments. This makes a nice pairing with fellow newcomer Susan M. Boyer's Lowcountry Boil." —Library Journal
"O'Sullivan's debut features pleasantly amusing characters." —Kirkus Reviews
"Kathryn O'Sullivan's debut is one of those books that keeps you up reading late into the night. Masterfully crafted, richly detailed, populated with a smart winning heroine and fascinating characters, Foal Play is a compulsively readable whodunit from a skilled new novelist. What a pleasure! Bravo!" —Jeffrey Stepakoff, author of Fireworks Over Toccoa and The Orchard
"What fun! Kathryn O'Sullivan's winning debut mystery is a light-hearted confection for traditional mystery readers to enjoy. This charming cozy offers an intriguing puzzle in a sweet seaside village and an unusual warm-hearted fire chief as heroine." —Linda Rodriguez, author of Every Last Secret
"A delicious romp of a mystery that sweeps you along for a wild roller-coaster ride. Filled with hilarious characters and a compelling heroine, Foal Play is an engaging read set in a modern-day 'Mayberry' with a twist of murder and suspense. Kathryn O'Sullivan is a promising new author to keep your eye on." —Carole Bellacera, author of Lily of the Springs
"Fast paced intrigue on the Outer Banks, introducing Colleen McCabe, a fire chief with a fondness for horses and a flare for solving murders." —Noreen Wald, author of the Kate Kennedy Senior Sleuth series