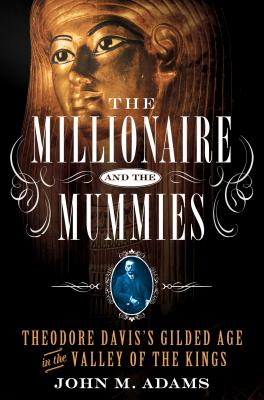 The Millionaire and the Mummies (Hardcover)
Theodore Davis's Gilded Age in the Valley of the Kings
St. Martin's Press, 9781250026699, 363pp.
Publication Date: June 25, 2013
* Individual store prices may vary.
Description
Egypt, The Valley of the Kings, 1905: An American robber baron peers through the hole he has cut in an ancient tomb wall and discovers the richest trove of golden treasure ever seen in Egypt.
At the start of the twentieth century, Theodore Davis was the most famous archaeologist in the world; his career turned tomb-robbing and treasure-hunting into a science. Using six of Davis's most important discoveries in archaeology-from the female Pharaoh Hatshepsut's sarcophagus to the exquisite s"habti" statuettes looted from the Egyptian Museum not too long ago-as a lens around which to focus his quintessentially American rags-to-riches tale, Adams chronicles the dizzying rise of a poor country preacher's son who, through corruption and fraud, amassed tremendous wealth in Gilded Age New York and then atoned for his ruthless career by inventing new standards for systematic excavation in the field of archaeology. Davis found a record eighteen tombs in the Valley and, breaking with custom, gave all the spoils of his discoveries to museums. A confederate of Boss Tweed, friend of Teddy Roosevelt, and rival of J. P. Morgan, the colorful "American Lord Carnarvon" shared his Newport mansion with his Rembrandts, his wife, "and" his mistress. The only reason Davis has been forgotten by history to a large extent is probably the fact that he stopped just short of King Tutankhamen's tomb, the discovery of which propelled Howard Carter (Davis's erstwhile employee) to worldwide fame just a few short years later.
Drawing on rare and never-before-published archival material, "The Millionaire and the Mummies," the first biography of Theodore Davis ever written rehabilitates a tarnished image through a thrilling tale of crime and adventure, filled with larger-than-life characters, unimaginable treasures, and exotic settings.
About the Author
JOHN M. ADAMS is director emeritus of the Orange County Public Library. He has served on the Board and Executive Committee of the American Research Center in Egypt (the professional organization for U.S. Egyptologists) and founded the Southern California Chapter of ARCE and served as its president. He is a regular contributor to Kmt: A Modern Journal of Ancient Egypt. He edited the Egyptological newsletter Sedjem for five years. He lives in Winchester, Illinois.
Praise For The Millionaire and the Mummies: Theodore Davis's Gilded Age in the Valley of the Kings…
"Behind every great fortune is a crime, Balzac once declared. But Theodore Davis's struggle for wealth and power is only one side of the amazing story. The tycoon is a complex character driven by his demons to achieve something noble and unforgettable with his ill-gotten gains. And in the barren wastes of Egypt's Valley of the Kings, Davis achieves just that. Unstoppable, self-educated, kind and tyrannical in turn, Davis embodies the energy of an America just coming into its own. The book is a meditation on the mysteries of the past Davis uncovers as well as a study in the contradictions of human nature. I could not put it down. I loved the anecdotes Adams 'dug up' and held my breath as Davis descended into ancient, sealed tombs. A wonderful book."--Daniel Meyerson, author of In The Valley of the Kings and The Linguist and the Emperor
"A fascinating book: a lively split-screen account of the corrupt rise of a Tweed-ring mogul, Theodore Davis, interlaced with his later distinguished career as an Egyptologist and primary excavator of the Valley of the Kings."--Charles.R. Morris, author of The Tycoons
"A rounded biography. Theodore Davis's work, though overshadowed by later excavations, was revolutionary in its methodical thoroughness, and Adams is similarly scientific in his factual resurrection of Davis's life. Throughout the book, there is a compelling tension between Davis's uniquely American style of self-made wealth and the divinely granted kingships of the ancient Egyptian rulers. It's a fresh look at Egyptology, and the author skillfully dusts off a historic life, presenting his subject as a full-bodied human."—Publishers Weekly
"A fast-paced narrative. Adams brings to life a fascinating individual and his world. Highly recommended."—Library Journal
"It proves to be an extraordinary read, thoroughly and freshly researched, and well written. It is the book everyone interested in the golden age of Egyptioan archaeology has been waiting for,a nd it does not disappoint. Thanks to Adams' groundbreaking research, we learn a great deal that is new about our hero...the story recounted by Adams is a gripping one...This book is a winner."—Egyptian Archaeology
"It's high time we had a biography of Theodore Davis, the eccentric millionaire who cut a wide swath in Egyptology (and elsewhere) during the 1900's. Was he as big a crook as some of us suspected? John Adams has the answer!"- Dr. Barbara Mertz, author of "Temples, Tombs and Hieroglyphs" and, as Elizabeth Peters, of the "Amelia Peabody" mystery series.
"Theodore Davis, a flamboyant American millionaire, was responsible for some of the most provocative discoveries ever in Egyptian archaeology, and an accessible authoritative biography of this curious, remarkable man is long overdue. John Adams tells the story of Davis with substance and enthusiasm in his enjoyable book, which should greatly appeal to anyone with an interest in Ancient Egypt and the exploration of its remains."– Donald P. Ryan, archaeologist and excavator in Egypt's Valley of the Kings."A contemporary of the famed Heinrich Schliemann, the excavator of Troy and Mycenae, the discoveries of Davis in the Valley of the Kings were no less spectacular and scientifically important . . . The author of this welcome biography lays bare the hitherto obscure details of Theodore Davis's private life and earlier career in the legal profession and his acquisition of considerable wealth."- Geoffrey T. Martin, Edwards Professor of Egyptology Emeritus, University College, London"Theodore Davis has always been something of a 'Jekyll and Hyde' character for Egyptologists – lauded by some as a sponsor of some of the greatest discoveries, reviled by others as little better than a bungling tomb-raider. At long last, John Adams has untangled the truth from the fiction that has built up around Davis and allows him to be assessed a human being and genuine lover of ancient Egypt."- Dr. Aidan Dodson, University of Bristol and author of
Amarna Sunset: Nefertiti, Tutankhamun, Ay, Horemheb and the Egyptian Counter-Reformation
"Evocative, erudite, irresistibly readable, THE MILLIONAIRE AND THE MUMMIES brilliantly brings to life one of the key movers of the golden age of Egyptian archaeology. It is that most rare of beasts; an exhaustively researched page-turner. An utterly compelling account of a completely extraordinary man."- Paul Sussman, best-selling author of
The Lost Army of Cambyses
and
The Labyrinth of Osiris
"Theodore M. Davis: while the name may be one of the best known in Egyptian archaeology, the personality behind it has for too long proved elusive. Thanks to John Adams we now have the story – and, my, what an interesting man Mr. Davis turns out to have been!"--Nicholas Reeves, author of
The Complete Tutankhamun
"This fascinating tale, told with panache, is a must-read for anyone interested in ancient Egypt, archaeology, art, and the history of collecting. Theodore Davis was a compelling rogue, a robber baron and rabid excavator whose finds are among the most important and arresting from ancient Egypt. This book is an entertaining and enlightening romp, revealing not only Davis's life but also the highlights of his career as an archaeologist in Egypt."- Salima Ikram, Professor of Egyptology, American University in Cairo
"Adams vividly portrays the unlikely robber baron who set the standards for archaeology. Adams presents Davis warts and all, as a callous, scheming tycoon who amassed a fortune and then did an about-face and behaved with honesty, responsibility and generosity as he transformed archaeology from glorified grave robbing to a science."—Kirkus Reviews
or
Not Currently Available for Direct Purchase