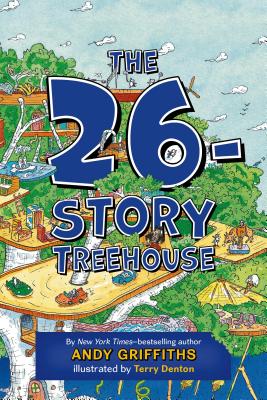 The 26-Story Treehouse
Pirate Problems! (The Treehouse Books #2)
Hardcover

* Individual store prices may vary.
Other Editions of This Title:
Paperback (4/7/2015)
Compact Disc (2/15/2015)
MP3 CD (2/15/2015)
Description
Andy and Terry live in a 26-story treehouse. (It used to be 13 stories, but they've expanded.) It has a bumper car rink, a skate ramp, an antigravity chamber, an ice cream parlor with 78 flavors, and the Maze of Doom—a maze so complicated that nobody who has gone in has ever come out again. Well, not yet, anyway.

This time, the two friends have a whole week to finish their next book, and Andy even knows what it should be about—the story of how he and Terry first met. But, life is NEVER boring in the treehouse, and emergency shark operations, giant storms, and wooden pirate heads are just the beginning….

This title has Common Core connections.

Read the whole series!
The 13-Story Treehouse
The 26-Story Treehouse
The 39-Story Treehouse
The 52-Story Treehouse
The 65-Story Treehouse
The 78-Story Treehouse
The 91-Story Treehouse
Praise For The 26-Story Treehouse: Pirate Problems! (The Treehouse Books #2)…
"Wildly humorous without being smart-alecky or sarcastic, this is a top choice for middle-grade readers." —School Library Journal on The 25-Story Treehouse

"This zany sequel, as much cartoon illustration as text, is an almost nonstop adventure involving self-inflating underpants, fish with bad breath, sharks with zippered bellies, 78 flavors of ice cream, and several disasters, before its explosive finish. Mr. Big Nose, the publisher, is impatient for more. Can the 52-story model be far behind?" —Booklist on The 25-Story Treehouse

"Twice the treehouse, twice the fun? You bet. Griffiths and Denton follow the uproarious The 13-Story Treehouse with another cartoon-laden carnival of slapstick and self-referential humor--this time, with pirates….Whether it's Jill and her menagerie of animals stacked precariously on a tiny iceberg or a giant, smelly fish head orbiting the Earth (it's an important plot point), Denton's furiously scrawled line drawings milk the silly, gross-out gags for everything they're worth. Kids should be flipping pages faster than a pair of inflatable underpants can skyrocket the young heroes to safety (it's also an important plot point). Best of all, Terry and Andy leave readers with a blueprint for a 39-story sequel." —Publishers Weekly, starred review on The 25-Story Treehouse

"A series starter that will appeal to fans of Jeff Kinney and Dav Pilkey . . . A treat for all . . . And guess what? It makes for good tree house reading." —Booklist on The 13-Story Treehouse

"Fans of Jeff Kinney's Diary of a Wimpy Kid and Lincoln Peirce's Big Nate series will be drawn to this book, while parents will enjoy the absence of snarky humor." —School Library Journal on The 13-Story Treehouse

"Longtime collaborators Griffiths and Denton (Killer Koalas from Outer Space) get metafictional in their latest book (first published in Australia), and the result is anarchic absurdity at its best. Young buddies Andy and Terry live together in the sort of tree house that kids dream about, complete with bowling alley, shark tank, vines to swing from, and underground laboratory." —Publishers Weekly, starred review on The 13-Story Treehouse

"Boys in particular will like the burping contests, gross creatures, and ridiculous choices that Terry and Andy make throughout the book. And as if killer mermaids are not enough, there are sea monkeys. And a giant gorilla. And a giant banana. And the return of the catnary. See? Silly, ridiculous fun. Kids will love it." —Kris Sauer, Children's Literature on The 13-Story Treehouse
Feiwel & Friends, 9781250026910, 352pp.
Publication Date: April 1, 2014
About the Author
Andy Griffiths is the New York Times bestselling author of The Day My Butt Went Psycho!, Zombie Butts from Uranus!, and Butt Wars! The Final Conflict, as well as the Treehouse Series and Killer Koalas from Outer Space. In 2007, he became the first Australian author to win six children's choice awards in one year for Just Shocking! He is passionate about inspiring a love of books in his young readers, and works as an ambassador for the Indigenous Literacy Project, which provides books and literacy resources to remote indigenous communities around Australia. Andy is a big fan of Dr. Seuss and of cauliflower. He lives in Melbourne, Australia, and is Australia's most popular children's writer.

Terry Denton is known for his humorous illustration style and has worked with Andy Griffiths on the Treehouse series and the JUST! books among others. He lives by the sea in Australia with his wife, three kids, and a pop-up toaster that only toasts on one side.