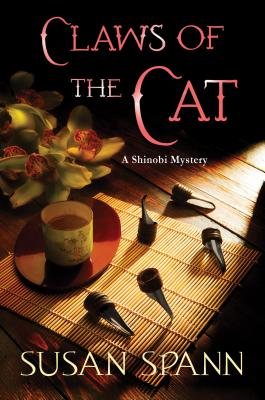 Claws of the Cat
A Shinobi Mystery
Hardcover

* Individual store prices may vary.
Other Editions of This Title:
Paperback (4/23/2019)
Hardcover, Large Print (11/28/2013)
Description
May 1564: When a samurai is brutally murdered in a Kyoto teahouse, master ninja Hiro has no desire to get involved. But the beautiful entertainer accused of the crime enlists the help of Father Mateo, the Portuguese Jesuit Hiro is sworn to protect, leaving the master shinobi with just three days to find the killer in order to save the girl and the priest from execution.

The investigation plunges Hiro and Father Mateo into the dangerous waters of Kyoto's floating world, where they learn that everyone from the elusive teahouse owner to the dead man's dishonored brother has a motive to keep the samurai's death a mystery. A rare murder weapon favored by ninja assassins, a female samurai warrior, and a hidden affair leave Hiro with too many suspects and far too little time. Worse, the ninja's investigation uncovers a host of secrets that threaten not only Father Mateo and the teahouse, but the very future of Japan.

Debut author Susan Spann delivers a riveting mystery filled with rich period detail and a fine sense of Japanese culture. Claws of the Cat boasts a detective like no other and a world never seen before in crime fiction.
Praise For Claws of the Cat: A Shinobi Mystery…
"While Spann demonstrates admirable attention to detail in her ninja detective debut, it's the contemporary tone of her prose that makes this intriguing 16th-century historical so accessible. Laura Joh Rowland fans will like this book for the time period, but the 'buddy tone' is reminiscent of Ian Morson's 'Nick Zuliani' series and Gary Corby's 'Athenian Mysteries' series." —Library Journal (starred review, mystery debut of the month)

"This well-written debut mystery set in 16th-century Japan offers a glimpse into a little-known society as well as a brain-teasing puzzle....The bulk of the book is a fascinating description of how [Hiro] teases clues out of conversations and balances the requirements of his assignment with the demands of the samurai lifestyle. One can only hope this Northern California author brings Hiro back in another adventure." —San Jose Mercury News

"Spann's debut provides an absorbing look at Japanese culture along with a sharp mystery." —Kirkus Reviews

"Spann matches period detail with a well-developed whodunit plot in her promising debut, the first in a new series set in 16th-century Japan." —Publishers Weekly

"Different enough from Rowland's and Parker's popular series and set in a mostly untapped period of Japanese history, the book should do well with fans of those writers." —Booklist

"Claws of the Cat is an excursion into 16th century Japan where exotic locales take on a familiar flavor as a samurai investigates a murder....It's an intriguing tale with dramatic descriptions and vivid characterizations, revealing that love, jealousy, and greed not only are universal emotions, but also remain unchanged by the centuries." —New York Journal of Books

"Spann displays her knowledge and expertise while presenting a fascinating and complicated mystery. This is fun, historically entertaining and a very good book." —RT Book Reviews (4 stars)

"Susan Spann skillfully transports the reader to Samurai Japan and serves up a feast of intrigue and suspense in a well-drawn exotic and unforgettable world. Claws of the Cat is a delicious adventure and a remarkable debut." —Tasha Alexander, New York Times bestselling author of Death in the Floating City

"A terrific mystery debut that delivers an uncanny sense of life in 16th century Japan. Claws of the Cat is fast-paced, tightly plotted, and impossible to put down. Susan Spann has created one of the most original and engaging detectives to enter the mystery world in a long while--the master ninja, Hiro. So take a trip back in time to the murderous, political world of the ninja and the samurai, if you dare!" —Margaret Coel, New York Times bestselling author of the Wind River mystery series

"A blend of history, mystery, and charm. Hiro and Father Mateo are a fresh take on 'East meets West.' Authentic and engaging." —Laura Joh Rowland, author of The Incense Game

"Claws of the Cat is an amazing debut novel that exceeds expectation. Mystery, adventure, characters who leap off the page, I couldn't turn the pages fast enough." —Richard Doetsch, bestselling author of Half-Past Dawn
Minotaur Books, 9781250027023, 288pp.
Publication Date: July 16, 2013
About the Author
SUSAN SPANN is a transactional attorney focusing on publishing law and a former law school professor. She has a deep interest in Asian culture and has studied Mandarin and Japanese. Her hobbies include Asian cooking, fencing, knife and shuriken throwing, traditional archery, martial arts, rock climbing, and horseback riding. Susan keeps a marine aquarium where she raises seahorses and rare corals. Spann is a member of the Historical Novel Society and is the author of Claws of the Cat. She lives in northern California with her family.
or
Not Currently Available for Direct Purchase