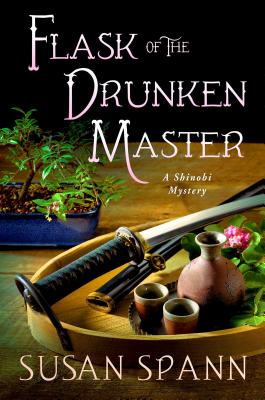 Flask of the Drunken Master (Hardcover)
A Shinobi Mystery (Shinobi Mysteries #3)
Minotaur Books, 9781250027061, 304pp.
Publication Date: July 14, 2015
Other Editions of This Title:
Paperback (6/11/2019)
* Individual store prices may vary.
Description
August 1565: When a rival artisan turns up dead outside Ginjiro's brewery, and all the evidence implicates the brewer, master ninja Hiro Hattori and Portuguese Jesuit Father Mateo must find the killer before the magistrate executes Ginjiro and seizes the brewery, leaving his wife and daughter destitute. A missing merchant, a vicious debt collector, and a female moneylender join Ginjiro and the victim's spendthrift son on the suspect list. But with Kyoto on alert in the wake of the shogun's recent death, a rival shinobi on the prowl, and samurai threatening Hiro and Father Mateo at every turn, Ginjiro's life is not the only one in danger.
Will Hiro and Father Mateo unravel the clues in time to save Ginjiro's life, or will the shadows gathering over Kyoto consume the detectives as well as the brewer?
Flask of the Drunken Master is the latest entry in Susan Spann's thrilling 16th century Japanese mystery series, featuring ninja detective Hiro Hattori and Jesuit Father Mateo.
About the Author
SUSAN SPANN is a transactional attorney focusing on publishing law and a former law school professor. She has a deep interest in Asian culture and has studied Mandarin and Japanese. Her hobbies include Asian cooking, fencing, knife and shuriken throwing, traditional archery, martial arts, rock climbing, and horseback riding. Susan keeps a marine aquarium where she raises seahorses and rare corals. Spann is a member of the Historical Novel Society and is the author of Claws of the Cat. She lives in northern California with her family.
Praise For Flask of the Drunken Master: A Shinobi Mystery (Shinobi Mysteries #3)…
"Spann's third historical set in 16th-century Japan (after Blade of the Samurai)offers an accessible entry into the country's fascinating history and culture. Now that Laura Joh Rowland has finished the "Sano Ichiro" series, Spann's mysteries, as well as the excellent historicals of Dale Furutani and I.J. Parker, will fill the gap. An added draw are Hiro and Father Mateo, who make a remarkable crime-solving team." —Library Journal
"An outstanding historical mystery set in Japan during the shogunate…What adds to the enjoyment of the history is a most elegant mystery that grows out of the politics of the time… All this is told in stripped down prose as we edge carefully through the thickets of confusion and emerge on to the plain of revelation as the killer is unmasked and uncertainty over the threat to the shogun is resolved. " —San Francisco Book Review on Blade of the Samurai
"The second Hiro Hattori mystery (after 2013's Claws of the Cat) finds the sixteenth-century ninja--and unofficial investigator--presented with an interesting problem...A strong second entry in a very promising series." —Booklist on Blade of the Samurai
"Hiro and Father Mateo's second adventure (Claws of the Cat, 2013) combines enlightenment on 16th-century Japanese life with a sharp and well-integrated mystery." —Kirkus Reviews on Blade of the Samurai
"After her exciting historical mystery debut, Claws of the Cat, Spann proves she has the touch in her sophomore entry. The deceptively simple prose educates readers about 16th-century Japan, while the well-plotted story moves at ninja speed. The endearing characters fight to defend honor and truth, giving this strong YA appeal." —Library Journal on Blade of the Samurai
"Laura Joh Rowland fans will like this book for the time period, but the 'buddy tone' is reminiscent of Ian Morson's 'Nick Zuliani' series and Gary Corby's 'Athenian Mysteries' series." —Library Journal (starred review, mystery debut of the month) on Claws of the Cat
"This well-written debut mystery set in 16th-century Japan offers a glimpse into a little-known society as well as a brain-teasing puzzle....The bulk of the book is a fascinating description of how [Hiro] teases clues out of conversations and balances the requirements of his assignment with the demands of the samurai lifestyle. One can only hope this Northern California author brings Hiro back in another adventure." —San Jose Mercury News on Claws of the Cat
"Spann matches period detail with a well-developed whodunit plot in her promising debut, the first in a new series set in 16th-century Japan." —Publishers Weekly on Claws of the Cat