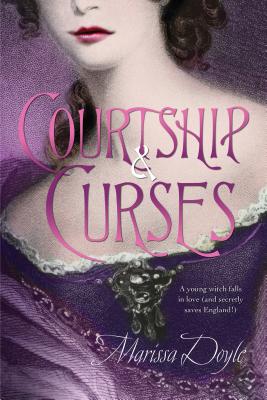 Courtship and Curses (Paperback)
Square Fish, 9781250027443, 368pp.
Publication Date: July 30, 2013
Other Editions of This Title:
Hardcover (8/7/2012)
* Individual store prices may vary.
Description
From the author of Bewitching Season and Betraying Season comes a brand new regency romance with plenty of intrigue--and magic!
Sophie's entrance into London society isn't what she thought it would be: Mama isn't there to guide her. Papa is buried in his work fighting Napoleon. And worst of all, the illness that left her with a limp, unable to dance at the Season's balls, also took away her magic. When the dashing Lord Woodbridge starts showing an interest in Sophie, she wants to believe it's genuine, but she can't be sure he's feeling anything more than pity.
Sophie's problems escalate when someone uses magic to attack Papa at the Whistons' ball and it soon becomes clear that all the members of the War Office are being targeted. Can Sophie regain her own powers, find her balance, make a match--and save England?
Find out in Marissa Doyle's Courtship and Curses!
About the Author
Marissa Doyle graduated from Bryn Mawr College intending to be an archaeologist, but she somehow got distracted. When not writing historical YA and fantasy for adults and kids, she's sailing on Cape Cod, quilting, or collecting 19th century fashion prints. She lives in her native Massachusetts with her family, an alarming number of research books, and a highly opinionated fourteen-pound lop-eared rabbit who shares her fondness for coffee and dark chocolate. She is the author of the young adult historical fantasies Bewitching Season, Betraying Season, and Courtship and Curses.
Praise For Courtship and Curses…
"A nice history and mystery mingle." —Booklist
"Doyle has a talent for writing historical fiction." —VOYA
"Doyle's gift, on display in earlier historical fantasies, lies in creating vivid female characters and the bonds between them." —Kirkus Reviews
"This wonderfully crafted debut novel braids several very different story lines into an utterly satisfying whole. . . . [A] delightful mélange of genres." —Booklist, starred review on Bewitching Season
"Seamlessly weaving elements of historical fiction, romance, and magic, Doyle creates believable characters in a realistic setting set in a fascinating plot. Extremely well written and utterly delightful." —VOYA on Betraying Season
"As in the previous book, this is a full-bodied story that wonderfully combines elements of romance, fantasy, and history. . . . Whether Doyle is describing the Irish countryside, a magical incantation, or a lover's kiss, her writing is compelling, and it will be hard for readers not to be swept away by this invigorating story." —Booklist on Betraying Season