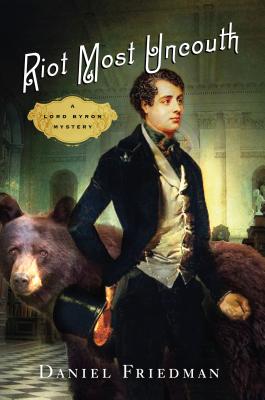 Riot Most Uncouth (Hardcover)
A Lord Byron Mystery
Minotaur Books, 9781250027597, 304pp.
Publication Date: December 1, 2015
* Individual store prices may vary.
Description
1807, Cambridge, England.
A young woman is murdered in a boarding house, and nobody knows what to do about it. The volunteer watchman who patrols the streets of this placid college town has no idea how to investigate a serious crime and the private bounty hunters the girl's family has hired to catch the killer employ methods that are questionable, at best.
What Cambridge needs is a hero, and, in a situation such as this, it's very easy for a gentleman with a romantic disposition to mistake himself for one.
19 year-old Lord Byron, the outlaw poet, is a student at Trinity College, though he can only be described as a "student" in the loosest sense of the word: He rarely attends class and, instead, spends his time day-drinking, making love to faculty wives, and feeding fine cuisine and expensive wine to the bear he keeps as a pet.
Catching a killer seems like a fine diversion, however, and Byron decides that solving the crime must take precedence over other, less-urgent matters such as his failing grades and mounting debts.
Written by the Edgar Award-nominated author of Don't Ever Get Old, which Publishers Weekly called "wickedly funny," and inspired by Byron's moody, sexy and often hilarious poems and letters, this dark, twisty mystery will keep you guessing until its violent conclusion.
About the Author
DANIEL FRIEDMAN is a graduate of the University of Maryland and NYU School of Law. He lives in New York City. Don't Ever Get Old was nominated for a Thriller Award for Best First Novel and won a Macavity Award for Best First Novel.
Praise For Riot Most Uncouth: A Lord Byron Mystery…
"Totally original and perfect for fans of historic mysteries who enjoy sly humor." --auntiemwrites.com
"This intricately plotted and well-researched historical series debut by ­Macavity Award winner Friedman (Don't Ever Get Old) blends sprightly dialog and compelling, well-drawn characters for a pleasurable read that is sure to enthrall English lit majors as well as readers who enjoy the Regency mysteries of Kate Ross and Rosemary Stevens." --Library Journal
"Friedman has created a rogues' gallery of bizarre and seamy characters in this bauble of a story that rankles, reeks and ultimately delights. Readers who start out wishing that Byron could be imprisoned for something—anything, really—may end up with an unexpected affection for Friedman's overblown but endearing creation." --Boopage

"Inspired, hilarious lunacy." --Books for Dudes, Library Journal
"Thriller Award–finalist Friedman (Don't Ever Look Back) succeeds in making his unique blend of humor, crime, and an unusual protagonist work in the first of a new series starring the famous Romantic poet...Besides adroitly placing the major plot twists, Friedman manages to make one of the most obnoxious leads in recent memory oddly endearing and even sympathetic." --Publishers Weekly (starred) on Riot Most Uncouth
"Even though the crime is grisly and Byron's debauchery distinctly wanton, Friedman laces the narrative with comic moments, wry observations on noble privilege, and excellent plot turns." --Booklist on Riot Most Uncouth
"By turns gritty and snappy, Friedman's clever debut novel is like an epilogue to 'Inglorious Basterds,' sixty-six years later." —Alma Katsu, author of The Taker
"Daniel Friedman is the Jewish Elmore Leonard." —Andrew Shaffer, EvilReads.com
"Kudos to Daniel Friedman for giving us a nearly ninety-year-old hero who's not going gently into that good night--he's going out with guns blazing, F-bombs flying and a pack of Lucky Strikes." —Lisa Brackmann, author of Rock Paper Tiger on The Buck Schatz series



or
Not Currently Available for Direct Purchase