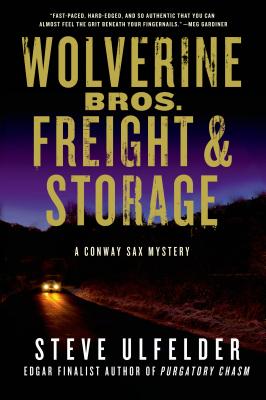 Wolverine Bros. Freight & Storage (Hardcover)
A Conway Sax Mystery
Minotaur Books, 9781250028105, 320pp.
Publication Date: May 6, 2014
* Individual store prices may vary.
Description
Conway Sax is back in a thrilling and heartrending new novel from critically acclaimed, Edgar-nominated author Steve Ulfelder
Conway Sax is a man on a mission-this time in Los Angeles, where he uses his race-driving experience in a desperate bid to rescue Kenny Spoon, a washed-up TV star who's been kidnapped. It's a favor for Kenny's mother Eudora, Conway's dear friend and a fellow member of the Barnburners, his tight-knit maverick AA group.
After hauling Kenny back to Massachusetts, Conway finds himself caught between Eudora and her two sons: Kenny, and Harmon, a cop who resents his talented, troubled half-brother. Each member of the Spoon family distrusts and even despises the others, it seems... and each has a past full of dark secrets that may explain why.
While Conway tries to learn why Kenny was kidnapped and protect him from further harm, a shocking murder devastates this complex, all-too-human family. Conway vows to find the killer and avenge the death, but each clue only points to more suspects.
Things get even more complicated when Conway, separated from his girlfriend Charlene, begins a passionate affair that can't help but cloud his judgment. The more secrets he uncovers, the more danger he's in as this masterfully written page-turner builds to a wrenching confrontation.
"Wolverine Bros. Freight & Storage is tough and full of heart, just like its hero, Conway Sax. It's fast-paced, hard-edged, and so authentic that you can almost feel the grit beneath your fingernails." -Meg Gardiner, New York Times bestselling author of The Shadow Tracer
About the Author
STEVE ULFELDER, author of the Conway Sax mysteries, is an amateur race driver and co-owner of Flatout Motorsports, a Massachusetts company that builds race cars. He was a business and technology journalist for 20 years.  His first novel, Purgatory Chasm, was an Edgar Award Finalist.
Praise For Wolverine Bros. Freight & Storage: A Conway Sax Mystery…
"For fans of hunky protagonists and testosterone-driven action, Steve Ulfelder's Conway Sax novels are just the ticket… Readers will see parallels to 'The Maltese Falcon' in this story of a macho guy who must choose between love and loyalty." —The Boston Globe
"A fast-paced, highly satisfying mystery told in the same muscular, vivid prose that distinguished the first three novels in this Edgar Award-nominated series... Wolverine Bros. Freight & Storage solidifies Ulfelder's place as one of the best crime novelists to come out of Massachusetts since Dennis Lehane burst on the scene two decades ago." —Associated Press
"Stellar… Sax, a Spenser-like paladin more plausible than Robert B. Parker's original Spenser, makes mistakes that are front and center and whose consequences resonate from book to book. Fans will be interested to see what effect this entry's hard knocks on Sax's soul have down the line." —Publishers Weekly, starred review
"Amazingly, as gritty and violent as Sax is, he is also endearing, a difficult feat to pull off but Ufelder does it brilliantly. Lots of action and violence along with a dash of humor are the hallmarks of this series, and this latest entry does not disappoint. The twists and turns run wildly through this story right up to the surprising ending. Ufelder, like Elmore Leonard, exemplifies contemporary noir." —Booklist
"Action stoked, this complicated thriller—both for the character study and the murder plot—satisfies on many levels. The intense culture of AA and recovery is particularly well done. Pair with Robert Crais or Archer Mayor." —Library Journal
"[Conway Sax is] always compared to Robert Parker's Spenser, and that's fair--he's in New England, though small-town, not Boston, and then there's the salty first-person narration. But Sax is both a little darker--more violent, really--and a little talkier than Spenser, so you tend to think of Elmore Leonard, too." —Sullivan County Democrat
"Wolverine Bros. Freight & Storage is tough and full of heart, just like its hero, Conway Sax. It's fast-paced, hard-edged, and so authentic that you can almost feel the grit beneath your fingernails." —Meg Gardiner, New York Times bestselling author of The Shadow Tracer
"Fans of Steve Hamilton and Ace Atkins will relish the compulsively readable Wolverine Bros. Freight & Storage. Its quixotic knight in tarnished armor, Conway Sax, becomes more fascinating with each outing in this distinguished series. Edgar Award finalist Steve Ulfelder's most accomplished novel yet." —Julia Spencer-Fleming, New York Times bestselling author of Through the Evil Days
or
Not Currently Available for Direct Purchase