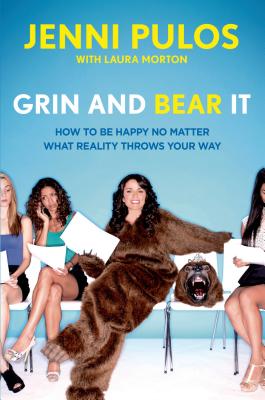 Grin and Bear It (Hardcover)
How to Be Happy No Matter What Reality Throws Your Way
St. Martin's Press, 9781250028198, 232pp.
Publication Date: March 11, 2014
* Individual store prices may vary.
Description
Jenni Pulos, from Bravo's "Flipping Out" and "Interior Therapy," pens a charming memoir-advice book on how to survive (and thrive) in any situation
Jenni Pulos has specialized in a lifetime of disappointments. She's been publicly humiliated, dumped by her spouse on national television, told she'd never make it in Hollywood, encouraged by her family with inspiring questions like, "when are you getting a real job?" and has not only survived but thrived as a result. Despite her struggles and setbacks, Jenni has gone from a "wannabe" aspiring actress and comedian to becoming one of Bravo's most beloved personalities.
With hilarious reality meets insanity anecdotes from her life and career, Jenni writes candidly on how to go from victim to victor . . . "most "of the time. Her book is more of an advice how-"not-"to story that includes: Jenni's top ten tested and proven ways to fail forwardHow she turned her negative self-talk into positive self-beliefsHow Jenni handles people who didn't want her to succeedHow she stopped fretting over things she didn't have control overHow she found her self-worth and finally found the love she never thought she'd have
"Grin and Bear It" is the spark we all need to ignite our passion, to get out there and be positive, find the funny in life, to be present, and learn how to be happy no matter what "reality "throws your way.
About the Author
JENNI PULOS is co-star and consulting producer of Bravo's Flipping Out and co-star and co-executive producer of Bravo's new show Interior Therapy. More than a television personality, Pulos is an actress, comedian, writer, producer, lyricist, and rapper.LAURA MORTON is the author of more than thirty-five books, including eighteen New York Times bestsellers including works with Justin Bieber, Al Roker, Susan Lucci, and Melissa Etheridge.KATHLEEN KING is a writer, director, and consultant for professionals working in the entertainment industry.
Praise For Grin and Bear It: How to Be Happy No Matter What Reality Throws Your Way…
"Pulos, of Bravo's reality series Flipping Out, charms in this frank and self-deprecating cross between memoir and how-not-to guide....She isn't shy about revealing her personal life—like the breakup of her first marriage on national TV or a humiliating encounter with a negative former teacher while working at a grocery store—which only serves to make her more appealing and relatable. Pulos's central message in this encouraging volume is one that anyone would be smart to heed: when you're going through hell, keep on going, because everything works out in the end. "--Publishers Weekly
or
Not Currently Available for Direct Purchase