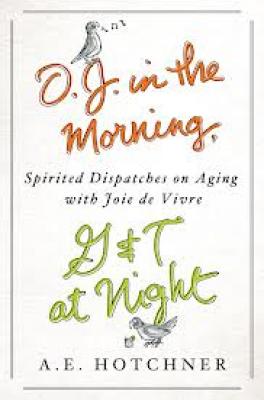 O.J. in the Morning, G&T at Night: Spirited Dispatches on Aging with Joie de Vivre (Hardcover)
Spirited Dispatches on Aging with Joie de Vivre
St. Martin's Press, 9781250028211, 179pp.
Publication Date: February 26, 2013
* Individual store prices may vary.
or
Not Currently Available for Direct Purchase
Description
"Acclaimed author and feisty nonagenarian Hotchner's witty ruminations about the art of living well into old age...with brio and a touch of his trademark sass, Hotchner writes about rediscovering love after 75, finding joy in a scrappy African gray parrot he named after his longtime friend, Ernest Hemingway, and going on his very first safari at age 88." "- Kirkus Reviews"
""
"When youngsters in their seventies and eighties, nervously lurching toward the horizon of ninety, ask me, "What's the secret?" That's what I tell them: "O.J. in the morning, gin and tonic at night.""
""
""You don't have to be in your seventies or eighties to enjoy A. E. Hotchner's elixir for aging happily, but after reading this charming collection of essays, you may wish you were. Nonagenarian, novelist, playwright, and biographer, Hotchner gives us heartfelt and laugh-out-loud anecdotes that describe his unique reflections on the aging process. His musings cover everything from the outlandish commercials that target the older generation (Viagra, Cialis, and Flomax) to suggestions on adapting the tennis game for seniors (he suggests lowering the net by two inches and moving all outer lines two feet inward) to the advantages of having a pet (his pet parrot often tells guests to "kiss my ass").
He can equally capture the headier side of aging, which is bittersweetly revealed in his piece about divorce. With his disarming, eloquent voice and dry sense of humor, Hotch illuminates life's wisdoms through his optimistic, witty, and romantic outlook, all the while making you feel, well, not unhappy about growing older.
"O.J. in the Morning, G&T at Night "is a book of courageous advice, humorous wisdom, and, above all, good strategies for how to stay young at heart.
About the Author
A.E. HOTCHNER is an effervescent and charismatic nonagenarian. A lifelong writer, he has written eighteen books, including his internationally bestselling biography of his close friend Ernest Hemingway, "Papa Hemingway." His memoir, "King of the Hill, " was adapted into a film in 1993 by Steven Soderbergh. In addition to his successful, decades-long writing career, Hotchner is cofounder, along with Paul Newman, of Newman's Own foods and the Hole in the Wall Gang camp for sick children. He lives in Connecticut with his wife and pet parrot, Ernie.
Praise For O.J. in the Morning, G&T at Night: Spirited Dispatches on Aging with Joie de Vivre…
"The irrepressible Hotch provides a lesson for us all—especially for those of us of a certain age who face a rapidly diminishing number of tomorrows. Sipping his morning and evening aperitifs, refusing to go gently into that good night, he's rattled off, not so much a secret to longevity, as an updated Guide for The Perplexed, one that even the sainted Maimonides would have approved of." —Morley Safer, CBS News 60 Minutes

"You don't need to be an elder to appreciate this nonagenarian's wise and witty take on getting older. All you need is a heart and a sense of humor. Bravo, Hotch." —Carole King

"O.J. in the Morning, Gin and Tonic at Night is better medicine than any doctor ever prescribed. I laughed myself silly reading this book. At 73, I find it makes me fully aware of the present–the gift of growing up with close friends and closer memories of those friends." —Judy Collins, singer, activist, 70-something
"Acclaimed author and feisty nonagenarian Hotchner's witty ruminations about the art of living well into old age…with brio and a touch of his trademark sass, Hotchner writes about rediscovering love after 75, finding joy in a scrappy African gray parrot he named after his longtime friend, Ernest Hemingway, and going on his very first safari at age 88. Interspersed among Hotchner's wry, touching personal observations about old age is practical advice. Upbeat words of wisdom about aging with dignity and spunk." – Kirkus Reviews

"Whether addressing big issues (searching for inner peace), or smaller concerns, such as how to deal with the menace of climbing stairs, Hotchner uses humor to offset the serious nature of his subject matter." —Booklist
Advertisement