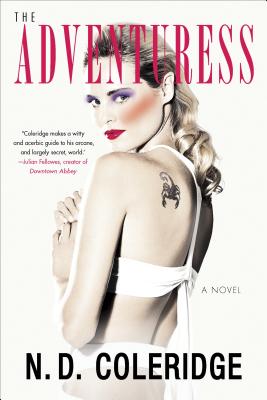 The Adventuress (Hardcover)
Thomas Dunne Books, 9781250028259, 357pp.
Publication Date: May 28, 2013
* Individual store prices may vary.
Description
A delightfully wicked novel, "The Adventuress" follows the rise and rise of Cathy Fox, a modern-day Becky Sharp
No one forgets Cath Fox. From her scorpion tattoo to her other worldly charms, she's a shrewd woman-on-the-make who will not be swayed in her quest for the top.
From her humble beginnings as a matron's assistant at a top girls' boarding school, Cath embarks on a journey that will take her from a Portsmouth backstreet to the boardrooms of the global empires. With a cast of footballers, media moguls, lords and dukes, Coleridge charts the rise of a woman who will not be denied, right to the very pinnacle of society a Royal Wedding.
N. D. Coleridge has been praised by everyone from Tina Brown to "The New Yorker" to Graydon Carter for his irresistibly funny and flawless dissection of social mores. Cutting a sweep from the 80s to the present day, this "Vanity Fair "for our age is keenly observed, hilarious, and utterly addictive.
About the Author
A former newspaper journalist and magazine editor, N.D. COLERIDGE joined Conde Nast as editorial director of the British company in 1989. He has been managing director since 1991 and president of Conde Nast International since 2012. He is the author of four previous novels and lives in London and Worcestershire with his wife and four children.
Praise For The Adventuress…
"One of the juiciest heroines in recent memory goes by six different names, wiggles her way into the bedrooms of just as many men, and lands an invitation to the royal wedding (yes, that one). Society porn at it's best."
—Glamour

"Writing with wicked brio, the author, who is president of Conde Nast International and a great observer and mimic, remains on just the right side of the line marked "off-color," for it's fair to say the end is not the novel's only climax."
—Vanity Fair

"Irresistible rags-to-riches saga…Throughout, the author adeptly balances the different threads, maintains a polished and briskly paced plot, and provides readers with a story that's an absolute delight. Coleridge's smashing epic delivers a wealth of entertainment."
—Kirkus (starred review)

"Coleridge's narrative moves with ease...an entertaining read."
—Publishers Weekly

British Praise for The Adventuress:

"Becky Sharp has nothing on Cath Fox. In this clever retelling of Vanity Fair, you become as fascinated by this tattooed, amoral girl from a council flat in Portsmouth as the characters who encounter her are....It's the ultimate rags to riches story -- and you can't help but want to be a little bit more like Cath Fox." —The Standard

"You cannot fail to be entertained by [N.D.] Coleridge's latest novel...This clever retelling of Vanity Fair is not only hugely enjoyable but also has some spot-on social observations and splendid comic set pieces...Coleridge's fiction is at once frisky and frolicsome, and he has a sharp eye for absurd detail...All in all, Coleridge has served up a delicious souffle on Thackery's china. It's a glorious hoot."—Tatler

"The novel is as racy a bonkbuster as you could want. But it also has a cruelly compelling satirical edge...Coleridge has an admirably pared-down style...reminiscent of Tom Wolfe: few who pick up The Adventuress will be able to put it aside before they finish it." —Metro

"[Coleridge] captures the social milieu of his characters perfectly. This is lively narrative." —Mail on Sunday

"The Adventuress is more than just a comic safari, it is also a sharply written yet lighthearted satire of the British elite." —GQ UK

"Cathy Fox is a woman who will not be denied . . . and you'll love her brazen nerve and chutzpah." —Glamour (UK)

"Sizzlingly funny and incredibly filthy, each scene bubbles with mischief and white-water-rapids you to the next. . . . [Coleridge] delivers hugely readable, witty, sharp and sexy fiction." —The Lady

Praise for N.D. Coleridge:

"Coleridge dissects the social mores . . . with the precision of Tom Wolfe." —The New Yorker

"Coleridge makes a witty and acerbic guide to this arcane, and largely secret, world." —Julian Fellowes, creator of Downton Abbey and author of Snobs and Past Imperfect

"Wickedly funny and flawless in the details, Coleridge's portrayal of the British upper class is irresistible from the first page to the last." —Tina Brown, author of The Diana Chronicles

"A keen observer of class, manners, and sexual frisson, Coleridge is a master of the social romp." —Graydon Carter, editor-in-chief, Vanity Fair
or
Not Currently Available for Direct Purchase