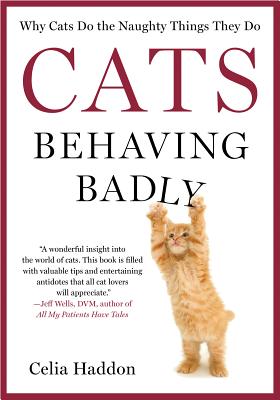 Cats Behaving Badly (Paperback)
St. Martins Press-3pl, 9781250028914, 245pp.
Publication Date: July 16, 2013
Description
Cats that bite, cats that won't eat, cats that won't stop eating. Cat expert Celia Haddon has seen it all, and, in Cats Behaving Badly, an essential guide to cat behavior, she teaches readers how to turn even the grumpiest cat into a perfectly lovable animal.
One of today's foremost feline experts, Haddon provides practical solutions to a myriad of perplexing situations that only cats can dream up in this valuable manual. Why does a cat suddenly stop using the litter box? Can an aloof kitty turn into an affectionate, cuddly cat? Is expensive cat food really worth it? The author unravels the mysteries of cat behavior and dispenses easy, affordable, and animal-friendly solutions to help both cats and their owners live happier lives. From kittens to senior cats, Haddon explains feline behavior that has puzzled cat owners for decades in this manual, including true-life and humorous cat tales that help illustrate her advice.
This charming and informative handbook is essential reading for anyone who has ever asked, "Why in the world does my cat do that?"
About the Author
CELIA HADDON has written a popular cat advice column and now dispenses advice on her popular website. She has been awarded the Golden Cat Award and the Animal Welfare Award Blue Cross. Celia lives near Oxford, England with her husband and her cat Tilly.
Praise For Cats Behaving Badly…
"Wonderful insight into the world of cats. Celia Haddon covers the gamut – from socializing kittens to introducing a new adult into a multi-cat home. This book is filled with valuable tips and entertaining antidotes that all cat lovers will appreciate. A great book for feline enthusiasts and those households that just need help with their cats."
---Jeff Wells, DVM, author of All My Patients Have Tales and All My Patients Kick and Bite.
"Providing fascinating insights into the feline world, Celia Haddon gets catty in a refreshing way with her book. The cat (secrets) are out of the bag… A book for dedicated feline fans."
– Arden Moore, author of The Cat Behavior Answer Book and host of the "Oh Behave" show on Pet Life Radio.
"Anyone getting a cat, or even anyone who already has a cat, should read Cats Behaving Badly."
--Your Cat (UK)

"In this valuable little handbook, Celia Haddon explains with a pleasing mix of wit and wisdom why cats behave in certain ways, while offering practical solutions to their owners' dilemmas and difficulties."
--Choice Magazine (UK)
Advertisement