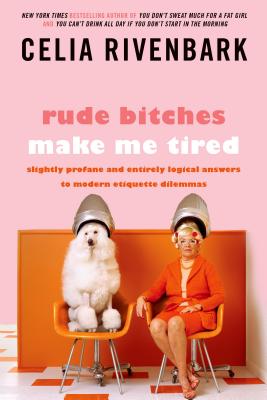 Rude Bitches Make Me Tired (Paperback)
Slightly Profane and Entirely Logical Answers to Modern Etiquette Dilemmas
St. Martin's Griffin, 9781250029232, 272pp.
Publication Date: October 22, 2013
* Individual store prices may vary.
Description
In this always sensible and mildly profane etiquette manual for the modern age Celia Rivenbark addresses real-life quandaries ranging from how to deal with braggy playground moms to wondering if you can have sex in your aunt's bed on vacation to correctly grieving the dearly departed (hint: it doesn't include tattoos or truck decals). Rude Bitches Make Me Tired will provide answers to all your mannerly questions as Celia discusses the social conundrums of our day and age, including:
Navigating the agonies of check splitting ("Who had the gorgonzola crumbles and should we really care?")The baffling aspects of airline travel (such as "Recline Monster" and other animals)The art of the visit (always leave them wanting more . . . much more)Gym and locker etiquette (hint: no one wants to talk to you while you're buck naked)Office manners ("Loud talkers, cake hawkers, and Britney Sue's unfortunate cyst")And much more!
Good manners have never been so wickedly funny!
About the Author
Celia Rivenbark is the author of the award-winning bestsellers Stop Dressing Your Six-Year-Old Like a Skank; Bless Your Heart, Tramp; Belle Weather; and You Can't Drink All Day If You Don't Start in the Morning. We're Just Like You, Only Prettier won a Southern Independent Booksellers Alliance (SIBA) Book Award for nonfiction and was a finalist for the James Thurber Prize for American Humor. Born and raised in Duplin County, North Carolina, Rivenbark grew up in a small house "with a red barn out back that was populated by a couple of dozen lanky and unvaccinated cats." She started out writing for her hometown paper. She writes a weekly, nationally syndicated humor column for the Myrtle Beach Sun News. She lives in Wilmington, North Carolina.
Praise For Rude Bitches Make Me Tired: Slightly Profane and Entirely Logical Answers to Modern Etiquette Dilemmas…
"[Rivenbark]'s as rebellious, irreverent, and comical as ever." —Publishers Weekly on You Don't Sweat Much for a Fat Girl
"...a rip-roaring read.... What makes Rivenbark's writing so entertaining is that it's a lot like seeing a stand-up comedy act: she does an uncanny job of keeping the flow of comedy fresh." —Book Reporter on You Don't Sweat Much for a Fat Girl
"Opening a book by Celia is like going to a great party--at the end of the night, your sides hurt, your mascara's ruined, and you realize you haven't eaten anything for almost an hour. She's that good. My biggest hope is that when I find myself riding the bus to hell, I'll look over and Celia will be sitting right next to me." —Laurie Notaro, author of The Idiot Girls' Action-Adventure Club, on You Don't Sweat Much for a Fat Girl
"Whether readers are from the south side of Baw-ston or living just south of the Mississippi, Rivenbark's genuine Southern recipes and true Southern charm are sure to appeal to everyone." —Encore Archives on You Can't Drink All Day If You Don't Start In The Morning
"…many of her descriptions are not only LOL funny, they also demand reading aloud to whomever happens to be nearby." —Myrtle Beach Sun-News on You Can't Drink All Day If You Don't Start In The Morning
"Rivenbark is more than funny. She's Carolina funny." —The Charlotte Observer on You Can't Drink All Day If You Don't Start In The Morning
"Readers will laugh out loud over her commentary on status mothers and all the odd obsessions of modern life..." —Booklist on Belle Weather
"Think Dave Barry with a female point of view..." —USA Today on Belle Weather
"This is a hilarious read, perhaps best enjoyed while eating Krispy Kreme doughnuts with a few girlfriends." —Publishers Weekly on Stop Dressing Your Six-Year-Old Like a Skank
"She kills in the "Kids" and "Southern-Style Silliness" sections, putting the fear of Mickey into anyone planning a trip to Disney World (character breakfasts must be scheduled 90 days in advance) and extolling the entertainment value of obituaries ('If there's a nickname in quotes, say Red Eye, Tip Top, or simply, Zeke, then my entire day is made')" —Entertainment Weekly on Stop Dressing Your Six-Year-Old Like a Skank
"Will give you a case of the giggles." —NY Daily News on We're Just Like You, Only Prettier
"Warm, witty, and wise, rather like reading dispatches from a friend who uses e-mail and still writes letters, in ink, on good paper." —St. Petersburg Times on We're Just Like You, Only Prettier
"Bright, witty and warm…stories that make a desperate gift-giver weep glad tears of relief…a pleasing blend of spice, humor and memories." —St. Petersburg Times on Bless Your Heart, Tramp
"Celia Rivenbark has the goods and then some. She makes you laugh out loud dozens of times. Anyone who has the moxie to toss off a piece titled 'Fake Dog Testicles' will tread into the wildest stretches of comedic terrain..." —The State (Columbia, S.C.) on Bless Your Heart, Tramp