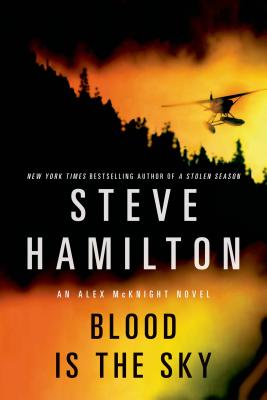 Blood Is the Sky (Alex McKnight) (Paperback)
St. Martin's Press, 9781250029256, 307pp.
Publication Date: November 26, 2013
* Individual store prices may vary.
Description
Before Blood is the Sky, the Alex McKnight series had already hit bestseller lists and won awards, but this novel took it to a whole new level. Set in the forests of northern Ontario, a land of savage beauty and sudden danger, Blood is the Sky shows why Steve Hamilton is one of the most acclaimed crime novelists writing today.
Alex McKnight isn't a man with many friends, but the few he has know they're never alone in a fix. So when Vinnie LeBlanc asks for his help in taking a trip deep into Canada in search of his missing brother, he knows he can count on Alex. His brother had taken a job as a hunting guide for a rough crew of Detroit "businessmen." The group was due back days ago, yet there's been no sign of them, and there's mounting evidence of something odd about their disappearing act. The trackless forests of northern Ontario keep many secrets, but none more shocking than the one that Alex is about to uncover. And the more closely Alex looks for answers, the more questions there become.
About the Author
Steve Hamilton's debut, A Cold Day in Paradise, won the PWA/SMP Best First Private Eye Novel Contest before winning both an Edgar and Shamus Award for Best First Novel. His stand-alone novel, The Lock Artist, was named a New York Times Notable Crime Book, received an Alex Award, and went on to win the Edgar Award for Best Novel. He attended the University of Michigan, where he won the prestigious Hopwood Award for writing, and now lives in Cottekill, New York, with his wife and their two children.
Praise For Blood Is the Sky (Alex McKnight)…
"The best private eye novel—heck, maybe the best novel—I've read this year." —Harlan Coben

"The best mysteries are about the past coming up out of the ground and grabbing the present by the throat. . . . Blood is the Sky fills that bill and then some. This is his best yet." —Michael Connelly

"Steve Hamilton writes tough, passionate novels with a strong emphasis on heart and humanity. His latest flat-out smokes. This is crime writing at its very best." —George Pelecanos


"Easily Steve Hamilton's best novel so far. . . . Everything is here—his trademark sense of place, vivid, resonant characters, and a plot that will break your heart."—Lee Child "With a keen sense of place, memorable characters and relentless action, Hamilton pens some of the best crime novels out there. If you're looking for a stimulating reading experience, Blood Is the Sky by Steve Hamilton is it." —Fresh Fiction