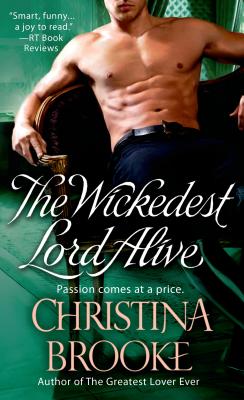 The Wickedest Lord Alive (Mass Market Paperbound)
St. Martin's Press, 9781250029362, 304pp.
Publication Date: July 1, 2014
* Individual store prices may vary.
or
Not Currently Available for Direct Purchase
Description
CAN AN INDECENT PROPOSAL
Eight years ago, a tall handsome stranger entered Lizzie Allbright's bedchamber and consummated a marriage of the utmost necessity. The Marquis of Steyne agreed to wed and bed Lord Bute's admittedly lovely daughter to pay off his mother's gambling debts. But once the deed was done, Steyne's lawfully-wedded wife vanished into the London night
LEAD TO EVERLASTING LOVE?
Years later, Steyne has nearly forgotten about his runaway bride. But when he suddenly finds himself in need of an heir, he has no choice but to track her down. Living happily in a small village under an assumed name, Lizzie is surprised to see her husband and to feel such a strong attraction to him. But she is downright shocked when he asks her to bear him a son. How can they possibly repeat the heated encounter of their ill-fated wedding night without falling hopelessly in love?...in Christina Brooke's stunningly sexy Regency, "The Wickedest Lord Alive."
Christina Brooke's historical romances are:
"Clever, lush, and lovely." "Suzanne Enoch"
"Sensual and passionate." "Publishers Weekly "
"Delightful." "Night Owl Romance.
About the Author
Christina Brooke is a former lawyer who staged a brilliant escape from the corporate world and landed squarely in Regency England.She is a Golden Heart winner and two-time RITA finalist and her books have also been nominated for RT's Reviewer's Choice Award, Bookseller's Best and the Australian Romantic Book of the Year Award. The first two books in her Westruthers series, LONDON'S LAST TRUE SCOUNDREL and THE GREATEST LOVER EVER, have garnered Top Picks from RT Magazine.Christina makes her home in sunny Queensland, Australia with her husband, two boys and one enormous girl dog called Monty. Monty is the inspiration for Ophelia, the Great Dane in the Ministry of Marriage series. However, the resemblance of any human characters to real life people is purely accidental.Christina loves to travel, particularly to England for research and most especially to see her dear friends and colleagues in the United States. She also loves walking, window shopping for antiques and enjoying good food, good wine and good times with her friends and family.
Praise For The Wickedest Lord Alive…
Praise for Christina Brooke's novels
The Greatest Lover Ever
"Tailor-made for readers who crave Regency-set historicals that deliver plenty of steamy passion and sizzling sensuality."—Booklist on The Greatest Lover Ever
"A marvelous story" —Romance Reviews Today on The Greatest Lover Ever
4 1/2 Stars!  Top Pick! "[Brooke] takes time-honored themes and makes them fresh, funny, charming and sizzling with sexual tension." —RT Book Reviews on The Greatest Lover Ever
London's Last True Scoundrel
"Smart, funny, engaging and simply a joy to read, the latest in the series will have readers turning the pages until the wonderful deep-sigh ending. Brooke's innovative and fresh voice is quickly turning her into a star of the genre." —
RT Book Reviews
"Brooke's characters captured my interest from their first meeting and held it until I turned the final page. Funny, poignant and sizzling with passion, they leaped from the pages and into my heart."—
The Romance DishA Duchess to Remember
"Christina Brooke is a bright new star."
—RT Book Reviews
"
A Duchess to Remember
surpasses all expectations leaving you longing for the next installment."
—Fresh Fiction
"A delightful, attention-grabbing, sweetly romantic historical read you won't want to miss." —Night Owl Romance
"This is a two-night, preferably one, book. Cecily and Rand's romance is a fun, deceptive, quickstep of a dance"
—Romance Reviews TodayMad About the Earl
"A true historical gem."
—Romance Junkies
"[A] version of Beauty and the Beast…that readers will take to their hearts." —RT Book Reviews
"Captivating!"
—Night Owl Romance
"A sweet and sexy romance"
—Dear AuthorHeiress in Love"Each scene is more sensual and passionate than the last."—Publishers Weekly (starred review)
"Riveting tale of life, loss, convenience, and heart wrenching love! Superbly written!"
—Fresh Fiction
"With this delightful debut Brooke demonstrates her ability for creating a charming cast of characters who are the perfect players in the first of the Ministry of Marriage series. Marriage-of-convenience fans will rejoice and take pleasure in this enchanting read."—
RT Book Reviews
"Clever, lush, and lovely—an amazing debut!"—Suzanne Enoch,
New York Times
bestselling author
"A delightful confection of secrets and seduction, Heiress in Love will have readers craving more!"—Tracy Anne Warren
"One of the most compelling heroes I've read in years." —Anna Campbell
Advertisement