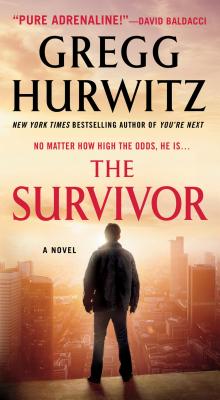 The Survivor (Mass Market Paperbound)
St. Martin's Press, 9781250029430, 503pp.
Publication Date: July 30, 2013
* Individual store prices may vary.
Description
SURVIVOR
Gregg Hurwitz
Nate Overbay, a former soldier suffering from PTSD and ALS, goes to an eleventh-floor bank and climbs onto the ledge, ready to end it all. But as he's steeling himself to jump, a crew of when a gunmen bursts into the bank and begins shooting employees and customers. With nothing to lose, Nate climbs back inside and, with military precision, Nate begins taking out the robbers, one by one. The last man standing leaves Nate with a cryptic warning: He will make you pay in ways you can't imagine...
Pavlo is a savage Ukrainian mobster and mastermind of the failed heist. Blocked from entering the bank vault to retrieve a critical item, Pavlo gives Nate a horrifying ultimatum: Either help him break in or watch Pavlo slowly kill his estranged wife and teenaged daughter. Nate lost them once he came back from Iraq, broken and confused. Now the only thing Nate has to lose is--everything. And time is running out...
This edition of the book is the deluxe, tall rack mass market paperback.
About the Author
Gregg Hurwitz is the critically acclaimed, internationally bestselling author of twelve novels, most recently, You're Next, They're Watching, and Trust No One. His books have been translated into twenty languages. In addition, he is a screenwriter, television producer, and writes for Marvel and DC Comics. He lives in Los Angeles.
Praise For The Survivor…
Praise for
THE SURVIVOR
"Hurwitz can take a high-concept thriller and deliver the extras needed to elevate it further…[With] The Survivor, he outdoes himself."—Washington Post 
"In between tight, compelling action scenes, Hurwitz sensitively depicts Nate's struggles…thriller fans won't let this one gather any dust on the nightstand." —Publishers Weekly
"Hurwitz demonstrates his mastery of the thriller genre...The book opens as dramatically as a reader could hope for and doesn't relent....succeeds on every level."—Kirkus  Reviews (starred review)
"A riveting, potboiler of a tale, featur[ing] one of the most original, and daring, setups seen in many a thriller…a jigging and jagging hybrid of Rear Window and a Bourne tale with a brain. Just call it terrific."—Providence Sunday Journal
"Surely Hurwitz can't keep this up forever. Lately, each new book he publishes is his best so far, and this one's no exception...It's hard to imagine that he can top this one, but, based on past performance, don't bet against it." —Booklist (starred review)

"This book evokes a wide range of emotions, from horror at the shocking violence to sympathy for children whose parents are absent. The plot, characters and their actions will keep you thinking for days..." —RT Book Reviews (Top Pick)
or
Not Currently Available for Direct Purchase