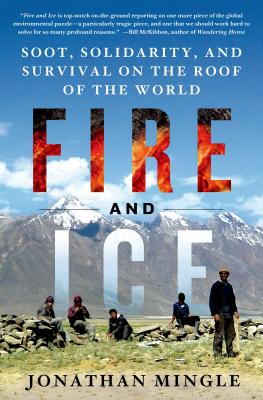 Fire and Ice
Soot, Solidarity, and Survival on the Roof of the World: Soot, Solidarity, and Survival on the Roof of the World
Hardcover

* Individual store prices may vary.
Description
High in the Himalayan valley of Zanskar in northwest India sits a village as isolated as the legendary Shangri-La. Long fed by runoff from glaciers and lofty snowfields, Kumik—a settlement of thirty nine mud brick homes—has survived and thrived in one of the world's most challenging settings for a thousand years. But now its people confront an existential threat: chronic, crippling drought, which leaves the village canal dry and threatens to end their ancient culture of farming and animal husbandry.

Fire and Ice weaves together the story of Kumik's inspiring response to this calamity with the story of black carbon. Black carbon from inefficient fires - the particulate residue that makes soot dark - is the second largest contributor to global warming after carbon dioxide. It's also a key ingredient of the air pollution that public health experts regard as humanity's greatest environmental health risk worldwide: soot-laden smoke from household hearth fires and outdoor sources combine to kill over seven million people around the world every year.
Jonathan Mingle describes the joys and struggles of daily life in the Zanskar Valley, where villagers are buffeted by powerful environmental and economic forces, while also tracing black carbon's dark fingerprints outward from Kumik and around the world. Mingle investigates its impacts on snow, ice, and water from Mt. Everest to California, and the silent health epidemic it fuels from New York to New Delhi. Combining cultural history, detailed reportage, climate and energy science and dramatic storytelling, Fire and Ice is a profound examination of the global challenges of averting climate chaos and lifting billions out of energy poverty and water scarcity.
Can Kumik's people come together to reinvent fire, harness what remains of their life-sustaining ice, and reinvigorate their traditions of solidarity, in time to save themselves? Can the rest of us rise to the same challenge? Fire and Ice connects these questions with the work of enterprising scientists, engineers, entrepreneurs and activists around the world, in a narrative that combines mythology, reason, humor, persistence, and hope in a race against a global clock.
Praise For Fire and Ice: Soot, Solidarity, and Survival on the Roof of the World: Soot, Solidarity, and Survival on the Roof of the World…
"Fire and Ice is top-notch on the ground reporting on one more piece of the global environmental puzzle--a particularly tragic piece, and one that we should work hard to solve for so many profound reasons." —Bill McKibben, author of Wandering Home

"Fire and Ice wonderfully captures the human face of the impact of traditional cooking fires and fuels on the lives of individuals, made vibrant in this environmental travelogue that encompasses and connects the lives of villagers in a remote Himalayan village, to scientists, political officials and policy makers stretching from New Delhi to startup dot.com companies to the negotiating chambers of the United Nations." —Daniel Kammen, Professor of Energy, University of California, Berkeley

"To the unfolding drama of climate change Jonathan Mingle brings something new to worry about -- black carbon, the tiny particles from a billion cooking fires that absorb the sun's heat and are melting the great glaciers in the Himalayas which regulate the water flow in the mighty rivers that feed half of Asia. Mingle's marvelous and original book, Fire and Ice, is no gloomy tale but a story of intellectual, scientific and human adventure among the Zanskaris on the roof of the world, where Mingle unfolds the beautiful simplicity of the problem, and of what to do about it." —Thomas Powers, author of The Killing of Crazy Horse and Heisenberg's War

"A searching, sobering, sometimes-scary look at an overlooked carrier of climate change…If you weren't worried about climate change before, this is just the book to kindle your angst. A promising debut." —Kirkus

"Fascinating…readers who might not have given much thought about a remote Indian village will understand its contemporary relevance." —Publishers Weekly

"An intriguing look at...the portrayal of the impact of carbon pollution on a small village and the worldwide ripples." —Booklist

"A compelling case for how we can clear our skies." —Mother Jones

"Fire and Ice is a lyrical tale about life in the coldest places at a time when the earth itself is warming. Author Jonathan Mingle takes the reader to a hearth in the high Himalaya, to join one community within one ancient culture as its citizens respond to climate change. The villagers' story, not to mention the soot from their cookstoves, resounds through the mountains and encircles the world." —Dava Sobel, author of Longitude, Galileo's Daughter, and The Planets
St. Martin's Press, 9781250029508, 464pp.
Publication Date: March 24, 2015
About the Author
Jonathan Mingle's writing on the environment, climate and development has appeared in The New York Times, Slate, The Boston Globe, and other publications. He is a former Middlebury Fellow in Environmental Journalism, a recipient of the American Alpine Club's Zach Martin Breaking Barriers Award, and a graduate of the University of California, Berkeley's Energy and Resources Group. He lives in Vermont.