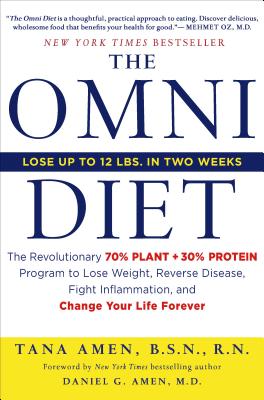 The Omni Diet: The Revolutionary 70% Plant + 30% Protein Program to Lose Weight, Reverse Disease, Fight Inflammation, and Change Your (Hardcover)
The Revolutionary 70% Plant + 30% Protein Program to Lose Weight, Reverse Disease, Fight Inflammation, and Change Your
St. Martin's Press, 9781250029843, 416pp.
Publication Date: April 16, 2013
* Individual store prices may vary.
or
Not Currently Available for Direct Purchase
Description
By the time she had reached her mid-30s, Tana Amen had nearly given up on good health. Through a lifetime of chronic medical ailments, including severe digestive issues, recurrent infections and, most devastatingly, a battle with thyroid cancer, there was never a point when Tana felt consistently healthy. Doctors ascribed her poor health to genetics, bad luck, and a family history of obesity and heart disease. But even when Tana committed to a standard fitness and eating regimen, her health failed to improve.That's when she realized that she needed to make a real change. She needed to figure out how to improve her health . . . for good.
"The Omni Diet "is the culmination of a decade-long quest by Tana Amen to study the relationship between food and the body, and to understand how proper nutrition not only impacts weight loss, but actually holds the key to reversing chronic disease, decreasing inflammation, healing the body, and dramatically improving quality of life.
So what is "The Omni Diet"?
It's an easy-to-follow plan based on a 70/30 plant-to-protein model. This is not a restrictive diet or another page in the high-protein vs. vegetarian diet wars, but a universal map to better health, one that Tana has distilled into a lean six-week program. It offers a simple plan that provides an abundance of illness-fighting nutrients from plant-based foods and high-quality protein to keep the brain sharp and muscles and organs functioning at peak condition. The balance of 70% plant-based foods and 30% protein restores energy, slashes risk of disease, optimizes brain and hormone functioning, produces dramatic weight loss, and promotes health from the inside out.
With delicious and satisfying recipes, easy-to-follow exercises, and important advice and tips, you will see results -- in your weight and overall health immediately. Follow this revolutionary, paradigm-shifting plan and experience its life-changing results as you unleash the healing power of food.
About the Author
TANA AMEN, BSN, RN, is a nurse, health and fitness expert, and nationally-renowned speaker. Tana is also a nutrition consultant and coach for the wildly popular Daniel Plan, an inspirational health movement led by Pastor Rick Warren, which includes Dr. Daniel Amen, Dr. Mark Hyman, and Dr. Mehmet Oz. Tana has been featured in Everyday Health's Recipe Rehab, GNC LiveWell Magazine, on PBS and Martha Stewart Living Radio, and has been a guest speaker at the Omega Institute and Saddleback Church. She works alongside her husband, New York Times bestselling author and physician, Daniel Amen, MD, offering nutritional guidance and practical support to hundreds of thousands of Amen followers at The Amen Clinics.
Praise For The Omni Diet: The Revolutionary 70% Plant + 30% Protein Program to Lose Weight, Reverse Disease, Fight Inflammation, and Change Your…
"The Omni Diet is a thoughtful, practical approach to eating.  Discover delicious, wholesome food that benefits your health for good." —Mehmet Oz, MD

"Everywhere... people ask [Tana] for health and nutrition tips. When they do what she suggests, they get dramatically positive health benefits... eliminated abdominal pain, gotten off medications, improved their energy, lost weight, and normalized their bowels... She takes these principles [from my books] and helps people incorporate them into their lives in a very practical way.... Take it from The Brain Doctor: With Tana as their guide, people can feel healthier than ever before." —Daniel G. Amen, M.D., NYT bestselling author of Change Your Brain, Change Your Life

"Eating for health and longevity is frustrating and complex for many of my patients. They feel they need a biochemistry degree. The Omni Diet incorporates cutting edge science but it is so easy to follow and I am grateful that Tana has made it available to help others" --Joel Kahn MD, Director Preventive Cardiology, Detroit Medical Center

"Cuts through the confusion about what to eat and gives America a roadmap to good food and good health all at once. Following this approach will not only enhance and extend your life—it will reverse many chronic diseases while delighting your palate. If you want to learn to thrive in our modern day nutritional jungle, get this book!" —Mark Hyman, MD, #1 New York Times bestselling author of The Blood Sugar Solution

"My wife and I love how comprehensive Tana's program is and how incredible her recipes taste. This is the path to a healthy brain and higher performance in life!" —Brendon Burchard, author of The Charge: Activating the 10 Human Drives That Make You Feel Alive

"Tana Amen has come up with the first truly "bipartisan" approach to healthy eating. The Omni Diet blends the best features of plant-based diets with the best features of high-protein eating in an easy-to-follow plan for vibrant health!"
-- Jonny Bowden, PhD, CNS aka "The Rogue Nutritionist", and author of The 150 Healthiest Foods on Earth, Living Low Carb and The Great Cholesterol Myth
"An important book on the essential elements of protein and vegetable combinations consistent with maintaining weight loss and an ideal weight . . . an important health resource for dieting and lifelong weight maintenance and control." --Seattlepi

"What we love: Tana explains precisely how to enjoy the ideal omnivore balance of vegetables and high-quality protein (70 percent to 30 percent) to benefit from the best of both approaches. If you're ready to lose weight and keep it off permanently while preventing and even reversing disease, then . . . get "The Omni Diet." –Examiner.com
Advertisement