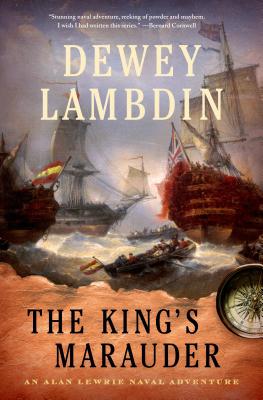 The King's Marauder (Hardcover)
Thomas Dunne Books, 9781250030054, 355pp.
Publication Date: February 4, 2014
* Individual store prices may vary.
or
Not Currently Available for Direct Purchase
Description
The year 1807 starts out badly for Captain Alan Lewrie, Royal Navy. His frigate HMS Reliant has a new captain, he's living at his father's estate at Anglesgreen, among spiteful neighbors and family, and he's recovering from a wound suffered in the South Atlantic. At last there's a bright spot. Once he's fit, Admiralty awards him a new commission; not a frigate but a clumsy, slow, two-decker, Fourth Rate 50. Are his frigate days over for good?
Lewrie's ordered to Gibraltar, but Foreign Office Secret Branch's spies and manipulators have use for him, again HMS Sapphire is the wrong ship for the task, raising chaos and mayhem along the Spanish coasts, and servicing agents and informers. And what he's ordered to do needs soldiers, landing craft, and a transport ship, all of which he doesn't have, and must find a way to finagle it all.
He could beg off and say that it's asking too much, but . . . Alan Lewrie is not a man to admit failure and defeat, and his quest might prove the most daunting of his long naval career.
About the Author
DEWEY LAMBDIN is the author of nineteen previous Alan Lewrie novels. A member of the U.S. Naval Institute and a Friend of the National Maritime Museum in Greenwich, England, he spends his free time working and sailing. He makes his home in Nashville, Tennessee, but would much prefer Margaritaville or Murrells Inlet.
Praise For The King's Marauder…
Praise for The King's Marauder "With Lewrie in command, action, adventure, and intrigue are guaranteed to keep discriminating fans of maritime historical fiction hugely entertained." —Booklist

"Another rollicking Lewrie adventure of iron men in wooden ships. … When guns are run out, Lambdin always offers a powder-reeking précis on fighting under sail. … Great fun on every page, and with more over the horizon." —Kirkus Reviews
"Dewey Lambdin's humor and charm, spiced with a healthy measure of salt air and the pungent aroma of burnt gunpowder, continues to engage readers. … Lambdin remains one of nautical fiction's finest contemporary authors." —
Quarterdeck


Praise for the Alan Lewrie series
"Great naval action and deep historical detail in the vein of O'Brian and Forester." —
Kirkus Reviews
(starred)
"You could get addicted to this series. Easily." —
The New York Times Book Review


"The best naval adventure series since C. S. Forester." —
Library Journal


"Check the log, shipmate: Dewey Lambdin has left Alexander Kent and C.S. Forester hull-down in an ocean of words and is closing on Patrick O'Brian as the most prolific historical novelist to celebrate a Royal Navy mariner during the age of sail." —
The Washington Times


"Lambdin succeeds with high-seas action, bravado, and Lewrie's characteristic antics, putting himself in good company with Julian Stockwin and Seth Hunter as worthy successors to the popular 18th- and 19th-century naval adventures of Forester, Kent, and Pope. ... Lewrie is a delightfully randy and irreverent character, the perfect man to walk the quarterdeck of a Royal Navy frigate." —
Publishers Weekly
(starred review)
"A hugely entertaining naval adventure (á la Forester and O'Brian) with a different kind of protagonist. ... Not merely a worthy entry in the very popular Lewrie series but a top-of-the-line naval adventure that can be thoroughly enjoyed by readers who've never met Captain Lewrie until now." —
Booklist


"The brilliantly stylish American master of salty-tongued British naval tales." —
Kirkus Reviews


"Lewrie is a marvelous creation, resourceful and bold." —James L. Nelson, author of the Revolution at Sea Saga
"Stunning naval adventure, reeking of powder and mayhem. I wish I had written this series." —Bernard Cornwell
"Naval adventures in the time of wooden ships and iron men form a distinct literary genre. Nashville novelist Dewey Lambdin has mastered it." —
Chapter 16
Advertisement