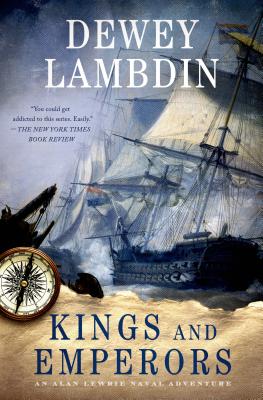 Kings and Emperors
An Alan Lewrie Naval Adventure (Alan Lewrie Naval Adventures #21)
Hardcover

* Individual store prices may vary.
Other Editions of This Title:
Paperback (1/5/2016)
Description
"The best naval adventure series since C. S. Forester." —Library Journal
Captain Alan Lewrie, Royal Navy, is still in Gibraltar, his schemes for raids along the coast of Southern Spain shot to a halt. He is reduced to commanding a clutch of harbor defense gunboats in the bay while his ship, HMS Sapphire, slowly grounds herself on a reef of beef bones! Until Napoleon Bonaparte's invasion of peaceful Portugal and his so-called collaborative march into Spain change everything, freeing Sapphire to roam against the King's enemies once more!
As kings are overthrown and popular uprisings break out all across Spain, Lewrie's right back in the action, ferrying weapons to arm Spanish patriots, scouting within close gun range of the impregnable fort of Ceuta, escorting the advance units of British expeditionary armies to aid the Spanish, and even going ashore to witness the first battles between Sir Arthur Wellesley, later the Duke of Wellington, and Napoleon's best Marshals, as the long Peninsular War that broke Imperial France begins to unfold.
From Cádiz to La Coruña, Lewrie and Sapphire will be there as history explodes!
Praise For Kings and Emperors: An Alan Lewrie Naval Adventure (Alan Lewrie Naval Adventures #21)…
"Great naval action and deep historical detail in the vein of O'Brian and Forester." —Kirkus Reviews (starred)
"You could get addicted to this series. Easily." —The New York Times Book Review
"The best naval adventure series since C. S. Forester." —Library Journal
"Check the log, shipmate: Dewey Lambdin has left Alexander Kent and C.S. Forester hull-down in an ocean of words and is closing on Patrick O'Brian as the most prolific historical novelist to celebrate a Royal Navy mariner during the age of sail." —Washington Times
"Lambdin succeeds with high-seas action, bravado, and Lewrie's characteristic antics, putting himself in good company with Julian Stockwin and Seth Hunter as worthy successors to the popular 18th- and 19th-century naval adventures of Forester, Kent, and Pope. ... Lewrie is a delightfully randy and irreverent character, the perfect man to walk the quarterdeck of a Royal Navy frigate." —Publishers Weekly (starred review)
"A hugely entertaining naval adventure (á la Forester and O'Brian) with a different kind of protagonist.... Not merely a worthy entry in the very popular Lewrie series but a top-of-the-line naval adventure that can be thoroughly enjoyed by readers who've never met Captain Lewrie until now." —Booklist
"The brilliantly stylish American master of salty-tongued British naval tales." —Kirkus Reviews
"Lewrie is a marvelous creation, resourceful and bold." —James L. Nelson, author of the Revolution at Sea Saga
"Stunning naval adventure, reeking of powder and mayhem. I wish I had written this series." —Bernard Cornwell
"Naval adventures in the time of wooden ships and iron men form a distinct literary genre. Nashville novelist Dewey Lambdin has mastered it." —Chapter 16
Thomas Dunne Books, 9781250030061, 368pp.
Publication Date: February 24, 2015
About the Author
Dewey Lambdin is the author of the Alan Lewrie novels. A member of the U.S. Naval Institute and a Friend of the National Maritime Museum in Greenwich, England, he spends his free time working and sailing on a rather tatty old sloop. He makes his home in Nashville, Tennessee.
or
Not Currently Available for Direct Purchase