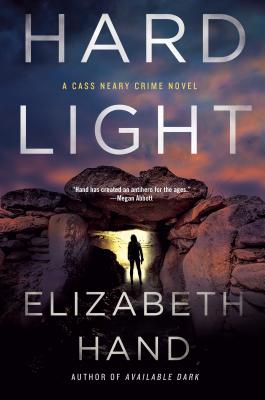 Hard Light
A Cass Neary Crime Novel
Hardcover

* Individual store prices may vary.
Other Editions of This Title:
Digital Audiobook (4/18/2016)
Paperback (11/2/2021)
Description
Punk photographer Cass Neary, "one of noir's great anti-heroes" (Katherine Dunn, author of Geek Love), rages back in the series that began with the award-winning novels Generation Loss and Available Dark. Fleeing Reykjavik and a cluster of cult murders, Cass lands in London to rendezvous with her longtime lover Quinn, a person of interest to both Interpol and the Russian mob.
Only Quinn doesn't show up. Alone in London and fearing the worst, Cass hooks up with a singer-songwriter with her own dark past, who brings her to the wrong party. Cass becomes entangled with the party's host, Mallo Tierney, an eccentric gangster with a penchant for cigar cutters and neatly-wrapped packages, and a trio of dissolute groupies connected to a notorious underground filmmaker.
Forced to run Mallo's contraband, Cass is suddenly enmeshed in a web of murder, betrayal, and artistic and sexual obsession that extends from London to the stark beauty of England's Land's End Peninsula, where she uncovers an archeological enigma that could change our view of human history—if she survives.
Strobe-lit against an apocalyptic background of rock and roll, rave culture, fast drugs and transgressive photography, Hard Light continues the breathless, breathtaking saga of Cassandra Neary, "an anti-hero for the ages. We'd follow Cass anywhere, into any glittery abyss, and do." [Megan Abbot, author of The Fever]
Praise For Hard Light: A Cass Neary Crime Novel…
Praise for Hard Light:
"It's true that Cass lies, cheats, steals, takes drugs and has a bad attitude and a foul mouth, but in the end, when push comes to shove she does the right thing and stands up for the weak and powerless, often with her steel-toed boot. Another tough female named Salander has had a lot of success in her own punk noir, and I can only hope that Ms. Neary enjoys similar success, because she and Elizabeth Hand deserve it for this original and captivating series." --Aunt Agatha's
"Nerve-jangling and addictive, Elizabeth Hand's Hard Light offers up a signature Cass Neary tale of moral ambivalence, keen betrayal and a dark lushness that leaps off the page. And with Cass—relentless in her dangerous curiosity, her ruthless art of survival—Hand has created an anti-hero for the ages. We'd follow her anywhere, into any glittery abyss, and do." --Megan Abbott
"Elizabeth Hand's Cass Neary novels, rightly praised for their icy tension and remarkable darkness, are threaded, like the best of punk in any medium, on a bloodied yet admirably stubborn humanism." --William Gibson
"As a huge mystery and noir buff, I love Elizabeth Hand's Cass Neary novels—they're tough-minded, beautifully written, and unique. One of the best series out there. In Hard Light, Hand has created another fascinating puzzle—and another instant classic. If you're a fan of intelligent page-turners, this one's for you." --Jeff Vandermeer
"Like the chilling female characters of Tana French or Gillian Flynn, Elizabeth Hand's smart Cassandra Neary will freeze your blood and set your imagination ablaze. I dare you to close your eyes on Hard Light. " --James Grady, author of Last Days of the Condor
"Brutal, elegant, rich and strange, Hard Light is noir at it's very best. This fast paced marvel of a book beats with the exultant energy of Punk rock and hums with the mysterious beauty of a Delphic hymn. Elizabeth Hand is not only one of the great American novelists, her influence on a generation has changed the face of Literature. This novel will haunt your dreams." --Cara Hoffman, author of So Much Pretty and Be Safe I Love You
"London's calling Cass Neary in this addictive novel that brings the sordid glories of the Seventies arts scene into the hard light of today. Whip smart and pitch perfect, it jangled my bones." --Keith Donahue, author of The Boy Who Drew Monsters
"Brilliant! A punk-scene runaway train. Welcome to Liz Hand. Buy this book." --Sarah Langan, author of The Missing and The Keeper
"Elizabeth Hand is quite simply one of our best living writers. Her Cass Neary books are the ne plus ultra of modern noir, and Hard Light is the best one far: A riveting story that gets going at nosebleed pace and never slows down, anchored by the voice of the iconic Cass Neary, the greatest main character in modern detective fiction. I never knew I had a thing for Scandinavian punk rock noir until Liz Hand showed me what's up. Now I want more." --Nick Antosca, author of The Girlfriend Game and Midnight Picnic
"Elizabeth Hand's HARD LIGHT is a pitch-perfect punk noir that makes a speed-fueled, mad-dash tour through an avant garde underbelly London and the lost landscape of rural England. It's about the lost, the heartbreakingly ephemeral, and the melancholy timelessness of art and love and murder. It's a tour de force. It's a great goddamn book. If you haven't met Cass Neary yet, do so before you get a well-deserved steel-toe to the knee." --Paul Tremblay, author of A Head Full of Ghosts and The Little Sleep
?"Beloved scrapper, fight-picker, and trouble-finder Cass Neary returns for another installment in Elizabeth Hand's gorgeous, searing, speed-fueled bender of a series. Both fearless and vulnerable, heroic and haunted, Neary is a heroine like no other: a punk-rock valkyrie whose fierce intelligence and harrowing quests, rendered in Hand's flawless, ice-clear prose, have redefined a genre. Hard Light is Hand at her best, and I cannot think of any higher praise." --Sarah McCarry, author of The Metamorphoses Trilogy
Praise for Available Dark:
"Pulsing with tension throughout… charged with its own chilling luminosity." —The Washington Post
"Cass Neary could make Lisbeth Salander look like a suburban housewife... A stunning look at a woman forever teetering on the edge." —Oline H. Cogdill, South Florida Sun-Sentinel
"Award-winner Hand... brings her great skill to a mystery series that's equally dark and enthralling... Beautiful writing and elegant, intelligent style make this a pleasure." —RT Book Reviews (4 1/2 stars)
"A gasoline burn of a book; but it's also a tightly-plotted noir thriller...Unputdownable." —The Rejectionist
"Photographer and aging NYC punk rocker, Cass Neary is one of literature's great noir anti-heroes. This smart, cranky, unrepentant boozer and abuser has an eye for the truth, which brings her nothing but trouble. Cass is no crime fighter. She's a crime finder. She sees beauty in the grimmest pits, but when she stumbles on ugly, gorgeous mayhem erupts.
Cassandra Neary emerged full of bourbon and wry vinegar on the remote coast of Maine in Generation Loss. Now, in Available Dark, the geography and the danger expand. Broke, as usual, Cass agrees to what sounds like a simple gig: Authenticate images by a photographer she admires. But the from her Manhattan tenement to the dark metal underworld of Finland and the bleak mythic fires of Iceland, nothing is simple for Cass.
Elizabeth Hand's prose is a wiry, intelligent force that ranges from blunt athleticism to fluid luminosity. The propulsive power of her narrative is all the more stunning for her meticulous observation of sensory detail, art, and the human complexity it reveals. Iceland may, eventually, recover from its financial collapse, but the scorching eyes of Elizabeth Hand will scar it forever in the minds of her readers.
Ferocious, aching with compassion and cruelly brilliant, Available Dark is a sinful pleasure." —Katherine Dunn, author of Geek Love on Available Dark
"Shimmers with gorgeous writing even as it scares the dickens out of you." —Tess Gerritsen on Available Dark
"Cass Neary is what Lisbeth Salander would look like in 30 years, if she were tall, blonde and plausible . . . A bonafide literary artist." —Lev Grossman, Time on Available Dark
"A brilliant sequel to Hand's acclaimed literary thriller Generation Loss... Stunning." —Booklist (starred review) on Availble Dark
Minotaur Books, 9781250030382, 368pp.
Publication Date: April 19, 2016
About the Author
ELIZABETH HAND is the multiple-award-winning author of eleven novels and three collections of short fiction.  Generation Loss, the first novel to feature punk photographer Cass Neary, received the inaugural Shirley Jackson Award for best work of psychological suspense.  A New York Times and Washington Post Notable author, Hand is also a longtime book critic and essayist, a frequent contributor to the Washington Post, Salon, Village Voice, and DownEast Magazine, among many others.  Raised in New York State, she studied playwriting and cultural anthropology at Catholic University in Washington, D.C., and as a teenager in the 1970s was involved in the nascent punk scenes in both D.C. and NYC.  For six years she worked as a photo archivist at the Smithsonian Institution's National Air and Space Museum, before moving to the coast of Maine in 1988 to write full time.  She has two children and divides her time between Maine and North London, setting for the third Cass Neary novel.
or
Not Currently Available for Direct Purchase