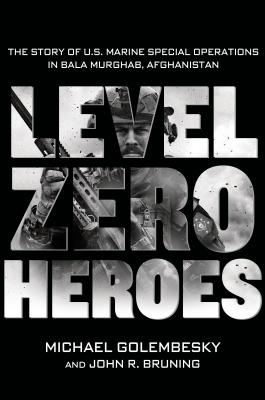 Level Zero Heroes (Hardcover)
The Story of U.S. Marine Special Operations in Bala Murghab, Afghanistan
St. Martin's Press, 9781250030405, 320pp.
Publication Date: September 2, 2014
* Individual store prices may vary.
Description
A New York Times Best seller!
In Level Zero Heroes, Michael Golembesky follows the members of U.S. Marine Special Operations Team 8222 on their assignment to the remote and isolated Taliban stronghold known as Bala Murghab as they conduct special operations in an effort to break the Taliban's grip on the Valley. What started out as a routine mission changed when two 82nd Airborne Paratroopers tragically drowned in the Bala Murghab River while trying to retrieve vital supplies from an air drop that had gone terribly wrong. In this one moment, the focus and purpose of the friendly forces at Forward Operating Base Todd, where Team 8222 was assigned, was forever altered as a massive clearing operation was initiated to break the Taliban's stranglehold on the valley and recover the bodies.
From close-quarters firefights in Afghan villages to capturing key-terrain from the Taliban in the unforgiving Afghan winter, this intense and personal story depicts the brave actions and sacrifices of MSOT 8222. Readers will understand the hopelessness of being pinned down under a hail of enemy gunfire and the quake of the earth as a 2000 lb. guided bomb levels a fortified Taliban fighting position.
A powerful and moving story of Marine Operators doing what they do best, Level Zero Heroes brings to life the mission of these selected few that fought side-by-side in Afghanistan, in a narrative as action-packed and emotional as anything to emerge from the Special Operations community contribution to the Afghan War.
About the Author
STAFF SERGEANT MICHAEL GOLEMBESKY served 8 years with the United States Marine Corps and is a combat veteran of the Afghanistan and Iraq Wars. Golembesky served as a Joint Terminal Attack Controller with Marine Special Operation Team 8222 (MARSOC).

John R. Bruning is the author or co-author of eight books, including House to House by David Bellavia.
Praise For Level Zero Heroes: The Story of U.S. Marine Special Operations in Bala Murghab, Afghanistan…
"Level Zero Heroes proves that great warriors aren't minted from any one branch of service. Michael's story is a testament to the hard men of MARSOC who have contributed significantly both on and off the battlefield since the attacks of Sept. 11th, 2001. Semper Fi brothers." —Brandon Webb,  former Navy SEAL, Editor of SOFREP, and New York Times bestselling author of The Red Circle
"'A warning shot with a B-1'-- A direct quote taken out of Level Zero Heroes that has more precision than the author possibly could ever imagine. Golembesky and Bruning took a real world account of some of America's best and brightest and wrote a story that will capture the mind of any military enthusiast. From the expeditious bond of brotherhood to the horrors of poor Rules of Engagement to the appreciation of a select group of Afghan intelligence officials, this book covers so much more than a mere deployment in Afghanistan. A B-1 doesn't do warning shots, it blows things to smithereens. This book is like a B-1-it will blow your mind!" —Kerry Patton, author of Contracted: America's Secret Warriors
"An intimate and unprecedented look into the mysterious, high-speed lifestyle of the U.S. military's newest special operations force, Level Zero Heroes is a heart-pounding exploration of the Marines' bare-knuckle fight for Bala Murghab, a treacherous wasteland in Afghanistan's Wild West." —Andrew deGrandpre, Marine Corps Times
"Semper Fi! Level Zero Heroes is a riveting, fast paced account of Marine Operators in combat in Afghanistan. Inspiring & insightful look into the new world of Marine Corps Special Operations, I was absolutely hooked from the first page to the last. I'm glad Ski and his fellow team members are on our side." —Sean Parnell, New York Times bestselling author of Outlaw Platoon
"An unflinchingly honest account of a war run for other reasons than victory. Level Zero Heroes is a testament to American warriors who stepped forward to fight with honor and win. This is our generation's Catch 22." —Jack Coughlin, New York Times bestselling author of Shooter
"Golembesky vividly depicts the engagement, which became known as Operation Hero Recovery and involved vicious ground combat....controversial." —Publishers Weekly
"The author writes perceptively about the complex social environment of Afghanistan…. The depictions of combat are precise regarding weapons and tactics but also jargon-heavy, giving the action a video game feel." —Kirkus Reviews
"Readers who enjoy first-person accounts of battles laced with nonstop action will have a tough time putting this one down." —Library Journal