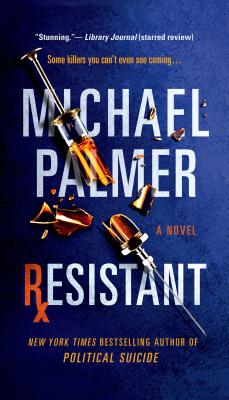 Resistant (Mass Market Paperbound)
St. Martin's Press, 9781250030917, 480pp.
Publication Date: May 5, 2015
Description
They kill without conscience or remorse. They are the most ruthless enemy we have ever faced. And they are one millionth our size...Prepare to be shocked-and mesmerized-by the latest novel of thrilling medical suspense from "New York Times "bestselling author Michael Palmer.
Dr. Lou Welcome never could have imagined what a sports injury would mean for his best friend, Cap Duncan. Surgeons manage to save Cap's shattered leg, but the open wound is the perfect breeding ground for a deadly microbial invader committed to eating Cap alive from the inside out. Meanwhile, hundreds of miles away, a teenaged girl is fighting for her life against the same microbe. The germ is resistant to any known antibiotic-and the government scientist tasked with finding a cure has been kidnapped. And time has already run out...
"Of all Palmer's] novels, this one has the most ambitious plot...and one of the best action scenes to ever appear in a medical thriller."-Associated Press
Turning to the Centers for Disease Control for help, Lou uncovers a link to the Society of One Hundred Neighbors, a terrorist organization whose members are holding our own health institutions hostage. Like the microbe itself, One Hundred Neighbors will stop at nothing to further its agenda. Now, from the hospital corridors where anything you touch can mean your end to the top corridors of domestic power in this war against humanity, Lou must put an end to a terrifying epidemic-if it doesn't kill him first.
"When it comes to inventive plots for medical thrillers, nobody does it better than Michael Palmer."-"Huffington Post.
About the Author
MICHAEL PALMER is the author of more than a dozen novels of medical suspense, all international bestsellers. His books have been translated into thirty-five languages. Extreme Measures was the basis for a movie starring Hugh Grant and Gene Hackman.
Advertisement