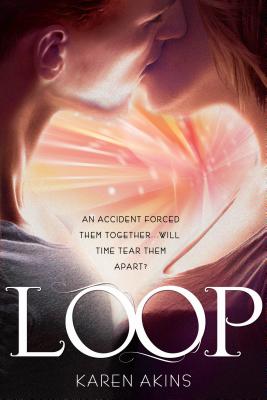 Loop
Hardcover

* Individual store prices may vary.
Description
At a school where Quantum Paradox 101 is a required course and history field trips are literal, sixteen year-old time traveler Bree Bennis excels…at screwing up.
After Bree botches a solo midterm to the 21st century by accidentally taking a boy hostage (a teensy snafu), she stands to lose her scholarship. But when Bree sneaks back to talk the kid into keeping his yap shut, she doesn't go back far enough. The boy, Finn, now three years older and hot as a solar flare, is convinced he's in love with Bree, or rather, a future version of her that doesn't think he's a complete pain in the arse. To make matters worse, she inadvertently transports him back to the 23rd century with her.
Once home, Bree discovers that a recent rash of accidents at her school are anything but accidental. Someone is attacking time travelers. As Bree and her temporal tagalong uncover seemingly unconnected clues—a broken bracelet, a missing data file, the art heist of the millennium—that lead to the person responsible, she alone has the knowledge to piece the puzzle together. Knowledge only one other person has. Her future self.
But when those closest to her become the next victims, Bree realizes the attacker is willing to do anything to stop her. In the past, present, or future.
Praise For Loop…
"Emotional at times, hilarious at times, action-packed almost the entire ride, LOOP is a page-turning adventure with some brilliant and original twists to the time travel genre." —Julie Cross, TEMPEST series
"An intriguingly mindbending time travel tale in which both past and future must be mined for clues. A feisty, witty heroine and quirkily hot hero make for a duo you can't help but root for, while snappy dialog and imaginative worldbuilding keep the pages turning." —National bestselling author Sophie Littlefield
"Hilarious and suspenseful with a delicious dash of romance, LOOP is a mind-bending good time!" —Melissa Landers, ALIENATED series
"Witty and inventive, LOOP is a time travel treat!" —Lenore Appelhans, author of THE MEMORY OF AFTER
"With flawless worldbuilding, the perfect balance of humor, angst, dire stakes, romance, and action, and a main character you can't help but root for, LOOP is a fresh and exciting addition to the time-slip genre. Highly recommended for fans of the time-travel romance in Myra McEntire's HOURGLASS and the breathless pace and high stakes of Veronica Roth's DIVERGENT. I absolutely loved it." —Leigh Ann Kopans, ONE and TWO
"LOOP is a wild romp through time with an epic mystery brimming with romance. We couldn't put it down!" —Lisa & Laura Roecker, authors of THE LIAR SOCIETY series and THIS IS W.A.R.
"So. Much. Fun. Bree Bennis belongs on the list of Most Awesome Time Travelers Ever, right alongside the Doctor and Marty McFly. And Akins belongs on the list of Writers You Must Read ASAP." —Carrie Harris, author of Demon Derby, Bad Taste in Boys, and Bad Hair Day
St. Martin's Griffin, 9781250030986, 336pp.
Publication Date: October 21, 2014
About the Author
Karen Akins lives in the MidSouth where she writes humorous, light young adult science fiction. When not writing or reading, she loves taking care of her son and hanging out with her husband. And watching Downton Abbey. Karen has been many things in her life: an archery instructor, drummer for the shortest-lived garage band in history, and a shockingly bad tic-tac-toe player. Loop is her first novel. No DeLoreans were harmed in the making of Loop.
or
Not Currently Available for Direct Purchase