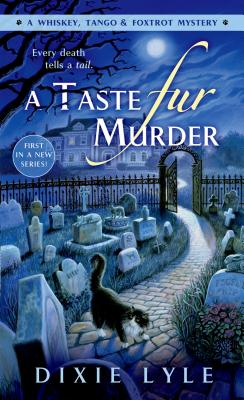 A Taste Fur Murder
A Whiskey Tango Foxtrot Mystery
Mass Market

* Individual store prices may vary.
Other Editions of This Title:
Paperback (2/25/2014)
Description
Introducing an animal-loving Gal Friday with a telepathic cat, a shapeshifting dog, and a ghost of a chance of solving supernatural crime…

Meet Deidre "Foxtrot" Lancaster. Trusted employee of eccentric zillionairess Zelda Zoransky, Foxtrot manages a mansion, a private zoo, and anything else that strikes her boss's fancy. Her job title is Administrative Assistant, but chaos handler would be more accurate. Especially after she glimpses a giant ghost-beast in Zelda's pet cemetery. For some strange reason, Foxtrot is seeing animal spirits. And, ready or not, in this mystery from Dixie Lyle, the fur's about to hit the fan…

A TASTE FUR MURDER

Still reeling, Foxtrot comes home to find her cat Tango—her dead cat Tango—alive and well and communicating telepathically. But that's not all: There's an ectoplasmic dog named Tiny who changes breeds with a shake of his tail…and can sniff out a clue like nobody's business. So when a coworker drops dead while organizing closets, Tiny is on the case. Can Foxtrot and her new companions ferret out the killer among a menagerie of suspects—human and otherwise—before death takes another bite?
Praise For A Taste Fur Murder: A Whiskey Tango Foxtrot Mystery…
"A delightful, funny mystery filled with eccentric and colorful characters, be they humans, animals or spirits. Dixie Lyle will entertain the reader page after page!" —Leann Sweeney, New York Times bestselling author of Cats in Trouble Mysteries

"A clever new series that deftly blends cozy mystery with the paranormal, and that is sure to please readers of both genres. Dixie Lyle's debut, A TASTE FUR MURDER, is original and witty, with a twisting plot that contains more than a few 'shocks'. I'm looking forward to more adventures featuring the Whiskey-Tango-Foxtrot gang." —Ali Brandon, author of the Black Cat Bookshop Mysteries
St. Martin's Paperbacks, 9781250031075, 352pp.
Publication Date: February 25, 2014
About the Author
Dixie Lyle, author of A Taste Fur Murder and To Die Fur from the Whiskey, Tango and Foxtrot Mysteries from St. Martin's Books, loves animals, mysteries, books, reading, words, bad puns (are there any other kind?) and once had a torrid summer romance with an entire library. Did I mention the books? Oh, and definitely doesn't believe in the supernatural. Nope, not me. Hey, what was that sound? Where's that spooky green glow coming from? Oh, hello, didn't see you standing there in the corner, what with you being all see-through and everything. Want a cup of tea? Moan once for yes, twice for no.

Allegations that Dixie Lyle has a goofy sense of humor are entirely unfounded, and should be forwarded to the unfounded and unlost department.
or
Not Currently Available for Direct Purchase