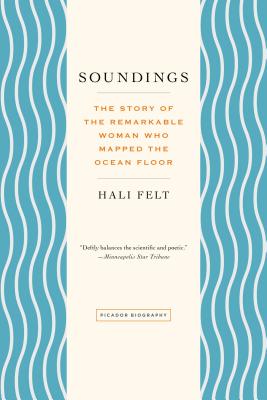 Soundings
The Story of the Remarkable Woman Who Mapped the Ocean Floor
Paperback

* Individual store prices may vary.
Other Editions of This Title:
Hardcover (7/17/2012)
Description
"Deftly balances the scientific and poetic."—Minneapolis Star Tribune

"Soundings is an eloquent testament both to Tharp's importance and to Felt's powers of imagination."—The New York Times Book Review

Before Marie Tharp's groundbreaking work in the 1950s, the ocean floor was a mystery—then, as now, we knew less about the bottom of the sea than we did about outer space. In a time when women were held back by the casually sexist atmosphere of mid-twentieth-century academia—a time when trained geologists and scientists like Tharp were routinely relegated to the role of secretary or assistant—Tharp's work would completely change the world's understanding of our planet's evolution. By transforming dry data into beautifully detailed maps that laid the groundwork for proving the then controversial theory of continental drift, Tharp, along with her lifelong partner in science, Bruce Heezen, upended scientific consensus and ushered in a new era in geology and oceanography. "A playful, wildly thoughtful writer" (Oprah.com), Hali Felt vividly captures the romance of scientific discovery and brings to life this "strong-willed woman living according to her own rules, defying the constraints of her time" (The Washington Post).
Praise For Soundings: The Story of the Remarkable Woman Who Mapped the Ocean Floor…
"Felt is a playful, wildly thoughtful writer, who can extrapolate meanings about our view of the past from outdated scientific terms…that illuminate the text with the kind of evocative details that make the story of real life so real." —Oprah.com

"Felt's enthusiasm for Tharp reaches the page, revealing Tharp, who died in 2006, to be a strong-willed woman living according to her own rules, defying the constraints of her time." —The Washington Post

"This is a fascinating account of a woman working without much recognition who used recorded soundings to map the ocean floor and change the course of ocean science." —San Francisco Chronicle

"[Soundings] provides a memorable account of oceanography during the 1940s to 1960s: a thrilling time when so much was being discovered. And it celebrates the extraordinary life of Tharp as a woman and a scientist." —Nature

"[Tharp] is the woman who mapped the ocean floor, forever changing scientific understanding of the planet. Ignored and marginalized for much of her career, Tharp has at last come into her own." —Science News

"Felt has been able to perform the sort of data-handling magic on these mountains of memorabilia that Tharp earlier performed on Heezen's soundings--distilling a sharp and illuminating biography that reveals the profiles and contours of a life." —Natural History

"Felt follows the traces of Tharp's life by deftly balancing the scientific and the poetic." —Minneapolis Star Tribune

"[Felt] wrestles complex research procedures and concepts into submission…In the same way researchers sound the floor of the ocean, Soundings finds the depths in Tharp. Both the life and the biography are rich in accomplishment." —Cleveland Plain Dealer

"Hali Felt poignantly imagines a private life the way her subject interpolated the unseen deep: hauntingly conjuring what cannot be known firsthand. Tharp [is] a fascinating character in the saga of oceanographic exploration and deserves this admiring biography." —Bust Magazine

"Felt's biography reimagines [Tharp's] progression from a nomadic childhood through scientific breakthroughs with a vivid, poetic touch, revealing an idiosyncratic and determined woman whose 'vigorous creativity' advanced everyone's career but her own." —Publishers Weekly

"Felt's biography brings [Tharp's] contributions to life...readers interested in biographies will appreciate Tharp's remarkable scientific work. Recommended." —Library Journal

"A complex, rich biography of a groundbreaking geologist who discovered 'a rift valley running down the center of the Atlantic'...A well-researched, engaging account of an important scientific discovery that should also find a place on women's-studies shelves." —Kirkus

"Delightful…[Soundings] is an artfully written biography about a rakish and headstrong woman in the sometimes antagonistic boys'-club atmosphere of academia in the mid-twentieth century…This is an exceptional story told by an equally exceptional writer." —Booklist, starred review

"Biography readers who love discovering stories of fascinating, historically important figures should rush to find a copy of Soundings…Felt's mission is not to embroider or alter Tharp's essence, but to discover it, and she succeeds in this powerful portrait of a woman so driven that society could not stop her from changing the world." —Shelf Awareness

"Felt has done an outstanding job bringing Marie Tharp to life as an eccentric and colorful character…it's a fascinating human story that reads better than some fiction." —Story Circle Book Reviews
Picador, 9781250031457, 368pp.
Publication Date: July 2, 2013
About the Author
Hali Felt teaches writing at the University of Pittsburgh. She received her MFA from the University of Iowa and has completed residencies at the MacDowell Colony, the Sitka Center for Art and Ecology, and Portland Writers in the Schools. In the past, she has reported for the Columbia Journalism Review and the Pittsburgh Tribune-Review. She is the author of the book Soundings. She currently lives in Pittsburgh.