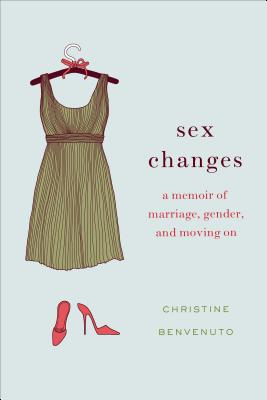 Sex Changes
A Memoir of Marriage, Gender, and Moving On
Paperback

* Individual store prices may vary.
Other Editions of This Title:
Hardcover (11/13/2012)
MP3 CD (11/13/2012)
Compact Disc (11/13/2012)
Compact Disc (11/13/2012)
Description
What do you do when the other woman is your husband?
Christine Benvenuto and her husband had been married for more than twenty years and were raising their three young children in a beautiful New England town. One night in bed he turned to her and said, "I'm thinking constantly about my gender," adding that he was unhappy in his body and wanted to become a woman.
Part memoir, part voyeur's glimpse into a relationship, Sex Changes is a journey through the end of a marriage and out the other side. Christine, desperate to save her family and shelter her children, discovers a well of strength and resilience she never knew she had. She learns what to tell the neighbors when your transgender husband starts accenting his shirts and ties with heels. She discovers how to manage as a single mother. And she opens herself up to a group of friends who travel with her through her darkest times - and who show her the love and support of true friendship.
Fiercely funny, self-lacerating, and not entirely politically correct, Sex Changes is a journey of love and anguish told with hilarity, heartbreak and a lot of soul-searching. It is about the mysteries in every marriage, the secrets we choose to keep, and the freedom that the truth can bring.
Praise For Sex Changes: A Memoir of Marriage, Gender, and Moving On…
"Christine Benvenuto's Sex Changes is a long overdue book: the story of her experience with her husband's gender transition is complex and questioning, and always honest. It suggests how deeply transformative recovering from the loss of a marriage can be." —Helen Boyd, author of She's Not the Man I Married
"Christine Benvenuto pulls us into the eddies of heartbreak, confusion, anger, and epiphany that swirl in the wake of her shattered marriage. Benvenuto, like the best of memoirists, has that clear, true voice that transforms her story into my story -- the details are different, but not the emotions. And as she makes her way through uncharted waters, discovering unseen facets of herself, I, too, make discoveries about myself. This is the power of storytelling at its best." —Sally Ryder Brady, author of A Box of Darkness: The Story of a Marriage
"A refreshingly gutsy narrative that offers a compelling view of sexual maturity and a sexual coming-of-age at midlife." —Kirkus
St. Martin's Griffin, 9781250031600, 304pp.
Publication Date: November 26, 2013
About the Author
Christine Benvenuto is the author of fiction, essays, and reviews that have appeared in many publications, including The Village Voice, the San Francisco Chronicle, Tikkun and Moment. She is the author of the books Sex Changes and Shiksa. She lives in Massachusetts.