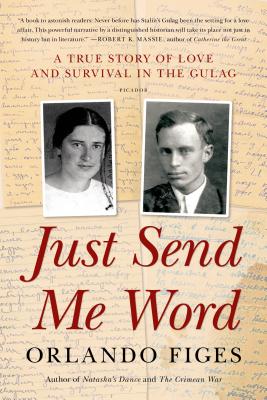 Just Send Me Word (Paperback)
A True Story of Love and Survival in the Gulag
Picador, 9781250032164, 352pp.
Publication Date: July 2, 2013
Other Editions of This Title:
Compact Disc (5/22/2012)
MP3 CD (5/22/2012)
Compact Disc (5/22/2012)
Hardcover (5/22/2012)
Hardcover (5/1/2012)
* Individual store prices may vary.
Description
"A book to astonish readers: never before has Stalin's Gulag been the setting for a love affair. This powerful narrative by a distinguished historian will take its place not just in history but in literature."—Robert K. Massie, author of Catherine the Great

Author of Natasha's Dance and The Crimean War

In 1946, after five years as a prisoner—first as a Soviet Union POW in Nazi concentration camps, then as a deportee (falsely accused of treason) in Russia's Arctic Gulag—twenty-nine-year-old Lev Mishchenko unexpectedly received a letter from Sveta, the sweetheart he had hardly dared hope was still alive. Amazingly, over the next eight years the lovers managed to exchange more than 1,500 messages, and even to smuggle Sveta herself into the camp for secret meetings. Their recently discovered correspondence is the only known real-time record of life in Stalin's Gulag, unmediated and uncensored.
Orlando Figes draws on Lev and Sveta's letters as well as KGB archives and recent interviews to brilliantly reconstruct the broader world in which their story unfolded. With the powerful narrative drive of a novel, Just Send Me Word reveals a passion and endurance that triumphed over the tragic forces of history.
About the Author
Orlando Figes is the author of eight books on Russia that have been translated into twenty-seven languages; they include The Whisperers, A People's Tragedy, Natasha's Dance, and Just Send Me Word. A professor of history at Birkbeck, University of London and a frequent contributor to The New York Review of Books, Figes is the recipient of the Wolfon History Prize, the W. H. Smith Literary Award, the NCR Book Award, and the Los Angeles Times Book Prize, among others.
Praise For Just Send Me Word: A True Story of Love and Survival in the Gulag…
"Entrancing... Makes an indelible impression." —The New York Review of Books
"An enchanting marvel that reacquaints our technologically sophisticated but verbally deficient world with the power of the epistle to sustain love in the most trying of circumstances...A gem of a book." —The Boston Globe
"One is overcome with admiration for the kindness, bravery, and generosity of people in terrible peril.... It is impossible to read without shedding tears." —Simon Sebag Montefiore, Financial Times (London)
"Remarkable... Figes, selecting and then interpreting this mass of letters, makes them tell two kinds of story. The first is a uniquely detailed narrative of the Gulag, of the callous, slatternly universe which consumed millions of lives.... The second is about two people determined not to lose each other." —Neal Ascherson, The Guardian
"A book to astonish readers: never before has Stalin's Gulag been the setting for a love affair. This powerful narrative by a distinguished historian will take its place not just in history but in literature." —Robert K. Massie, author of Catherine the Great
"Timely and important...What gives Just Send Me Word its power is the intimate, granular detail of Gulag life, of how men and women attempted to create a semblance of normality in the most abnormal of circumstances." —The Daily Beast
"A heroic, absolutely astounding love story." —Minneapolis Star-Tribune
"Wonderful...Just Send Me Word blends Gulag and sentiment in its loftiest application into a "you- can't- put- it- down" book and Orlando Figes, a modern master of Russian cultural history, brings off a worthy successor to Natasha's Dance." —Washington Independent Review of Books
"A remarkable love story intertwined with a rare glimpse into a harsh chapter of Soviet history." —Christian Science Monitor
"Drawing on more than 1,200 letters between Lev and Svetlana "Sveta" Mishchenko, and interviews with the couple, veteran historian Figes tells a remarkable tale of love and devotion during the worst years of the USSR...His fine narrative pacing enhances this moving, memorable story." —Publishers Weekly (Starred Review)
"A heart-rending record of extraordinary human endurance." —Kirkus Reviews
"Orlando Figes, a serious scholar who can reach wide general audiences, has done it again...An engaging portrait of a revealing and intimate relationship within almost unimaginable conditions." —History Book Club
or
Not Currently Available for Direct Purchase