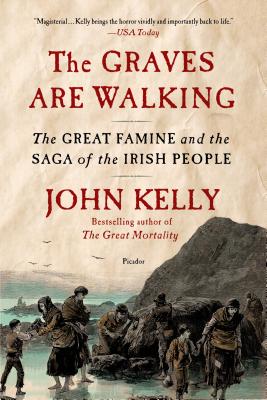 The Graves Are Walking (Paperback)
The Great Famine and the Saga of the Irish People
Picador, 9781250032171, 416pp.
Publication Date: July 23, 2013
Other Editions of This Title:
Digital Audiobook (8/20/2012)
Compact Disc (8/21/2012)
MP3 CD (8/21/2012)
Compact Disc (8/21/2012)
Hardcover (8/21/2012)
Pre-Recorded Audio Player (9/1/2012)
* Individual store prices may vary.
Description

A magisterial account of one of the worst disasters to strike humankind--the Great Irish Potato Famine--conveyed as lyrical narrative history from the acclaimed author of The Great Mortality

In this masterful, comprehensive account of the Irish Potato Famine, delivered with novelistic flair, Kelly gives us not only the startling facts of this disaster--one of the worst to strike mankind, killing twice as many lives as the American Civil War--but examines the intersection of political greed, bacterial infection, religious intolerance, and racism that made it possible. Kelly brings new material to his analysis of relevant political factors during the years leading up to the famine, and the extent to which Britain's nation-building policies exacerbated the mounting crisis. Despite the shocking, infuriating implications of his findings, The Graves Are Walking is ultimately a story of triumph--of one people's ability to remake themselves in a new land in the face of the unthinkable.
About the Author
John Kelly is the author of the acclaimed bestseller The Great Mortality: An Intimate History of the Black Death, the Most Devastating Plague of All Time and Three on the Edge: The Stories of Ordinary American Families in Search of a Medical Miracle. He has written about medicine, history, and psychology for many years. He lives in New York City and Berkshire County, Massachusetts.
Praise For The Graves Are Walking: The Great Famine and the Saga of the Irish People…
"Magisterial...Kelly brings the horror vividly and importantly back to life." —USA Today
"A moving account of the famine...Kelly has produced a powerful indictment of the British mind-set in the nineteenth century, and of the British policy that resulted from it." —The New York Times Book Review
"An accessible, engrossing history of horror...Cogent and forceful." —The Washington Post
"An engrossing narrative of the famine, vividly detailing Victorian society and the historical phenomena (natural and man-made) that converged to form the disaster." —The Economist
"Though the story of the potato famine has been told before, it's never been as thoroughly reported or as hauntingly told." —New York Post
"John Kelly gives heartbreaking detail to the Great Famine that seared itself into the memory of the Irish people, and sheds fascinating new light on the policy decisions that made it even worse. The Graves Are Walking is a cautionary tale for all who would risk calamity--human, economic, or ecological--in the name of scoring an ideological victory." —President Bill Clinton
"This fine book is sourced largely from contemporaneous accounts and is thoroughly documented. It is a witheringly bleak portrayal, extraordinarily detailed and gracefully written. Everyone who holds a policy-making position in government today or tomorrow should study this book." —The Washington Independent Review of Books
"Kelly intersperses the nitty gritty of the shifting Irish economic situation with horrific glimpses of its human toll." —Laura Miller, Salon
"In humanising the complexities of the Great Famine, John Kelly's emotional history of the time makes for a compelling and heartbreaking read...Kelly doesn't shy away from the kind of vivid descriptions and heightened language more often associated with poetry than historical writing." —The Irish Times
"An incredibly well-researched analysis of the Great Famine...The book reads like a novel, making the reality of this particular bit of history all the more haunting." —Shelf Awareness
"Mr. Kelly's moving, powerfully narrated account of the tragedy and its aftermath brings it alive in all its horror." —The Washington Times
"An upsetting, enlightening, necessary book that deserves multiple, durable audiences [and] stands as a testament to the resilience of a people under some of the greatest duress the world has ever seen." —History News Network
"This is a wonderful book about a terrible event. It's also a rare combination of compelling writing, excellent scholarship, and insightful analysis that ranges over the full scope of--and goes beyond--the potato famine itself, from agricultural science, through the English politics that contributed so much to the death toll, to the impact of Irish immigration in America. A truly outstanding book." —John M. Barry, author of The Great Influenza: The story of the deadliest pandemic in history and Roger Williams and the Creation of the American Soul: Church, State, and the Birth of Liberty
"Kelly (The Great Mortality) traces a path of misery and devastation as he documents one of the 19th century's worst disasters, a nightmarish six years that left twice as many dead as the American Civil War...[Kelly's] exhaustive research covers every aspect, threading the gruesome events into a huge panoramic tapestry that reveals political greed lurking behind the pestilence." —Publishers Weekly (Starred Review)
"The Graves Are Walking is compelling reading. Once again John Kelly illuminates a dark time, removing it from the shadows of legend and hearsay into the bright light of history. Even among the graves of Irish famine, he finds vivid life." —Richard Rhodes, Pulitzer Prize winning author of The Making of the Atomic Bomb and John James Audubon: The Making of an American
"John Kelly is one of America's great historians and storytellers. He has a new one out now: the essential The Graves Are Walking. It's a brilliantly rendered account of the Great Irish Potato Famine of the 1840s. The prose sizzles with deep intelligence, hard research, and an inspiring compassion for the millions who died of hunger. It was an honor to read such first-rate nonfiction. Highly recommended!" —Douglas Brinkley, author of The Wilderness Warrior: Theodore Roosevelt and the Crusade for America and The Great Deluge: Hurricane Katrina, New Orleans, and the Mississippi Gulf Coast
"I wish more people wrote history like this: fast-paced but carefully documented, lively as a novel but tackling, head on, one of the great human catastrophes of nineteenth-century Europe. Kelly's portrait of a tragedy rooted in a superpower's imperial arrogance has echoes for the world we are still living in today." —Adam Hochschild, author of the New York Times bestseller To End All Wars
"The Graves Are Walking is an engrossing chronicle of an historic tragedy that forever changed Ireland, Britain, and America. Kelly conveys the rawness of Irish suffering with a powerful intimacy--an entire nation reduced to a single wish: survival." —Amanda Foreman, author of the acclaimed A World on Fire: an Epic History of Two Nations Divided and the international bestseller Georgiana, Duchess of Devonshire
"John Kelly vividly writes the compelling story of the horror of Ireland's potato famine, with intimate portraits of those who died and those who fled. Most illuminating is how he captures, in devastating detail, British leaders, who, imbued with religious fervor and ideological blinders, decided to use the plague as an occasion to teach the Irish good work habits, responsibility, and to rid them of their dependence on government. An extraordinary book, and a lesson for our times." —Kathleen Kennedy Townsend, Senior Advisor to Secretary of State Hillary Clinton, founder of the Robert F. Kennedy Human Rights Award, and author of Failing America's Faithful: How Today's Churches Mixed God with Politics and Lost Their Way
"Kelly deftly conveys the enormity of what was at stake. The Graves Are Walking seeks accountability for those responsible for the human toll from a shortage of everything–even coffins." —Booklist
"Kelly's work is written with the verve of a good novel... his powerfully argued conclusion is that the British were guilty of neglect rather than malice, allowing religion and ideology to overrule their common humanity. ...At the height of the famine, a British official received a report of the latest casualties and scribbled a single word underneath: why? This book provides as good an answer as we are likely to get." —Daily Business Post (Dublin, Ireland)