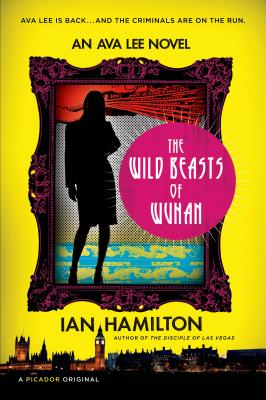 The Wild Beasts of Wuhan (Paperback)
An Ava Lee Novel
Picador, 9781250032294, 352pp.
Publication Date: June 25, 2013
Other Editions of This Title:
Digital Audiobook (6/24/2013)
Hardcover (6/25/2013)
* Individual store prices may vary.
Description
"Formidable...Ava Lee is unbeatable at just about everything....She's perfect."—Toronto Star

Meet Ava Lee, alluring but deadly, with a mind like a steel trap, as she chases millions of dollars and dangerous criminals around the globe in this exotic and fast-paced new crime series by Ian Hamilton.
In The Wild Beasts of Wuhan, Wong Changxing, a rich Chinese powerbroker, has just been bilked out of $100 million in an elaborate art forgery con. His one hope of recovering the money, and of saving face, is Ava Lee—a forensic accountant with a talent for tracking down untraceable funds. With the help of her mentor, the Triad-connected Uncle, Ava traces the provenance of the meticulously forged paintings to Denmark, the Faroe Islands, New York, and London. As she infiltrates one of the most prestigious auction houses in the world, she uncovers a massive web of corruption, where high art and high-stakes fraud threaten more than just her client's business—this is one scam that could get her killed. Ava Lee is one of the most scintillating, unique heroines to come along in years.
About the Author
Ian Hamilton has had a range of careers over the span of his life, from journalist to diplomat, but it wasn't until a health scare that he sat down to write his first novel. Ava Lee was the heroine that came to him and so the series was born. Hamilton's journalism has been featured in Maclean's and Saturday Night Magazine. He is the author of The Disciple of Las Vegas, The Wild Beasts of Wuhan, The Red Pole of Macau, and The Water Rat of Wanchai. He lives in Burlington, Ontario, with his wife, Lorraine. He has four children and seven grandchildren.
Praise For The Wild Beasts of Wuhan: An Ava Lee Novel…
"Cutting edge crime novels." —BBC.com
"With its exotic settings (from Asia to America and places in between) and its equally exotic investigator, this book is miles from the ordinary. The main character, Ava Lee is the 'whole package.'" —Minneapolis Star Tribune
"An intelligent kick-ass heroine....Clearly conversant with the art world, Hamilton makes the intricacies of forgery as interesting as a Ponzi scheme." —Publishers Weekly (starred)
"You haven't seen cold and calculating until you've double-crossed this number cruncher. Another strong entry from Arthur Ellis Award-winner Hamilton." —Booklist
"One of my favorite new mystery series, perfect escapism." —Sarah Weinman, National Post
"Ava Lee is tough, fearless, quirky, and resourceful, and she has more--well, you know--than half a dozen male detectives I can think of." —Linwood Barclay, author of No Time for Goodbye
"Ian Hamilton really knows his stuff, offering intriguing insights into a secret world and a heroine as fascinating as she is fierce. A fantastic read, I can't wait for the next one." —Simon Lewis, author of Bad Traffic