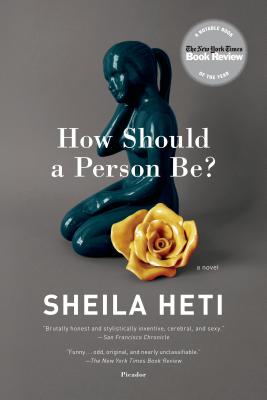 How Should a Person Be?
A Novel from Life
Paperback

* Individual store prices may vary.
Other Editions of This Title:
Digital Audiobook (8/25/2016)
MP3 CD (8/26/2016)
Compact Disc (8/26/2016)
Compact Disc (8/26/2016)
Description
Chosen as one of fifteen remarkable books by women that are shaping the way we read and write in the 21st century by the book critics of The New York Times

"Funny...odd, original, and nearly unclassifiable...unlike any novel I can think of."—David Haglund, The New York Times Book Review

"Brutally honest and stylistically inventive, cerebral, and sexy."—San Francisco Chronicle

Named a Book of the Year by The New York Times Book Review, The New Yorker, San Francisco Chronicle, Salon, Flavorpill, The New Republic, The New York Observer, The Huffington Post

A raw, startling, genre-defying novel of friendship, sex, and love in the new millennium—a compulsive read that's like "spending a day with your new best friend" (Bookforum)

By turns loved and reviled upon its U.S. publication, Sheila Heti's "breakthrough novel" (Chris Kraus, Los Angeles Review of Books) is an unabashedly honest and hilarious tour through the unknowable pieces of one woman's heart and mind. Part literary novel, part self-help manual, and part vivid exploration of the artistic and sexual impulse, How Should a Person Be? earned Heti comparisons to Henry Miller, Joan Didion, Mary McCarthy, and Flaubert, while shocking and exciting readers with its raw, urgent depiction of female friendship and of the shape of our lives now. Irreverent, brilliant, and completely original, Heti challenges, questions, frustrates, and entertains in equal measure. With urgency and candor she asks: What is the most noble way to love? What kind of person should you be?
Praise For How Should a Person Be?: A Novel from Life…
"Heti's prose is dark and perceptive...[There is] a sense that she is drawing from a deep well, and that this will not be her last major book." —The New York Times (The New Vanguard: Remarkable Books by Women That Are Shaping the Way We Read and Write Fiction in the 21st Century)

"Funny...odd, original, and nearly unclassifiable...unlike any novel I can think of." —David Haglund, The New York Times Book Review

"Brutally honest and stylistically inventive, cerebral, and sexy." —San Francisco Chronicle

"One of the bravest, strangest, most original novels I've read this year." —Christopher Boucher, The Boston Globe

"A vital and funny picture of the excitements and longueurs of trying to be a young creator in a free, late-capitalist Western city." —James Wood, The New Yorker

"A book that risks everything...Complex, artfully messy, and hilarious." —Miranda July

"A really amazing metafiction-meets-nonfiction novel." —Lena Dunham

"It is easy to see why a book on the anxiety of celebrity has turned the author into one herself." —The Economist

"A seriously strange but funny plunge into the quest for authenticity." —Margaret Atwood

"Boldly original...Gorgeously rendered." —NPR

"Bawdy, idiosyncratic...The title makes me quake with envy. All good books should be called just that." —Chad Harbach

"A significant cultural artifact." —LA Review of Books

"Original...hilarious...Part confessional, part play, part novel, and more--it's one wild ride...Think HBO'S Girls in book form." —Marie Claire

"How Should a Person Be? teeters between youthful pretension and irony in ways that are as old as Flaubert's Sentimental Education...but Ms. Heti manages to give Sheila's struggle a contemporary and particular feel...How Should a Person Be? reveals a talented young voice of a still inchoate generation." —Kay Hymowitz, The Wall Street Journal

"I read this eccentric book in one sitting, amazed, disgusted, intrigued, sometimes titillated I'll admit to that, but always in awe of this new Toronto writer who seems to be channeling Henry Miller one minute and Joan Didion the next. Heti's book is pretty ugly fiction, accent on the pretty." —Alan Cheuse, NPR's All Things Considered

"Heti's craft never fails…Novels are supposed to grab one's attention, and Heti's wonderfully baggy, honest and affecting book does exactly that." —New Orleans Times-Picayune

"Not the kind of book that comes along often. It's highly quotable, funny, shocking, anxiety-inducing and, finally, inspiring… It is undeniably of the moment, a blueprint of how to be lost in the Internet Age." —Thought Catalog

"Heti knows what she's doing--much of the pleasure of How Should a Person Be? comes from watching her control the norms she's subverting." —Michelle Dean, Slate

"[A] breakthrough novel...Just as Mary McCarthy's The Company She Keeps (written at the same age) was an explosive and thrilling rejoinder to the serious, male coming-of-age saga exemplified during her era by Sartre's The Age of Reason, Heti's book exuberantly appropriates the same, otherwise tired genre to encompass female experience. How Should a Person Be?'s deft, picaresque construction, which lightly-but-devastatingly parodies the mores of Toronto's art scene, has more in common with Don Quixote than with Lena Dunham's HBO series "Girls" or the fatuous blogs and social media it will, due to its use of constructed reality, inevitably be compared with…Like [Kathy] Acker, [Heti] is a brilliant, original thinker and an engaging writer. " —Chris Kraus, LA Review of Books

"If you're not already reading Sheila Heti's second novel How Should A Person Be?, you should be. Heti's rousing, unapologetically messy, beautifully written, insightful and provocative book explores the frustrations and rewards of female friendship, and of trying to make art as a young woman in the 21st century...Heti is doing something very exciting within the form of the novel." —Jezebel

"Heti excels at developing a cast of engaging, colorful and flawed characters." —Willamette Week

"Enlightening, profoundly intelligent, and charming to read....It reflects life in its incredible humor--and in some of its weird bits that might be muddled or unclear...with anxiety, hilarity and lots of great conversation." —Interview Magazine

"There are no convenient epiphanies in Sheila Heti's newest book How Should a Person Be? Instead there are several intertwined, grinding and brilliantly uncomfortable ones that require the reader to shed a few dozen layers in the service of self-discovery...She may depart from broad harbors, but she is an analytic zealot, never imparting trite one-liners or excusing herself. Reading her is an act of participation, discomfort and joy." —SF Weekly

"Lena Dunham loves this novel…A fresh spin on friendship, art, sex, and philosophy in five acts. And the prose, often taking the form of a numbered list, is always engaging." —Daily Candy

"[Heti creates] one of the most personable antiheroes ever...Her tone can be earnest and eager to please, flippant and crass, terribly lucid and darkly funny...Her tortured self-deprecation can read a little like Violette Leduc's, and her poetic bluntness sometimes reminds me of Eileen Myles, but these authors come to mind mostly because, like Heti, they have written about women with unusual detail and feeling. Heti truly has a startling voice all her own, and a fresh take on fiction and autobiography's overlap." —Bookforum

"Oh crap. I don't know how to begin talking about Sheila Heti or how good she is. People will say How Should A Person Be? is reminiscent of Patti Smith's Just Kids or Ann Patchett's Truth & Beauty and both of these things will be true. But I am still reeling from the originality of this novel. There are passages here so striking, to read them is to be punched in the heart." —Sloane Crosley, author of How Did You Get This Number

"The book's form is fluid and unpredictable… [and] the architecture gives the prose a circular, easy feeling, even though Heti is taking a hard look at what makes life meaningful and how one doesn't end up loveless and lost. It is book peopled by twentysomethings but works easily as a manual for anyone who happens to have run into a spiritual wall." —Sasha Frere-Jones, The Paris Review

"Utterly beguiling: blunt, charming, funny, and smart. Heti subtly weaves together ideas about sex, femininity and artistic ambition. Reading this genre-defying book was pure pleasure." —David Shields, author of Reality Hunger

"[A]n unforgettable book: intellectually exacting, unsettling in its fragility, bodily as anything painted by Freud, experimental yet crafted as hell, and yes, very funny." —The National Post

"Sheila Heti's novel-from-life, How Should a Person Be?, was published in Canada in 2010, but won't be out in the US until next June. Watch for it – it's great." —Chad Harbach, author of The Art of Fielding
Picador, 9781250032447, 320pp.
Publication Date: June 25, 2013
About the Author
Sheila Heti is the author of ten books, including the novels Motherhood and How Should a Person Be?, which New York magazine deemed one of the "New Classics" of the twenty-first century. She was named one of the "New Vanguard" by the New York Times book critics, who, along with a dozen other magazines and newspapers, chose Motherhood as a top book of 2018. Her books have been translated into twenty-four languages. She lives in Toronto and Kawartha Lakes, Ontario.