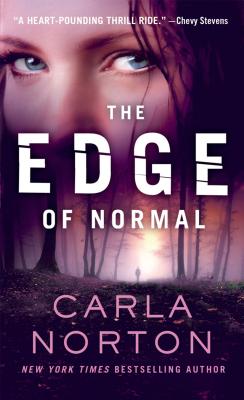 The Edge of Normal (Reeve LeClaire Series #1) (Paperback)
Minotaur Books, 9781250032775, 384pp.
Publication Date: September 30, 2014
* Individual store prices may vary.
Description
With a fiercely original heroine and a plot that will keep you guessing until the very last page, Carla Norton's The Edge of Normal is an "impressive mystery...with psychological depth (Booklist, starred review)" that no reader will soon forget.
In many ways, Reeve LeClaire seems like a typical twenty-something woman: She has her own place in San Francisco, waitresses to pay the bills, and lives a pleasant, structured life. But Reeve is anything but normal. Ten years ago, she was kidnapped and held captive for four years. Her lucky escape made headlines-and since then, she's managed to rebuild her life, thanks in part to her brilliant psychiatrist, Ezra Lerner.

"A nail-biter." -People

An expert in captivity syndromes, Dr. Lerner asks Reeve to help a young girl, Tilly, who has suffered a similar ordeal. But soon everything Reeve has worked so hard to achieve-independence, anonymity, a normal life-comes crashing down. As she tries to help Tilly, she finds herself involved in a deadly game of cat-and-mouse with a ruthless predator who always manages to be one step ahead of her. . . and is watching her every move. . .

"A perfect blend of literary style, psychological insight, and edge-of-the-seat thriller."-Jeffery Deaver
About the Author
CARLA NORTON is the author of The Edge of Normal, a finalist for an ITW Thriller Award for Best First Novel, coauthor of the #1 New York Times bestseller Perfect Victim, which the FBI put on its Behavioral Sciences Unit reading list, and author of What Doesn't Kill Her, which was the winner of the 2016 Nancy Pearl Award and the President's Book Award Gold Medal. She has twice served as a judge for the Edgar Awards. She lives in California and Florida.
Praise For The Edge of Normal (Reeve LeClaire Series #1)…
"With crisp prose, deep insight, and a gift for pacing, Carla Norton has brought all her authority and talents to bear in The Edge of Normal. It's a thrilling read that will stay with you long after you turn the last page." —Lisa Unger
"A heart-pounding thrill ride that had me holding my breath to the very end. With a compelling, tough-as-nails heroine and a truly terrifying villain, this is a book you won't soon forget." —Chevy Stevens
"True-crime author Norton delivers an impressive mystery debut with a subject that leaps from the headlines…Norton has created a page-turner with well-developed characters, a truly horrible villain, and the psychological depth of Jonathan Kellerman at his best." —Booklist (starred review)
"Norton has written a nail-biter, but it's Reeve's complicated courage that lingers." —People
"Carla Norton's debut is a fast-paced novel of psychological suspense. The Edge of Normal is a perfect blend of literary style, psychological insight, and edge-of- the-seat thriller." —Jeffery Deaver
"True crime writer Norton (Perfect Victim) makes her first foray into fiction with a compelling--and timely--story about a woman kidnapped when she was 12 and held for four years…Norton skillfully keeps the suspense taut with myriad surprises while giving a tender look at victims whose ordeals are rehashed by lawyers, the media, and pop psychologists…[An] intriguing story." —Publishers Weekly (starred review)
"Norton's deep background in true crime coverage…informs her fiction. The revolving points of view she uses keep the plot steadily building to the kind of page-turning suspense that makes a true thriller." —New York Journal of Books
"Told with lyrical intensity and convincing authority, The Edge of Normal is a terrifying trip into a world of pure evil. Carla Norton introduces a spectacularly flawed heroine in Reeve LeClaire -- a young woman confronting the specter of her horrific past and becoming the target of a psychopath so foul the ink practically rises from the page in an attempt to stop him. Guaranteed to keep you up at night." --Karen Engelmann "This debut thriller by the bestselling author of Perfect Victim features a suspenseful storyline that realistically mirrors recent news headlines of captivity and sadism. Winner of a Royal Palm Literary Award for best unpublished mystery, this nail-bitingly delicious tale will be a treat for psychological thriller fans." —Library Journal (starred review)
"Told with exceptional insight and a Hitchcock-like capacity for suspense, it shows Norton could become one of the finest female thriller writers of her generation." —The Daily Mail
or
Not Currently Available for Direct Purchase