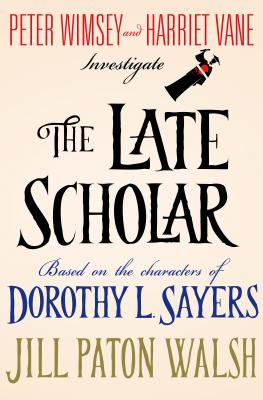 The Late Scholar (Hardcover)
Minotaur Books, 9781250032799, 356pp.
Publication Date: June 17, 2014
* Individual store prices may vary.
or
Not Currently Available for Direct Purchase
Description
When a dispute among the Fellows of St. Severin's College, Oxford University, reaches a stalemate, Lord Peter Wimsey discovers that as the Duke of Denver he is "the Visitor" charged with the task of resolving the issue. It is time for Lord Peter and his detective novelist wife, Harriet, to revisit their beloved Oxford, where their long and literate courtship finally culminated in their engagement and marriage.
At first, the dispute seems a simple difference of opinion about a valuable manuscript that some of the Fellows regard as nothing but an insurance liability, which should be sold to finance a speculative purchase of land. The voting is evenly balanced. The Warden would normally cast the deciding vote, but he has disappeared. And when several of the Fellows unexpectedly die as well, Lord Peter and Harriet set off on an investigation to uncover what is really going on at St. Severin's.
With this return in "The Late Scholar" to the Oxford of "Gaudy Night, " which many readers regard as their favorite of Sayers's original series, Jill Paton Walsh at once revives the wit and brilliant plotting of the Golden Age of detective fiction.
About the Author
JILL PATON WALSH is the Booker Prize-nominated and Whitbread Prize-winning author of several adult novels, numerous mysteries, including her continuation of Dorothy L. Sayers' Lord Peter Wimsey mysteries Thrones, Dominations and A Presumption of Death, and many award-winning children's books. She lives in Cambridge, England. DOROTHY L. SAYERS, whom The Los Angeles Times named "one of the greatest mystery writers of [the twentieth] century," died in 1957.
Praise For The Late Scholar…
Praise for THE ATTENBURY EMERALDS:

"Hundreds of Sherlock Holmes stories have been written by authors other than Conan Doyle. Ian Fleming and Raymond Chandler are others whose deaths did not prevent their fictional creations from continuing to live. Occasionally, such pastiches and homages succeed, but not too often. It's not simply a question of imitating a style of writing. Just as important are a sense of time and place, the language (and slang) of the period, and its social backdrop. And, of course, a hero acceptable to lovers of the original. Jill Paton Walsh, assuming the mantle of Dorothy L. Sayers, convinces on all counts....Sayers would not have recognised that [THE ATTENBURY EMERALDS] wasn't her own work." —The London Times

"Luckily, Wimsey has Jill Paton Walsh to continue his life, cunningly framing his first case as a remembrance that serves as an origin and an encapsulation….A pitch-perfect Golden Age mystery; not a pastiche but a gem of a period puzzle that belongs on the shelf beside the Wimsey originals." —The Financial Times (UK)

"If you're a Dorothy L Sayers fan who has been obliged to feed your habit by reading and re-reading the books featuring her aristocratic sleuth Lord Peter Wimsey help is at hand....Fans will be pleased that it is an absolute treat: civilised, intelligent and spellbinding…. Channelling the authority Sayers employed right up to her final book, Walsh shows that she has the full measure of the imperishable Lord Peter and the hyper-intelligent Harriet Vane." —The Express (UK)
Advertisement