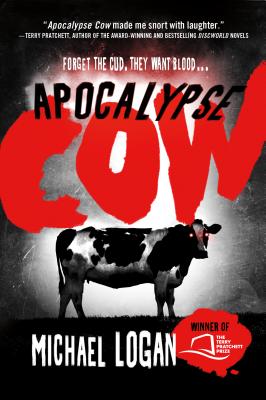 Apocalypse Cow
Paperback

* Individual store prices may vary.
Description
If you think you've seen it all -- WORLD WAR Z, THE WALKING DEAD-- you haven't seen anything like this. From the twisted brain of Michael Logan comes Apocalypse Cow, a story about three unlikely heroes who must save Britain . . . from a rampaging horde of ZOMBIE COWS!

Forget the cud. They want blood.

It began with a cow that just wouldn't die. It would become an epidemic that transformed Britain's livestock into sneezing, slavering, flesh-craving four-legged zombies.

And if that wasn't bad enough, the fate of the nation seems to rest on the shoulders of three unlikely heroes: an abattoir worker whose love life is non-existent thanks to the stench of death that clings to him, a teenage vegan with eczema and a weird crush on his maths teacher, and an inept journalist who wouldn't recognize a scoop if she tripped over one.

As the nation descends into chaos, can they pool their resources, unlock a cure, and save the world?

Three losers.
Overwhelming odds.
One outcome . . .

Yup, we're screwed.
Praise For Apocalypse Cow…
"Apocalypse Cow treads that rare path between horrific and hilarious, which makes for a very fun read indeed. Give it a go." —Christopher Moore, author of Lamb, Fool, and A Dirty Job

"Apocalypse Cow made me snort with laughter." —Terry Pratchett, author of the award-winning and bestselling Discworld novels

"Logan has a flair for unique description ("a muscled chest that made Arnold Schwarzenegger's pecs look like burst balloons") and for painting a mental picture almost photographic in its clarity. An impressive start for an author who's going places." —Publishers Weekly

"This clever and very funny twist on the traditional zombie novel is exceedingly well executed (it approaches but never quite steps into parody territory), and it ends with a scene that pretty much demands a sequel. Great stuff for horror and fantasy fans." —booklist, starred review "Apocalypse Cow is a promising first novel, with a challenging premise that will be hard to top, so it'll be interesting to see what he has lined up next. Perhaps something equally horrifying (and hilarious) for the vegetarian set."-Rue Morgue
St. Martin's Griffin, 9781250032867, 352pp.
Publication Date: May 21, 2013
About the Author
MICHAEL LOGAN is a Scottish journalist whose career has taken him across the globe. He left Scotland in 2003 and has lived in Bosnia, Hungary, Switzerland and Kenya, where he is currently based with his wife and two young children. His short fiction has appeared in various literary journals, and a (very) short story of his won Fish Publishing's International One-Page Fiction Prize. He is the author of Apocalypse Cow.