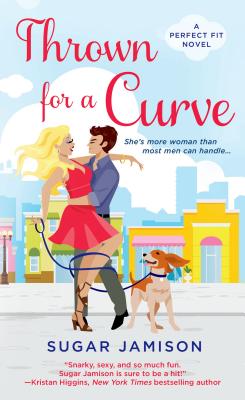 Thrown for a Curve (Mass Market Paperbound)
St. Martin's Press, 9781250032980, 328pp.
Publication Date: February 25, 2014
* Individual store prices may vary.
or
Not Currently Available for Direct Purchase
Description
WHEN YOU'RE A big girl
Cherri has often wished she were thin and graceful like a ballerina instead of being a six-foot-tall blonde with curves that require serious caution. Surely a charming Irishman like her new boss Colin, with his throaty brogue and to-die-for bod, would never go for someone like Cherri. Unless maybe he's looking for the exact opposite of a delicate lass?
there's more of you to love
When Colin hired Cherri to work in his furniture-restoration shop, he had his eyes, first and foremost, on her artistic talents. But now he can't help but see Cherri for the lush, spirited beauty that she is and, soon enough, he finds himself mixing business with pleasure. But Cherri turns out to be more vulnerable than she appears. Is she in need of more than Colin can give? Or could it be that a feeling stronger than lust has him "thrown for a curve?"
Praise for Sugar Jamison's Perfect Fit Novel "Dangerous Curves Ahead"
""Dangerous Curves Ahead" is laugh out loud funny and super sexy, with unique characters you can't help but love " "New York Times "bestselling author Lori Foster.
About the Author
Sugar Jamison author of DANGEROUS CURVES AHEAD and THROWN FOR A CURVE is a Southern belle trapped in a New Yorker's body. With a love of big hair and high heeled shoes, she spends her day at her very normal day job and night dreaming up sweet and sassy romances.
Praise For Thrown for a Curve…
More praise for Sugar Jamison's Dangerous Curves Ahead
"A funny, sexy, and touching debut—just delightful!"—Susan Donovan, New York Times bestselling author
"Fresh, fun, and insanely sexy. Jamison juggles snark, sensitivity, and to-die-for chivalry with dazzling success. Dangerous Curves is candy for the soul." —Beth Ciotta, award winning author
Advertisement