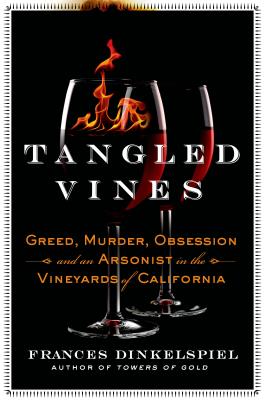 Tangled Vines
Greed, Murder, Obsession, and an Arsonist in the Vineyards of California
Hardcover

* Individual store prices may vary.
Other Editions of This Title:
Paperback (10/18/2016)
MP3 CD (10/18/2016)
Description
A New York Times Bestseller

On October 12, 2005, a massive fire broke out in the Wines Central wine warehouse in Vallejo, California. Within hours, the flames had destroyed 4.5 million bottles of California's finest wine worth more than $250 million, making it the largest destruction of wine in history. The fire had been deliberately set by a passionate oenophile named Mark Anderson, a skilled con man and thief with storage space at the warehouse who needed to cover his tracks. With a propane torch and a bucket of gasoline-soaked rags, Anderson annihilated entire California vineyard libraries as well as bottles of some of the most sought-after wines in the world. Among the priceless bottles destroyed were 175 bottles of Port and Angelica from one of the oldest vineyards in California made by Frances Dinkelspiel's great-great grandfather, Isaias Hellman, in 1875. Sadly, Mark Anderson was not the first to harm the industry. The history of the California wine trade, dating back to the 19th Century, is a story of vineyards with dark and bloody pasts, tales of rich men, strangling monopolies, the brutal enslavement of vineyard workers and murder. Five of the wine trade murders were associated with Isaias Hellman's vineyard in Rancho Cucamonga beginning with the killing of John Rains who owned the land at the time. He was shot several times, dragged from a wagon and left off the main road for the coyotes to feed on. In her new book, Frances Dinkelspiel looks beneath the casually elegant veneer of California's wine regions to find the obsession, greed and violence lying in wait. Few people sipping a fine California Cabernet can even guess at the Tangled Vines where its life began.
Praise For Tangled Vines: Greed, Murder, Obsession, and an Arsonist in the Vineyards of California…
A New York Times Bestseller
A San Francisco Chronicle Bestseller
A Best Book for Wine Lovers – Wall Street Journal
One of the Best Wine Books of 2015 – Food & Wine
Finalist for Best Nonfiction Book – Northern California Independent Booksellers
Finalist for a Northern California Book Award

"Clear and absorbing, a reminder that no matter how much beauty and poetry we may find in the glass, for many it's ultimately all about the money." - Eric Asimov, The New York Times

"From its explosive prologue to the very last sentence, Frances Dinkelspiel has written an utterly riveting true crime book... Unlike... the wine collectors in Tangled Vines, I cannot taste 'the earth, the sun, the sky, and the steady hand of the winemaker in that glass.' But I know a spectacular book when I read one." - The Los Angeles Book Review

"The most engrossing and engaging book about Napa Valley since James Conaway's two-volume saga, "Napa" and "The Far Side of Eden." - The Washington Post

"Dinkelspiel is at her best... page-turning." - San Francisco Chronicle

"An engaging read" - San Jose Mercury News

"Dinkelspiel's stunning new look at the dark side of California wine, you won't want to get up until you've devoured the entire book... [An] uncommon page-turner. Dinkelspiel has woven skillfully three distinct yet inextricable narratives into a book that will inform and fascinate readers for years to come. While the stories she tells are engrossing on their own, it is her steady journalistic tone, backed by prodigious and painstaking research, that gives this book its power and allure." - Berkeleyside's "Nosh Weekly"

"More than just a crime story, this is a book about the wealth, passion, and murky reality shaped by life inside the twisted vines of California's most revered crop... An enjoyable read for wine connoisseurs and neophytes alike." —Kirkus Reviews

"The author's gripping descriptions of the fire and its aftermath, her unflinching narrative, and her vast knowledge of the subject matter make this a page-turner for both wine aficionados and casual tasters." —Publishers Weekly

"I gulped down this page-turning chronicle of big egos, bold Cabernets, and brazen wine wars. Frances Dinkelspiel vividly captures the wild early years of California's wine industry as well as the modern crime revealing the dark obsession some people have for wine. I'll never look at a bottle of Napa Valley Cabernet in quite the same way again." —Julia Flynn Siler, New York Times bestselling author of House of Mondavi: The Rise and Fall of an American Wine Dynasty

"The author is deeply rooted in the Golden State's financial history, as anyone knows who read her excellent Towers of Gold. Now we find that terroir's part of that story, too. A family member's bottled heirlooms passed down through generations fall victim to a bizarre crime, and the author's drawn in by a sense of loss, anger, and curiosity. How could even an unhinged perpetrator of the worst case of wine arson in California history destroy vintages bearing some of the biggest names in West Coast viticulture, and apparently get away with it? Dinkelspiel weaves together strands of past and present in an enthralling narrative that binds the reader to the investigation and to her personal triumph." —James Conaway, New York Times bestselling author of Napa: The Story of an American Eden

"History, wine and crime intertwine in this fascinating page-turner. Dinkelspiel travels in time to create a dark and deep portrait of three centuries of California wine culture." —Davia Nelson of NPR's "Kitchen Sisters"

"Tangled Vines is a captivating account of how a wine connoisseur became one of the most notorious wine criminals in history. Dinkelspiel deftly weaves his true tale into the rich, colorful, and at times shady history of California wine. A delicious read." —Allison Hoover Bartlett, author of The Man Who Loved Books Too Much: The True Story of a Thief, a Detective, and a World of Literary Obsession
St. Martin's Press, 9781250033222, 320pp.
Publication Date: October 6, 2015
About the Author
FRANCES DINKELSPIEL is an award-winning journalist and the author of Towers of Gold: How One Jewish Immigrant Named Isaias Hellman Created California. Towers of Gold was a San Francisco Chronicle bestseller and named a Best Book of the Year by the Chronicle and the Northern California Independent Booksellers Association. She is the co-founder of the news site Berkeleyside and her work has appeared in The New York Times, Wall Street Journal, Los Angeles Times, People, San Francisco Magazine, and other venues. She lives in Berkeley, California.