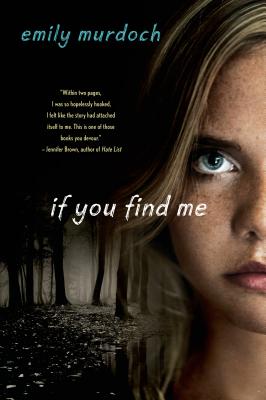 If You Find Me
A Novel
Paperback

* Individual store prices may vary.
Other Editions of This Title:
Compact Disc (3/26/2013)
Compact Disc (3/26/2013)
MP3 CD (3/26/2013)
Description
NOW INCLUDING A BRAND-NEW EPILOGUE!

There are some things you can't leave behind...

In If You Find Me by Emily Murdoch, a broken-down camper hidden deep in a national forest is the only home fifteen year-old Carey can remember. The trees keep guard over her threadbare existence; the one bright spot is Carey's younger sister, Jenessa, who depends on Carey for her very survival. All they have is each other, as their mentally ill mother comes and goes with greater frequency. Until that one fateful day their mother has disappeared for good, and two strangers arrive. Suddenly, the girls are taken from the woods and thrust into a bright and perplexing new world of high school, clothes and boys.

Now, Carey must face the truth of why her mother abducted her ten years ago, while haunted by a past that won't let her go...a dark past that hides many secrets, including the reason Jenessa hasn't spoken a word in over a year. Carey knows she must keep her sister close, and her secrets even closer, or risk watching her new life come crashing down.
Praise For If You Find Me: A Novel…
"A story about redemption, self-forgiveness and the healing power of truth...emotional truth. Lyrical...heart-wrenching." —New York Times Book Review (Editor's Choice)

"Beautifully written. The deep bond between the sisters is almost physically palpable, as is their intense longing for love and acceptance; they will quickly endear themselves to readers." —School Library Journal (Starred Review)

"A compelling narrative that is both unflinching about life's pain and hopeful about its possibilities." —Kirkus Reviews (Starred Review)

"First-time author Emily Murdoch has written a painful, hopeful, surprisingly quiet book that charts the best and worst of humanity, especially family, with characters who worm their way into your heart-or repulse the reader's very nature. Her narrative is full of unique yet breathtaking similes, detailed descriptions, and unflinching dialogue all masquerading as backwoods Tennessee dialect... She validates the courage and ingenuity of young people the world over for whom survival is instinctive; protection of siblings is nonnegotiable; and love both a right and a gift bestowed upon those fortunate enough to find it." —Booklist (Starred Review)

"Within two pages, I was so hopelessly hooked, I felt like the story had attached itself to me. The storyline is original and suspenseful, but most of all, it was Carey's voice that had me flipping the pages. This is one of those books you devour." —Jennifer Brown, author of Hate List

"If You Find Me grabbed me by the heart on page one and didn't let go till the very last word. Murdoch's language is lovely, her storytelling gripping." —Carol Lynch Williams, author of The Chosen One

"Searing . . . hurt my heart and will probably haunt my dreams - a beautiful book about survival, identity, family, love and so much more." —Jenny Downham, author of Before I Die

"Carey and Nessa's story is memorable and deeply moving, and readers will find it very easy to fall in love with these girls." —Publishers Weekly


St. Martin's Griffin, 9781250033277, 288pp.
Publication Date: April 8, 2014
About the Author
Emily Murdoch is a writer, a poet and a lover of books. There's never a time she's without a book. Her debut novel, If You Find Me, released in 2013 to global high praise and critical acclaim through St. Martin's Griffin and Orion/Indigo UK.

If You Find Me, a Carnegie Medal 2014 longlister and a Waterstones Children's Book Prize 2014 finalist, has earned starred reviews from Booklist, Kirkus, and School Library Journal; is a Young Adult Library Services (YALSA) Best Fiction for Young Adults (BFYA) selection of 2014; was named a New York Times Book Review Editors' Choice for June 2013; an Irish Times Editors' Pick for 2013; an Editor's Pick for UK's The Bookseller 2013; a Booklist Youth Editors' Choice for 2013; and a Booklist Top Ten Pick of 2014.

If You Find Me has also been nominated and included in numerous state awards/high school master reading lists, amongst those in: SC, TX, KY, RI, PA, WI, OR, DE, CT, SD, NH, OK, VT, and AR.

If You Find Me was also a finalist for the Goodreads Choice Awards Best Books of 2013 in the Best Debut Author and Best Young Adult Fiction categories, and was a finalist for the German Children's Literature Prize 2015, along with a finalist for the German Buxeholder Bulle Award 2015.

If You Find Me has been translated and published in Canada, the UK, Germany, the Netherlands, Spain, Korea, Taiwan, Italy, Brazil, Hungary, Turkey, and Vietnam, as well as in Braille.

When she's not reading or writing, you'll find Emily caring for her horses, dogs and family on a ranch in rural Arizona, where the desert's tranquil beauty and rich wildlife often enter into her poetry and writing.

Emily's other passion is saving equines from slaughter. She uses her writing to raise awareness of this inhumane practice, with the goal of ending the slaughter of America's horses and burros through transport to slaughterhouses in Canada and Mexico.

She provides sanctuary to abused and slaughter-saved equines who dazzle her daily with their gentle gratitude in exchange for security, consistency, food and love.

As Mahatma Gandhi said, "Be the change you want to see in the world." Emily hopes her penchant for writing will do just that.

All-in-all, she's a lefty in a right-handed world, writing her way through life and smearing ink wherever she writes.
or
Not Currently Available for Direct Purchase