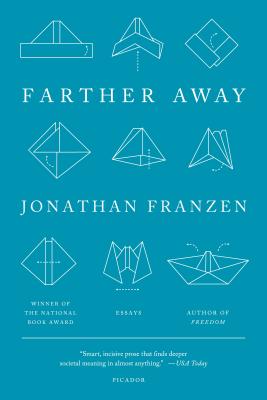 Farther Away (Paperback)
Picador USA, 9781250033291, 321pp.
Publication Date: April 23, 2013
* Individual store prices may vary.
or
Not Currently Available for Direct Purchase
Description
In this incisive collection of speeches and essays, Jonathan Franzen returns with renewed vigor to the themes, both human and literary, that have long preoccupied him. Whether recalling his violent encounter with bird poachers in Cyprus, examining his feelings about the suicide of his friend and rival David Foster Wallace, or offering a moving and witty take on the ways that technology has changed how people express their love, these pieces deliver on Franzen's implicit promise to conceal nothing. A remarkable and revelatory work from one of our greatest living novelists, "Farther Away "traces the progress of a unique and mature mind wrestling with itself, with literature, and with some of the most important issues of our day.
About the Author
Jonathan Franzen is the author of four novels, a collection of essays (How to Be Alone), a personal history (The Discomfort Zone), and a translation of Frank Wedekind's Spring Awakening. He lives in New York City and Santa Cruz, California.
Praise For Farther Away…
Praise for Farther Away:

"Smart, incisive prose that finds deeper societal meaning in almost anything."—USA Today

"[Franzen's] writing has an unshowy, almost egoless perfection."—Lev Grossman, Time

"Gorgeous essays."—Los Angeles Review of Books

"A multifaceted and revealing collection, Farther Away actually brings the reader closer to the author."—The Economist

"Like the best fiction, Farther Away charts a way out of loneliness."—The Christian Science Monitor

"[Franzen's] new collection takes the reader on a closely guided tour of his private concerns... the miscorrelation between merit and fame, the breakdown of a marriage, birds, the waning relevance of the novel in popular culture...Franzen rewards the reader with extended meditations on common phenomena we might otherwise consider unremarkable...the observations [he] makes regarding subjects like cell phone etiquette, the ever-evolving face of modern love and technology are trenchant... With Farther Away, Mr. Franzen demonstrates his ability to dissect the kinds of quotidian concerns that so often evade scrutiny...It may be eight years before he releases his next shimmering novel; in the meantime Mr. Franzen seems intent on keeping the conversation going. Farther Away at least achieves that."—Alex Fankuchen, The New York Observer
"Throughout the book, Franzen suggests that storytelling is a way to interpret and relieve our collective suffering—a vehicle for social connection—and that apathy can be challenged with Molotov cocktails of 'bottomless empathy, born out of the heart's revelation that another person is every bit as real as you are'...Combining personal history with cultural events and the minutiae of daily life, Franzen evokes Joan Didion's tone of rigorous self-examination, and [David Foster] Wallace's wit and philosophical prowess. Whether he is writing about technologies' assault on sincerity or analyzing Alice Munro's short stories, what emerges are works of literary theory and cultural critique that are ambitious, brooding and charmingly funny... The essays in Farther Away are rigorous, artful devotions navigating morally complex topics. At the heart of this collection are the ways 'engagement with something you love compels you to face up to who you really are.' Collectively, they are a source of authenticity and refuge—a way out of loneliness."—Kathryn Savage, Minneapolis Star Tribune
"Together, the short pieces take a deep, often tangled look at the relationship between writing and self...[Franzen's] persistent questioning rings genuine and honest...Part of the joy in reading these essays is in their variety: Franzen has thrown together a buffet of essays, speeches, lectures, bits of memoir and journalism, and a few oddballs, like an extended fictional interview with New York State and her entourage (publicist, attorney, historian, geologist)...Each finds a home in the collection because, in the end, each informs Franzen's capabilities as a writer...The material all fits together as an eclectic mix of Franzen's fiction-style prose—that plain language rendered rich by its novel construction and telling detail—and a candid, earnest investigation of what makes for great writing. It's inspiring on two levels: the quality of the writing, and the content about the quality of writing... a collection of thought-provoking, potent essays that rouse a renewed desire to read good books in a culture that is, as Franzen says, marked by its 'saturation in entertainment.' The texts are both a testament to and an illustration of what attracts people to books—a delicate play between writer, text, character, and reader that prompts excellent questions and provides surprising answers."—Emily Withrow, The A.V. Club
"Farther Away is, from beginning to end, a celebration of love: what provokes it and what endangers it, what joys it brings and what terrors it produces...Farther Away takes its title from the New Yorker essay in which Franzen first discussed the suicide of his friend the novelist David Foster Wallace... art elegy, part literary criticism, part travelogue..."Farther Away" is one of the strangest, most powerful documents of mourning that I've ever read. Farther Away reveals a kinder Franzen, a writer who has no truck with sentimentality but is a clear-eyed defender of sentiment. At one point, Franzen lists the many things that he is against: 'weak narrative, overly lyrical prose, solipsism, self-indulgence...' The list goes on. But Farther Away is such a wonderful collection because of the things Franzen is for—the ennobling effects of love and imaginative experience, our need to escape from the isolated self and journey farther away, toward other places and other people. Like the best fiction, Farther Away charts a way out of loneliness."—Anthony Domestico, Christian Science Monitor
"Franzen captivates readers whether ranting about such everyday concerns as bad cellphone manners or lamenting the diminishing relevance of the novel or examining the talented, troubled life and suicide of his close friend and literary brother, David Foster Wallace...At his best, Franzen exposes himself. He does so often and unapologetically, with understated humor, level-headed alienation and rare insight, typically at the nexus of self-analysis and self-indulgence."—Don Oldenburg, USA Today
"[Franzen's] essays are riddled with aphorisms ('One half of a passion is obsession, the other half is love') and, surprisingly, humour (theory and sex prove incompatible bedfellows when his wife-to-be declares: 'You can't deconstruct and undress at the same time'). A multifaceted and revealing collection, Farther Away actually brings the reader closer to the author."—The Economist
"[Franzen is] after something more elusive: identity, we might call it, which he understands to be not fixed but fluid, a set of reactions or impressions in evolution, a constant variation on the self. '[W]hat this means, in practice,' he notes in the text of a lecture called 'On Autobiographical Fiction,' 'is that you have to become a different person to write the next book. The person you already are already wrote the best book you could. There's no way to move forward without changing yourself. Without, in other words, working on the story of your own life. Which is to say: your autobiography.'
This is an essential point, the heart of everything, made all the more so because Franzen's fiction is not autobiographical in any overt way. And yet, what else could it be when literature is, must be, the result of 'a personal struggle, a direct and total engagement with the author's story of his or her own life'? Such an intention runs throughout these essays, whether critical (takes on Paula Fox, Christina Snead, Donald Antrim, Dostoevsky) or experiential (an account of bird preservation efforts in the Mediterranean, a tirade about the effect of cellphones on urban life)... On the surface, these pieces have nothing to do with each other, yet what is either one about if not authenticity? Again and again, that's the question Franzen raises in this collection... What Franzen is getting at is the concept of being 'islanded,' the notion that—no matter what—we are on our own, all the time...In that sense, all of it—from the kid in that car to the teenager wandering New York to the birder on Robinson Crusoe's island—is of a piece with David Foster Wallace and even Neil Armstrong: isolated dots of consciousness in a capricious universe, trying to find a point of real connection before time runs out."—David Ulin, Los Angeles Times
"This book of essays by Jonathan Franzen covers various subjects but the unifying theme is truthfulness. He stands for lucidity of expression, which is not the same thing as ease. The lesson of Franzen is that honesty and excellence come from blood, sweat and tears... This is Franzen at his finest... Narcissism must never be confused with love. This is Franzen's distilled wisdom...He is unflinching about the price of empathy... This is a book for those interested in how to live as well as how to write."—Sarah Sands, London Evening Standard
"Farther Away, Jonathan Franzen's recent collection of essays, proves to be a deeply personal portrait of a contemporary writer at work...Many of Farther Away's features explore creativity and craftsmanship: their tensions and intersections and how those forces can be used together to create a beautiful object...The book, while full of intellect, is also full of puns, anecdotes, and self-effacing jokes about being a cranky, old-fashioned Luddite. In other words, Jonathan Franzen knows what some people think about him, and he couldn't care less, an attitude in keeping with his public personality. Because, despite the fiery exchanges that can erupt around him, Franzen usually appears untouched by the conflagration, reacting with detached humor or insightful observation...The most personal moments in Farther Away come in the essays about Franzen's passions...These essays have sentiment but also clear-eyed pragmatism. Franzen relates the situations he encounters with the objective eye of a scientist, even though you can clearly feel his emotion just under the surface...With Farther Away, Jonathan Franzen has proved once again why his intelligence, empathy, and humor have earned him widespread acclaim—and also why, whether you love him or hate him, we need his voice as a catalyst for literary conversations in the 21st century."—Ben Pfeiffer, The Rumpus
"Ultimately, Farther Away is a meditation on the obscure other half of a world right in front of our faces—the private horror of a public figure struggling with depression, the unspoken loneliness of an individual living in a world of people perpetually turned off because their devices are turned on, the perils of a bird in flight, and cherished pages of well-written fiction that enable us 'to embrace, even celebrate, the dark fact that an individual's life consists, finally, of an accelerating march toward decay and death.' Franzen brings the reader close (uncomfortably, at times) to facets of life not usually examined, and it becomes clear that he is not just talking about songbirds when he writes, 'It felt wrong to be seeing at such close range a species that ordinarily requires careful work with binoculars to get a decent view.'"—Noah Stayton, The Millions
"One way or another, the essays in Farther Away are attempts to enlarge the place where literature, and the responsiveness to it, can be preserved." —Geoff Dyer, The Guardian
"It takes great courage to ask the annoying questions that everyone else would prefer to ignore . . . What is right action, and how does one live a morally justifiable life? ...The questions matter almost more than the answers. And Franzen is virtually alone among the crop of American fiction writers of his generation to pose these moral questions to society at large in such a way as to challenge and indict us."—Joshua Furst, Forward
"American writer Jonathan Franzen has established a pattern of taking almost a decade between novels. That's one reason his new essay collection, Farther Away, comes as a welcome treat. Another reason is his always probing, and earnestly Midwestern, self-examination."—Morley Walker, Winnipeg Free Press
"Franzen's position in literary debates is by now well staked—engrossing plots and characters are king—and here he maintains his ground with characteristic intelligence and earnestness...But what distinguishes Franzen's treatment of these matters in Farther Away is the frequency with which he appeals to love...Love now suffuses Franzen's writing as it hasn't before, in a manner intertwined with his newly tragicomic outlook. As the world outside of Franzen's window grows grimmer—as America's politics become more dysfunctional, digitization more irrevocable, humanity's adverse effects on the planet more profound—his writing has increasingly located salvation in turning to the worthiest thing you can find and loving the hell out of it...Farther Away is a reminder not only of Franzen's greatness as a sentence-by-sentence writer, but also of how much he cares about literature."—James Santel, The Los Angeles Review of Books
"[Farther Away] provide[s] a glimpse into the critical faculties of one of our most celebrated contemporary novelists. Franzen's views on technology and writing are particularly salient: The Internet's expansiveness is a kind of prison, and postmodernism actually leads us back to the primitive."—Dan Lopez, Time Out New York
"Franzen is without doubt a first-rate critic...It's worth the purchase price just to read him on Alice Munro. His reflections on Christina Stead, Donald Atrim and the Swedish detective classic The Laughing Policeman are all essayistic in the best sense: both deeply thought out and wonderfully argued."—Richard Warnica, Maclean's
"In that opening address to Kenyon graduates, Franzen said: 'What love is really about is a bottomless empathy, born out of the heart's revelation that another person is every bit as real as you are.' At their very best, his essays live up to this definition, crossing divides of form, time and space to speak as wisely and warmly as a close, clever and eminently real friend."—James Kidd, The Independent
"[Franzen's] fans will...be delighted with Farther Away, a collection of his non-fiction that reveals he is an unfairly talented writer and thinker. These essays, memoirs, reviews and pieces of social criticism give Franzen a wide platform from which to show off his artistry with words and, again, his deep concern for environmental issues...Franzen is a man of immense intelligence, and a writer of uncommon talent. Farther Away reflects both."—Hayden Meikle, Otago Daily Times
"Farther Away, a fine collection of essays so well crafted they have the power to grab you and hold you—right there—in the moment...It's safe to say that in Farther Away Franzen offers some of his most compelling work. It is a luscious literary assembly of soulful observations and otherwise thought-provoking musings that cover a diverse range of subjects...what a treat it is to have the author pull down the blanket from the head of the big bad wolf of our fears and doubts and stare them down, eye to tormenting eye. Fears, doubts, emotions from which humans run away. And not just run away from, but screaming ad nauseum, because their discomfort so pains them. But these themes of grief and loss—and the art of leaning into them as opposed to crying after some other arrangement—play so well with others here, too. For every brilliant, sobering look at the disconnectedness modern technology often spawns, Franzen also touches upon the possibility of tracing one's own footsteps toward personal progress."—Greg Archer, Good Times
"In both these essays and his own fiction, his words betray an immense amount of care. He's a keen-eyed reader, too...it's when Franzen writes about the things he loves that this collection soars."—John Baily, The Sydney Morning Herald
"The world of literature, besieged as he believes it is, needs authors who care. And Franzen really cares. His attitude might be aggressively highbrow, but his underlying concerns are simple and humane: family, age, grief, love."—Tim Walker, The Independent
"You suddenly feel... like you're in the company of someone with real insights into modern life, real compassion for people, and formidable tools of communication to get it all across—a bit, in fact, like you're seeing one of his country's best fiction writers successfully transfer his skills into the non-fiction realm...Taking Franzen's words to heart, and paraphrasing what he writes about Munro, I'll end by saying "Just read these essays." Franzen takes a long time between novels—nine years between The Corrections and Freedom–but if collections like Farther Away are part of the process he requires, it's a small price to pay."—Ian McGillis, The Montreal Gazette
"At heart, [Farther Away] is a defense of the difficult, both within ourselves and in our art. In a culture where forces like Facebook are constantly conspiring to reshape us into more marketable versions of ourselves, Franzen preaches that our salvation depends on not losing touch with the 'authentic but horrible'... If you were feeling uncharitable, you could make the argument that Farther Away is less a philosophical treatise than an exercise in self-defense. But that's unfair...If Franzen is guilty of anything it's a refusal to compromise his truth in the name of popularity. And lucky for us, because it is this very willingness to brave our bad opinion that makes his fiction so uncompromisingly alive. It's also what qualifies him to lecture us on embracing our own flawed natures...In Farther Away, Franzen has made it his mission to penetrate what he terms the 'dense modern fog of sentimentality' to get at the ugly truths underneath. He does this not because he enjoys dwelling in the dark, but because the dark is a necessary and rich component of the human experience, one that he believes is being forced more and more underground...If you are not convinced of his point of view by the more pedantic pieces in the book, you likely will be by the treatments of some of his favorite writers. The authors he showcases in Farther Away range from Paula Fox and Frank Wedekind to Christina Stead and Dostoyevsky; each utterly singular, all gloriously difficult. Franzen's near reverential reviews of their work serve as vivid reminders that great fiction is about much more than entertainment; it's about bringing communion to people stranded on the island of the self—something that can only be accomplished with a faithful recounting of what it really means to be human, warts and all."—Orli Van Mourik, The Brooklyn Rail
Advertisement