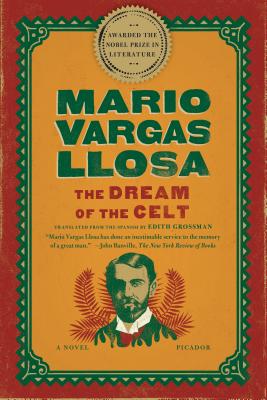 The Dream of the Celt (Paperback)
Picador USA, 9781250033321, 358pp.
Publication Date: June 4, 2013
Description
A painstakingly researched and lively novel about a neglected human rights pioneer by the Nobel Laureate Mario Vargas Llosa
In 1916, the Irish nationalist Roger Casement was hanged by the British government for treason. Casement had dedicated his life to improving the plight of oppressed peoples around the world. But when he dared to draw a parallel between the injustices he witnessed in African and American colonies and those committed by the British in Northern Ireland, he became involved in a cause that led to his imprisonment and execution. Ultimately, the scandals surrounding Casement's trial and eventual hanging marred his image to such a degree that his pioneering human rights work wasn't fully reexamined until the 1960s. Dream of the Celt is a fascinating fictional account of an extraordinary man in the original and dynamic style of Nobel Laureate Mario Vargas Llosa.
Translated from the Spanish by Edith Grossman
About the Author
Mario Vargas Llosa was awarded the Nobel Prize in Literature in 2010 "for his cartography of the structures of power and his trenchant images of the individual's resistance, revolt, and defeat." Peru's foremost writer, he has been awarded the Cervantes Prize, the Spanish-speaking world's most distinguished literary honor, and the Jerusalem Prize. His many works include The Feast of the Goat, The Bad Girl, Aunt Julia and the Scriptwriter, The War of the End of the World, and The Storyteller. He lives in London.Edith Grossman has translated the works of the Nobel laureates Mario Vargas Llosa and Gabriel Garcia Marquez, among others. One of the most important translators of Latin American fiction, her version of Miguel de Cervantes's Don Quixote, is considered to be the finest translation of the Spanish masterpiece in the English language.
Praise For The Dream of the Celt…
"Mario Vargas Llosa has done an inestimable service to the memory of a great man."—John Banville, The New York Review of Books

"This vibrant reimagining of history is also a brilliant exploration of conflicting moral claims. Who are the oppressors? Who are the truth-tellers? As always, Vargas Llosa remains a fiendishly clever teacher."—The Washington Post

"At once a meticulously researched fictional biography and a clever psychological novel."—The Economist

"Vargas Llosa is a masterful writer."—The Miami Herald

"The Dream of the Celt fully succeeds in capturing the complexity of the man....Vargas Llosa has produced an epic apologia for this most sympathetic of traitors."—The Daily Beast

Advertisement