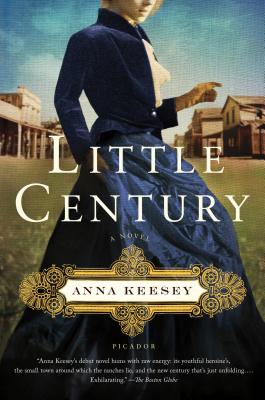 Little Century
A Novel
Paperback

* Individual store prices may vary.
Other Editions of This Title:
Digital Audiobook (6/4/2012)
Compact Disc (6/5/2012)
MP3 CD (6/5/2012)
Compact Disc (6/5/2012)
Description
"Anna Keesey's debut novel hums with raw energy: its youthful heroine's, the small town around which the ranches lie, and the new century that's just unfolding....Exhilarating."—The Boston Globe

In the tradition of such Western classics as My Ántonia and There Will Be Blood, Anna Keesey's Little Century is a resonant and moving debut novel by a writer of confident gifts.

Orphaned after the death of her mother, eighteen-year-old Esther Chambers heads west in search of her only living relative. In the lawless town of Century, Oregon, she's met by her distant cousin—a cattle rancher named Ferris Pickett. There, she begins a new life as a homesteader, in the hope that her land will one day join Pick's impressive spread.

But Century is in the midst of an escalating and violent war over water and rangeland. As incidents between the sheep and cattle ranchers turn to bloodshed, Esther's sympathies are divided between her cousin and a sheepherder named Ben Cruff, sworn enemy of the cattlemen. Torn between her growing passion for Ben and her love of the austere land, she begins to realize that she can't be loyal to both.
Praise For Little Century: A Novel…
"Stunning...Oregon's hardscrabble frontier comes utterly alive for us, and in prose so lovely, spot-on, and accomplished, I found myself dog-earing nearly every page....An incredible debut." —Paula McLain, author of The Paris Wife

"Keesey fuses the unforgiving landscape and the rich inner life of Esther with an artist's eye....An unforgettable portrait of the American West." —Minneapolis Star Tribune

"Fluid and restrained prose, solid plotting, and a keen eye for detail...Keesey is a sentence writer in control of her craft." —Jonathan Evison, The New York Times Book Review

"Briskly romantic...It's Willa Cather with a sense of humor." —Liza Nelson, O, The Oprah Magazine

"An ambitious novel...A work about who will inherit the earth, and who deserves to...Keesey's words are clear as lake water." —Carolyn See, The Washington Post

"[Esther is] a character with moral clarity and wisdom beyond her age. Beautiful language, memorable characters, and a compelling story, Little Century is historical fiction at its best." —The Wichita Eagle

"There's not a single sentence in this novel that reads like it took hard work. The characters, sprung from another time, living in a place as removed as another planet, come to life on the page, and all their flaws feel as consistent and true as the flaws of our dearest loved ones in this work of near perfection." —Elizabeth Word Gutting, The Rumpus

"Keesey writes lyrically and examines the ferocity of frontier life with an unromantic and penetrating voice." —Kirkus Reviews (starred review)

"Highly entertaining reading. First novelist Keesey has produced a top-notch novel of Western Americana." —Keddy Ann Outlaw, Library Journal (starred review)

"Confidently energetic . . . While Keesey offers a variety of characters with intriguing stories of their own, it is the richly depicted setting--from desert to dry good store--that showcases her talent." —Publishers Weekly

"Here is a fine novel, written with grace, about the settling of Oregon and the evening redness in the West. The desert town of Century is about to consume itself with greed and vengeance when a young orphan from Chicago shows up with a moral clarity that outstrips her age, to remind us that character matters, and that justice is pursuant to conscience. Little Century is a frontier saga, a love story, and an epic of many small pleasures." —Joshua Ferris, author of Then We Came to the End

" 'One place understood helps us understand all other places better,' Eudora Welty once said, and such is the case in this outstanding debut. Anna Keesey renders Little Century's time and place marvelously, but the novel's concerns are timeless and universal. With its beautiful language, memorable characters, and compelling story, Little Century is sure to gain a wide and appreciative audience." —Ron Rash, author of Serena

"This is a beautiful and completely absorbing book. In spare, luminous prose, Anna Keesey perfectly conjures the textures, characters, and urgency of life in Century. I read it at a gallop, and didn't want it to end." —Madeline Miller, author of The Song of Achilles

"Little Century is rich and true and achingly beautiful. Its heroine, Esther Chambers, is the kind found in the best classic literature: an innocent caught against the backdrop of escalating violence whose essential goodness and loyalty shine through the savagery around her." —Kathleen Kent, author of The Heretic's Daughter

"Anna Keesey conjures her Western landscape of ranches and homesteads with painterly richness, but it's her uncanny historical imagination that really takes the breath away. Her characters pulse with life; their times feel as immediate, as urgent and vital, as our own." —Peter Ho Davies, author of The Welsh Girl

"Historical fiction at its finest--precise and particular in detail, character, and setting, yet vast and epic in scope and theme. Little Century is a remarkable achievement." —Larry Watson, author of Montana 1948
Picador, 9781250033369, 336pp.
Publication Date: July 2, 2013
About the Author
Anna Keesey is a graduate of Stanford University and of the Iowa Writers' Workshop. She is the author of Little Century. Her work has appeared in a number of journals and anthologies, including Best American Short Stories. She is the recipient of a National Endowment for the Arts Creative Writing Fellowship and has held residencies at MacDowell, Bread Loaf, Yaddo, and Provincetown. Keesey teaches English and creative writing at Linfield College in McMinnville, Oregon.