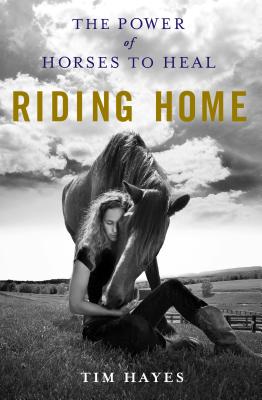 Riding Home (Hardcover)
The Power of Horses to Heal
St. Martin's Press, 9781250033512, 304pp.
Publication Date: March 3, 2015
Other Editions of This Title:
Paperback (10/4/2016)
* Individual store prices may vary.
Description
Riding Home:The Power of Horses to Heal, Horse Nation's must read book of 2016, is the first and only book to scientifically and experientially explain why horses have the extraordinary ability to emotionally transform the lives of thousands of men, women and children, whether they are horse lovers, or suffering from deep psychological wounds.
It is a book for anyone who wants to experience the joy, wonder, self-awareness and peace of mind that comes from creating a horse/human relationship, and it puts forth and clarifies the principles of today's Natural Horsemanship (or what was once referred to as "Horse Whispering")

Everyone knows someone who needs help: a husband, a wife, a partner, a child, a friend, a troubled teenager, a war veteran with PTSD, someone with autism, an addiction, anyone in emotional pain or who has lost their way. Riding Home provides riveting examples of how Equine Therapy has become one of today's most effective cutting-edge methods of healing.
Horses help us discover hidden parts of ourselves, whether we're seven or seventy. They model relationships that demonstrate acceptance, kindness, honesty, tolerance, patience, justice, compassion, and forgiveness. Horses cause all of us to become better people, better parents, better partners, and better friends.
A horse can be our greatest teacher, for horses have no egos, they never lie, they're never wrong and they manifest unparalleled compassion. It is this amazing power of horses to heal and teach us about ourselves that is accessible to anyone and found in the pages of Tim Hayes's Riding Home.
The information and lists of therapeutic and non-therapeutic equine programs, which are contained in the book, are also available at the book's website.
About the Author
TIM HAYES attended The University of Vermont and holds a B.S. Degree in Psychology. Before his career as a horseman, Hayes had a long career in Film and Television. He has worked as a cowboy for the Joseph Black & Son Cattle Ranch of Bruneau, Idaho and as a riding instructor at Deep Hollow Ranch in Montauk, NY. It was there that he began teaching Natural Horsemanship, the approach often called, "Horse Whispering." For the past fifteen years, Hayes has been a nationally recognized Natural Horsemanship Clinician. He teaches and conducts clinics throughout the U.S., Canada and Mexico. He is also a visiting instructor of Natural Horsemanship in the Department of Animal Science for both The University of Connecticut and The University of Vermont. He has appeared in the 2006 award winning Cablevision's TV Documentary "Natural Horsemanship with Tim Hayes" and has been profiled in numerous other media outlets, including The New York Times.
Praise For Riding Home: The Power of Horses to Heal…
"Drawing on his lifetime of experiences with horses, including his friendship of more than 17 years with a gelding quarter horse named Austin, Hayes examines the intricate connections between these four-legged creatures and humans...Hayes' obvious love for all things equine is evident throughout... An educational analysis of the bonds between horses and humans and how they can 'bring feelings of self-awareness, joy, wonder, humility, and peace of mind.'" —Kirkus Reviews
"Hayes makes a convincing case that his beloved equine companions are man's best friends. Hayes will turn even non-horse lovers into equine-therapy believers." —Booklist
"Tim Hayes [is] a great storyteller blessed with passion for his subjects, horse and human. The lessons you'll take away from this beautiful volume of healing and love between man and nature will stay with you for a long time." —from the foreword by Robert Redford
"Learn how horses can heal people and the power of equine therapy. Riding Home is essential reading for horse lovers and everyone who works with people who need healing." —Temple Grandin, author of Animals in Translation and Animals Make us Human
"Tim's deep compassion, understanding and devotion to the wellbeing of both humans and horses comes through in the quiet eloquence of this very well written book. His keen observations of the healing powers that horses can have on the human spirit are woven through with the kind of wisdom that makes this book more than a worthwhile read." —Mark Rashid, horse trainer, horsemanship clinician, and author of Horses Never Lie and Considering the Horse
"Riding Home will inspire and further encourage those with mental and emotional disabilities to find the dramatic beneficial effects as well as the elation and spirit derived from being with horses." —Dr. Robert M. Miller, D.V.M., equine behaviorist, author of Understanding the Ancient Secrets of the Horse's Mind, and co-author of The Revolution In Horsemanship and What It Means To Mankind
"Riding Home is the result of many years of Tim Hayes' dedicated research on the healing power of horses…a different type of horsepower. The remarkable interaction between a horse and human provides the opportunity for solace, understanding and healing. Tim explains how horses are able to initiate the healing of our war veterans suffering from PTSD; a diagnosis that can be notoriously heartbreaking and difficult to treat. Through the horse, we can all connect physically, mentally, and spiritually. Truly, God has blessed mankind with an amazing gift…the horse." —Larry Mahan, 6 time World Champion All Around Cowboy, 2 time World Champion Bull Rider, Western Horseman Man of the Year, 2014