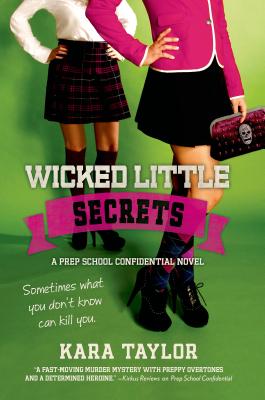 Wicked Little Secrets
A Prep School Confidential Novel
Paperback

* Individual store prices may vary.
Description
In Kara Taylor's Wicked Little Secrets, Anne Dowling becomes entangled in a web of secrets involving a missing student and a conspiracy at Wheatley Prep in this fast-paced, juicy follow-up to Prep School Confidential

Anne Dowling—a fresh, original, and funny new YA whose heroine has knowing, irreverent voice readers will love—is back for her second semester at Wheatley Prep. Although things have settled (somewhat) since her roommate Isabella's death, Anne's still kind of obsessed with the death of Wheatley student Matthew Weaver thirty years ago, since she found a picture of him and his crewmates with the words "they killed him" scrawled on the back among Isabella's things.

When Anne learns that her boyfriend Brent's dad is one of the now-powerful Wheatley alumni who rowed crew with Matthew, and that the crew team continues to induct new members with a creepy-sounding ritual called "The Drop," she knows further investigation could put her relationship with Brent in danger. Determined to discover the truth, she reaches out to Anthony, Isabella's townie brother, who helps her delve deeper into the secrets in Wheatley's past. Secrets someone would kill to keep hidden. As the school's Spring Formal—and its notorious afterparty—approaches, Anne sees the perfect opportunity to do some off-campus digging into the lives of Wheatley's VIPs in this thrilling, unputdownable read—but if she's not careful, she'll be the next student who never comes back.
Praise For Wicked Little Secrets: A Prep School Confidential Novel…
"Kara Taylor's Prep School Confidential series is Veronica Mars meets Dennis Lehane... Refreshingly smart and quick-witted, Taylor's is a thoroughly optimistic portrayal of American education, peppered with references to Milton and Spenser, and she writes the kind of honest portrayal of teenagers that only someone who recently was one can. Almost-totally-reformed party girl Anne is a thoughtful, empathetic character with a strong moral compass, someone young readers can relate to while still enjoying a fast-paced murder mystery. As a twenty-something author, Kara Taylor shows incredible promise." —Portland Book Review
St. Martin's Griffin, 9781250033604, 320pp.
Publication Date: March 4, 2014
About the Author
KARA TAYLOR is twenty-two years old. She completed Prep School Confidential during her first semester of graduate school, in between pulling all nighters and listening to her father say writing isn't a real job. In the past, Taylor has worked as everything from a nanny to an ice cream scooper on Fire Island, New York.