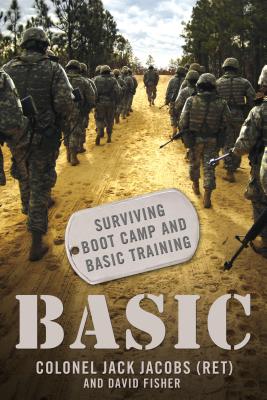 Basic (Paperback)
Surviving Boot Camp and Basic Training
St. Martin's Griffin, 9781250033727, 320pp.
Publication Date: June 25, 2013
Other Editions of This Title:
Hardcover (5/8/2012)
* Individual store prices may vary.
Description
Every American fighting man and woman share one thing in common: they have all survived basic military training. Basic tells the story of that training. Medal of Honor recipient Col. Jack Jacobs and David Fisher recount the funny, sad, dramatic, poignant, and sometimes crazy history of how America has trained its military, told through the personal accounts of those who remember the experiences as if they happened yesterday.
If you've been through basic or boot camp, these memories of drill instructors, marching chants, combat training (and the "gas chamber"), hospital corners, and the shared feeling of triumph are guaranteed to make you smile. And those who haven't done it will understand and appreciate this life-changing experience that turns a civilian into a soldier—and in just eight weeks.
About the Author
In addition to his Medal of Honor, COLONEL JACK JACOBS (ret.) is the recipient of three Bronze Stars, two Silver Stars and two Purple Hearts. He is the Vice Chairman of the Congressional Medal of Honor Foundation, holds the McDermott Chair of Humanities and Public Affairs at the US Military Academy, and is an on-air analyst for NBC News. Colonel Jacobs is also the author of the Colby Award-winning memoir, If Not Now, When? He lives in New Jersey.

David Fisher is the author of more than twenty New York Times bestsellers and coauthor of Bill O'Reilly's Legends and Lies series. His work has also appeared in most major magazines and many newspapers. He lives in New York with his wife and two sons.
Praise For Basic: Surviving Boot Camp and Basic Training…
"Bootcamp was the toughest and most rewarding experience of my life. This book captures those moments. It is authentic, entertaining, and often funny as hell." —Corporal Brian Dennehy (Ret.), Parris Island, 1959
"The unique transition from civilian to soldier has always generated tall tales...about the environment, the changes, and of course the ever-present drill sergeant who changes your life. While the portrayed events usually grow with exaggeration and some added humor as Soldiers grow older, Jack Jacobs and Dave Fisher have captured the 'war stories' of basic training in a uniquely hilarious and moving way. Well done, gentlemen and patriots!" —Mark Hertling, Former Deputy Commander for Initial Military Training, U.S. Army
"Movies and television shows have taught us to think of boot camp as a grueling physical challenge-and it is that-but what we take away here is a deeper understanding of the punishing psychological component as recruits learn to box up their individuality in favor of conformity and the unfaltering following of orders." —Booklist
"Provides a clear and sometimes mordantly amusing overview of the training experience, punctuating it with personal accounts from soldiers." —Kirkus Reviews
"It's a privilege to call [Col. Jack Jacobs] a friend and an honor to recommend this remarkable life story." —Tom Brokow on If Not Now, When?
"One warning: The book you are about to read, at its core, is a story about selflessness, sacrifice, and service. I will never view my friend Jack in the same way again. I just didn't think it was possible to admire him any more than I already did." —Brian Williams on If Not Now, When?
or
Not Currently Available for Direct Purchase