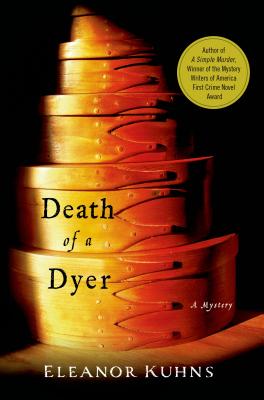 Death of a Dyer (Hardcover)
Minotaur Books, 9781250033963, 341pp.
Publication Date: June 18, 2013
* Individual store prices may vary.
or
Not Currently Available for Direct Purchase
Description
Will Rees feels at home. It's been a long time since he last felt this way not since before his wife died years ago and he took to the road as a traveling weaver. Now, in 1796, Rees is back on his Maine farm, living with his teenaged son, David, and his housekeeper, Lydia whose presence contributes more towards his happiness than he's ready to admit. But his domestic bliss is shattered the morning a visitor brings news of an old friend's murder.
Nate Bowditch and Rees hadn't spoken in many long years, but as children they were closer than brothers, and Rees feels his loss acutely. Asked to look into the circumstances surrounding Nate's death, Rees simply can't refuse. At the Bowditch farmstead, Rees quickly discovers that everyone from Nate's frosty wife to his missing son to the shy serving girl is hiding something. But are any of them actually capable of murder? Or does the answer lie elsewhere, behind stones no one even knew needed unturning?
Death of a Dyer once again proves Eleanor Kuhns's remarkable ability to spin a captivating story of a fascinating era and capture the light and darker sides of human nature on the page.
About the Author
ELEANOR KUHNS is the 2011 winner of the Minotaur Books/Mystery Writers of America First Crime Novel competition. She lives in Campbell Hall, New York, received her master's in Library Science from Columbia University, and is currently the Assistant Director at the Goshen Public Library in Orange County, New York. Death of a Dyer is her second novel.
Praise For Death of a Dyer…
Death of a Dyer

"What is fascinating here is watching how Rees' motivation increases with the difficulty of the investigation…Finding excuses and opportunities to investigate reveals the admirably flinty character of this sometime sleuth. Kuhns creates a marvelously chilly atmosphere throughout this suspense tale about seemingly upright people guarding evil secrets. Rees, the weaver, is a wonderful creation."—Booklist (starred)

"Kuhns' follow-up to Will's debut offers a sensitive look into matters of the heart woven into a nifty puzzle."—Kirkus Reviews

"Well-constructed…Kuhns does a good job integrating the political developments of the time into the storyline, especially the Fugitive Slave Act of 1793, and delivers a logical and surprising solution to this traditional whodunit."—Publishers Weekly

"Absorbing…[Kuhns's] finely done historical makes frontier Maine come alive."—Library Journal

A Simple Murder

"Kuhns' intimate voice and all-seeing eye make [the Shaker community] seem an exotic world indeed. But she also shows that greed, envy, and materialistic values are nothing if not universal." —Marilyn Stasio, The New York Times Book Review

"Refreshingly original . . . Kuhns weaves together disparate threads into a beautiful finished piece." —Library Journal (starred, Debut of the Month)

"Superb . . . A Simple Murder works as an intense historical but also a heartfelt story about families . . . Kuhns' affinity for showing the complicated relationships that drive people shines in this strong debut." —Oline Cogdill, Kansas City Star
Advertisement