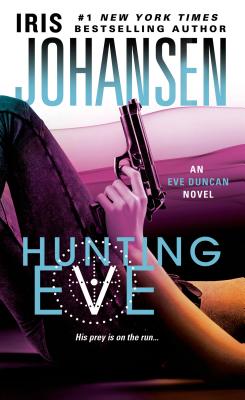 Hunting Eve (Mass Market Paperbound)
St. Martin's Press, 9781250034342, 375pp.
Publication Date: November 19, 2013
Description
EVE DUNCAN IS BACK.
THE HUNT IS ON.
The latest in Iris Johansen's pulse-pounding series that "Kirkus Reviews" calls "filled with intriguing twists and characters and an overarching mystery that will keep fans coming back."

She was taken for a reason. Chosen for her skills as a forensic sculptor. Abducted by the deranged father of a serial killer and forced to reconstruct his dead son's skull from bone fragments. Now Eve Duncan has escaped her captor and she's running for her life. Alone. Unarmed. In the mountains of Colorado, Eve must use all of her strength, courage, and wits to survive this madman's obsession. But Jim Doane is not the only player in the game. While Joe Quinn, Jane MacGuire, and Kendra Michaels search for Eve in the abandoned mining town that could be her ultimate refuge or her grave a stranger with ties to her long-ago past is closing in, circling like a wolf, and" HUNTING EVE.
About the Author
IRIS JOHANSEN is the New York Times bestselling author of Sleep No More, What Doesn't Kill You, Bonnie, Quinn, Eve, Chasing the Night, Eight Days to Live, Blood Game, Deadlock, Dark Summer, Pandora's Daughter, Quicksand, Killer Dreams, On the Run, Countdown, Firestorm, Fatal Tide, Dead Aim, No One to Trust, and more. And with her son, Roy Johansen, she has coauthored Close Your Eyes, Shadow Zone, Storm Cycle, and Silent Thunder.
Praise For Hunting Eve…
Praise for the first novel in this electrifying new series
TAKING EVE
"Johansen expertly ratchets up the suspense as the action builds to a riveting conclusion."
—Publishers Weekly 
"Keeping a long-running series both intriguing and suspenseful is no easy task, but superstar Johansen makes it look that way as she kicks off another trilogy within her Eve Duncan series. Johansen wastes no time throwing Eve into the fight of her life... Johansen never misses!"—RT Book Reviews (4 ½ stars)
"A successful Johansen novel, filled with intriguing twists and characters and an overarching mystery that will keep fans coming back for Book 2."—Kirkus Reviews
"A dynamically chilling start to a new trilogy in the ongoing Eve Duncan saga. The pulse-pounding plot … will keep readers glued to the pages with anticipation ."—Fresh Fiction
"This is an edge of your seat, nail biting, and page turner of a book."—Night Owl Reviews
Praise for iris johansen
and her acclaimed trilogy…
eve  
"Johansen launches a trilogy that takes the reader on an action-packed journey filled with killers and heroes, leaving readers on tenterhooks."—Booklist  
"Gripping…Johansen deftly baits the hook for the next volume."—Publishers Weekly
"The suspense and action will entertain all, even those new to the series." —Library Journal (starred review)
"Johansen's stories keep getting better with each installment.  You will find yourself drawn to Eve and caring about what happens to her."—Night Owl Reviews (A Top Pick)
"A superb kick off ..an excellent presentation to this fantastic series that is a one sitting read."—Reader to Reader Reviews
"Read Eve and be hooked."—RT Book Reviews
QUINN
"The pulse-pounding pace will leave readers breathlessly anticipating the final installment."—Publishers Weekly (starred review)
"The second chapter in the gut-wrenching trilogy…Johansen's intense storytelling style drags readers into a whirlpool of danger and treachery that can have horrifying results. It's awesome!" —RT Book Reviews
"Suspenseful and entertaining…an integral read for fans of Johansen's Eve Duncan series" —Library Journal  
"Johansen's latest has myriad twists and turns…ideal." —Booklist
BONNIE
"A stunning finale that will move series fans and newcomers alike."—Publishers Weekly (starred review)
"Johansen conducts a nail-biting excursion through madness and physical endurance in this stunning conclusion to a very popular trilogy."—Booklist
"Top-notch suspense…a satisfying conclusion to the Eve and Quinn trilogy and a must-buy."—US Daily Review
Advertisement